Michael Schumacher's family reveal they strongly believe F1 legend will recover
Reports in Germany had claimed that ex-driver had suffered lung infection; Schumi approaching 50th day in medically-induced coma
By Pete Gill. Last Updated: 14/02/14 12:13pm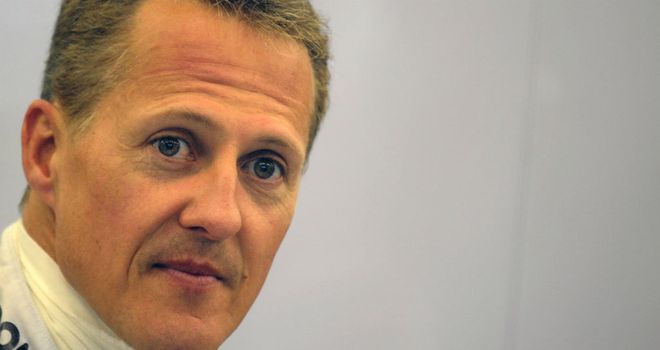 Michael Schumacher: Still in 'a waking up process'
Michael Schumacher's family have allayed mounting fears about his condition by revealing they still "strongly believe" the former F1 World Champion will recover from the life-threatening skiing accident that has left him in a coma for almost two months.
Schumacher has been in a medically-induced coma at Grenoble Hospital since suffering severe head injuries whilst skiing with his family and friends in the French Alps at the end of December.
In an apparent response to alarming reports this week in Schumacher's native Germany that he had contracted pneumonia, a statement from the family - only the second public announcement from Schumacher's inner circle since January 17 - described the 45-year-old as still being in the 'waking up process'.
'Michael's family would like to again express their sincere thanks for the continuous sympathy coming from all over the world. The good wishes they receive help the family and, we are convinced they also help Michael, who still is in a waking up process,' the statement read.
'As often in such situation, no day is like the next. The family is thankful for one's understanding that they would not wish to disclose medical details in order to protect Michael's privacy. As assured from the beginning we will continue to communicate any decisive new information on Michael's health state. We are aware that the wake up phase can take a long time.
'The family continues to strongly believe in Michael's recovery and place all their trust in the doctors, nurses and nursing auxiliaries team. The important thing is not the speed of the recovery but that Michael's healing process progresses in a continuous and controlled way.'
It was announced two weeks ago that the sedation keeping Schumacher in his coma was being eased.
Despite repeatedly urging fans not to heed speculation about Schumacher's condition, a dearth of official updates has seen rumour and gossip flourish on social media sites, with the besieged Grenoble Hospital last week forced to deny claims that the former Ferrari and Mercedes driver had died.
The F1 fraternity has united in offering its support to Schumacher with both of his former teams running tributes to their ex-driver during the recent Jerez test.
The official updates on Michael Schumacher's condition
January 30
'The family of Michael Schumacher is again requesting to respect its privacy and the medical secret, and to not disturb the doctors treating Michael in their work. At the same time, the family wishes to express sincere appreciation for the world wide sympathy.
'Michael's sedation is being reduced in order to allow the start of the waking up process which may take a long time. For the protection of the family, it was originally agreed by the interested parties to communicate this information only once this process was consolidated.'
January 17
'Unfortunately I have to repeat that any information regarding Michael's health not coming from the doctors treating him or from his management must be treated as pure speculation. I also repeat that Michael's family is very happy and confident with the work of the team of doctors treating Michael, and they trust them completely. Michael's condition is still considered as stable.'
January 6
'The clinical condition of Michael Schumacher is considered as stable and is constantly monitored by medical treatments that are administered to him. However, the medical team in charge emphasises it continues to consider Michael's condition as critical.
'The privacy of the statement demands that we are not going into details of his treatment, and this is why we do not plan any press conferences, nor give out written press releases, anymore for the time being. We insist again that you respect medical confidentiality and you adhere to the information provided by the medical team in charge, or his management, as this is the only valid information.'
January 4
'Michael's condition remains critical but stable. We would like to clearly stress that any information regarding Michael's health not coming from the doctors treating him or from his management must be treated as invalid and pure speculation. The family cares only for Michael's health.
'Michael's helmet camera was voluntarily given to the investigating authorities by the family.That this should have been done against the wishes of the family is untrue. We ask you to respect the continued privacy of the family.'
December 29
'Mr Schumacher was admitted to the University Hospital of Grenoble at 12:40pm, following a skiing accident which occurred in Meribel in the late morning. He suffered a severe head injury with coma on arrival, which required immediate neurosurgical intervention. He remains in a critical situation.'