Michael Schumacher: No update from Grenoble Hospital on Thursday
Last Updated: 02/01/14 9:50pm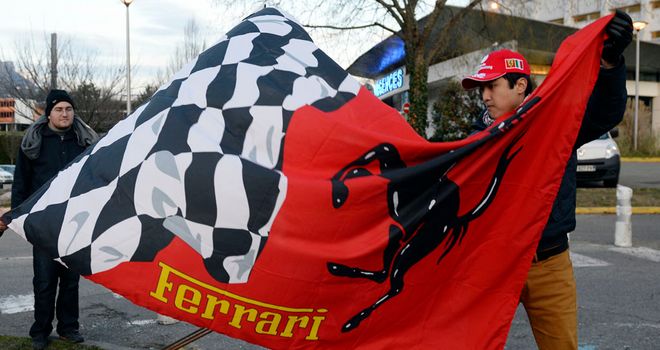 Ferrari fans hold a flag outside the hospital in Grenoble
Formula 1 Betting

Formula 1 Betting

Bet with Sky Bet
The University Hospital of Grenoble has confirmed there will be no update on the health of Michael Schumacher on Thursday.
Paul Kelso, sports correspondent for Sky News, tweeted that "the hospital has no plans to hold a press conference, which hopefully is a sign his progress is good."
The German, who turns 45 this Friday, remains in a stable condition in intensive care following his skiing accident last weekend.
And Schumacher's family has released a statement thanking those who have sent messages of support since the accident on Sunday morning.
Published on the driver's official website, it reads: "Message from Michael's family.
"Following Michael's skiing accident, we would like to thank the people from all around the world who have expressed their sympathy and sent their best wishes for his recovery. They are giving us great support.
"We all know he is a fighter and will not give up."
Craig Slater, F1 reporter with Sky Sports News, spoke to Schumacher's manager and spokesperson Sabine Kehm who described the hospital's decision as "good news."
Sky Deutschland reporter Gernot Bauer also spoke with Kehm and tweeted the following: "Talking to me Kehm praises medical team around Schumacher: "They are fantastic, take a lot of time, explain well. Michael is in best hands".
Slater also referred to an article in the French daily newspaper, L'Equipe, where a medical expert explained: "The longer he remains stable the better it is and if he remains stable for two weeks there is a good chance he will survive the accident."
Schumacher, the seven-time F1 world champion, has now spent four nights in the French hospital since suffering the severe head injury.
He has already undergone two operations to release some of the pressure on his brain and removed a dangerous haematoma.
Doctors reported on Wednesday that he was still not out of danger but they were satisfied with the progress he had made.
Schumacher had been skiing off-piste with his 14-year-old son when the accident happened and, after arriving at hospital, was put into a medically-induced coma.