Lewis Hamilton determined to help Mercedes to second in the Constructors'
2008 Champion determined to end first Merc season on a high
By James Galloway at Buddh International Circuit. Last Updated: 24/10/13 3:51pm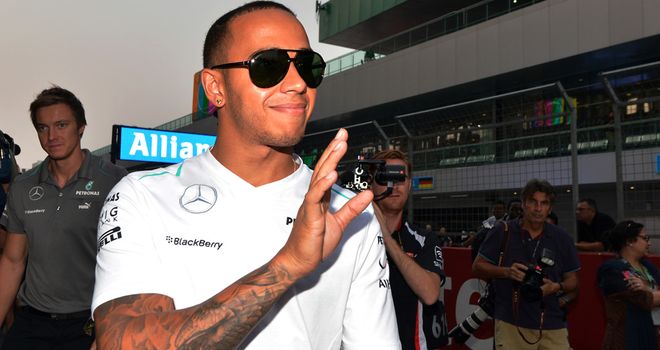 Formula 1 Betting

Formula 1 Betting

Free Matched Bet
Lewis Hamilton believes Mercedes W04 remains stronger than their recent results suggest and the team can beat Ferrari and Lotus to second place in the Constructors' Championship.
Having already admitted that helping Mercedes to their best season finish since returning to team ownership, rather than focusing on his own position in the drivers' standings, is his overriding goal for the remainder of the season, Hamilton and the Brackley team head into this weekend's Indian GP looking to make up a ten-point deficit on Ferrari.
Since finishing third at the Belgian GP in August, Hamilton has not finished higher than fifth and last time out in Japan failed to make the finish for the first time since joining Mercedes due to damage sustained in his first-corner brush with Sebastian Vettel.
However, while acknowledging the improvements made by Lotus in particular in recent weeks, Hamilton is confident Mercedes can strike back - provided they enjoy a trouble-free weekend.
"You see Lotus has really made a big step in the last few races and Ferrari have taken another step. So they are very strong competitors," Hamilton told reporters on Thursday.
"Ferrari have pulled a ten-point lead on us but it's not impossible for us to continue fighting with them. We just need a good weekend.
"We've definitely got a better car than our results have shown and so we really need to put it together these next four races - which I feel we can."
Indeed, Hamilton is optimistic of an immediate improvement given the nature of the Buddh International Circuit.
"The track's a little bit like Korea and we can away from Korea thinking we could have done a couple of things a little bit different and better," he added.
"So hopefully we do that this weekend. So I do feel more optimistic about this weekend, as I did Korea."
Although Hamilton still has a realistic chance of achieving a top-three Drivers' Championship finish for the first time since his title-winning year of 2008 - his deficit to Kimi Raikkonen just 16 points - the Briton said he felt quite energised at helping Mercedes finish second.
"It's quite cool. It's one of the first times I've really, really wanted it because we have a chance of second," Hamilton explained.
"Third, fourth and fifth it's different. But we have a chance of second, to be the second best team, and it's a real challenge. I'm excited about it because I don't really particularly care now what position as a driver we finish - it doesn't really make any difference, unless you're first or second.
"Third, fourth, fifth, sixth doesn't really look great either way. I want to win World Championships, I don't want to win second places."