Post-mortem confirms former Marussia driver Maria De Villota died of 'natural causes'
Last Updated: 12/10/13 10:00am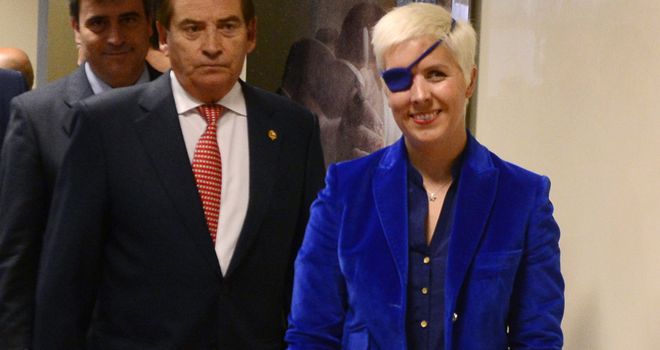 Maria de Villota: Post-mortem found she died of natural causes
Formula 1 Betting

Formula 1 Betting

Free Matched Bet
Former F1 test driver Maria de Villota died from natural causes, a post-mortem has confirmed.
The 33-year-old was found dead in a hotel room in Seville, Spain, early on Friday morning.
Dr Joaquin Lucena Romero, head of forensic services at the Institute for Legal
Medicine, later confirmed De Villota's death "was due to natural causes".
But the Health and Safety Executive will look into potential links between her racing accident 15 months ago and her sudden death that shocked the paddock in the run up to the Japanese GP.
Spaniard De Villota lost her right eye in July last year after a crash at Duxford Aerodrome while testing for the Marussia team.
She suffered severe head and facial injuries after colliding with a stationary service vehicle but following a month's recuperation in hospital she eventually made a remarkable recovery.
Although no fault was found with the car, the HSE had been looking into the circumstances surrounding the incident.
In light of her death, a HSE spokeswoman said: "We don't know if there is a link between her injuries and her subsequent death, but we would expect to be kept informed of any new evidence."
News of De Villota's death filtered through just as the second practice session
for the Japanese Grand Prix was drawing to a close on Friday, and was greeted with deep shock and sadness.
Williams development driver Susie Wolff said: "What she came through was a testament to her strength of character and her positive outlook on life.
"She was just an incredible lady, no matter what she did on the race track. She was just an incredible character."
Jenson Button said: "This is a real shock to the whole Formula One family and
the world of motorsport.
"She had been through so much - much more than most people will ever have to go through in their lives - and it's been so tough for her."
De Villota, understood to have been in Seville to promote her autobiography, was selected last year as a founding ambassador of the FIA Women in Motorsport Commission, a body aimed at promoting women in motorsport.