Kimi Raikkonen spun out of Japanese GP practice but is upbeat about his prospects
Finn fourth fastest and says Lotus feels better than at previous races
By Mike Wise at Suzuka. Last Updated: 11/10/13 2:38pm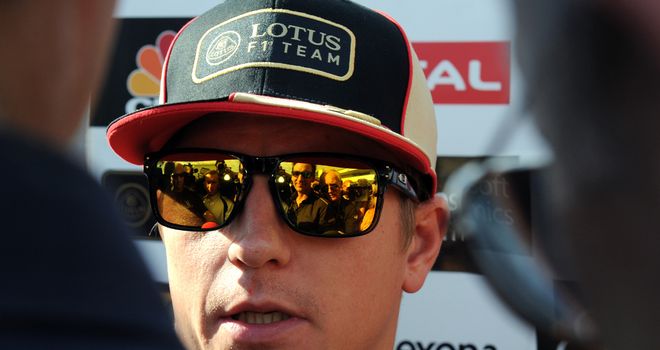 Kimi Raikkonen: In confident mood
Kimi Raikkonen is confident he can produce another strong performance in the Japanese Grand Prix this weekend despite spinning out of practice on Friday.
The Finn was one of a number of drivers to lose control of his car in the gusty conditions and came to grief at the Dunlop Curve, beaching his Lotus in the gravel.
Raikkonen completed around half the laps of his rivals and yet still managed the fourth fastest time of the day. Speaking later, he played down his early bath and said his car had felt better than it had for some time.
The 2007 World Champion, who also crashed out of practice in Korea last weekend before going on to finish second in the race, said: "I just spun. It happens sometimes and it was obviously quite windy today. That didn't help and it's been a bit tricky the whole day.
"I just pushed a bit too much and spun. There's no damage or anything. We couldn't do as many laps as we wanted but it's not a big deal."
Raikkonen, who has blamed his recent qualifying struggles on the tyre switch Pirelli made in the summer for safety reasons, added: "It's been better, more to my liking here - at least today - than the last few races. In one lap that's a good thing but obviously tomorrow is a new day and it might be a really different story."
Raikkonen was on the second lap of his first long run when he spun off but said he did not necessarily have to rely on data from team-mate Romain Grosjean, who stayed on track and ended the day fifth fastest overall.
"I only did one lap and the harder tyres are quite tricky anyhow. It didn't feel so nice but the lap time wasn't so bad. I think it will be okay," Raikkonen said.
"We didn't do the long runs but I don't think it's going to change an awful lot. Usually we try and get the car as good as we can overall for one lap. And when we get there, we run it like that for the race.
"I think if we get the car running well tomorrow, we should be okay."
Suzuka in a spin
Besides Raikkonen, Jules Bianchi, Giedo van der Garde, Sergio Perez and Pastor Maldonado all had their practice sessions brought to a premature end because of spins.
"It's a tricky circuit and if the car is not right, it's not going to be easy. Plus the overtaking is not going to be easy here compared to some other places," Raikkonen added.
"Today was a bit tricky anyhow with the wind and obviously it's an old-style circuit, so when you go off you usually get stuck. There's not so much run-off area."