Lewis Hamilton not giving up on race wins in the remaining 2013 grands prix
Merc driver also explains why he sent clarification tweets on Vettel
By Pete Gill. Last Updated: 10/10/13 2:18pm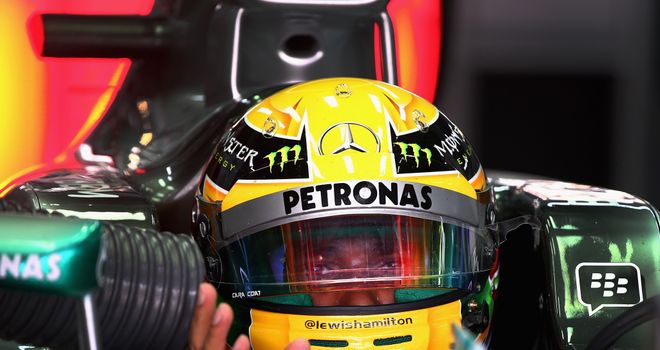 Formula 1 Betting

Formula 1 Betting

Free Matched Bet
Lewis Hamilton has insisted he hasn't given up hope of beating Sebastian Vettel to race victories this season.
The Red Bull driver has won the last four grands prix and could clinch a fourth successive title with another in this weekend's Japanese GP. Vettel's crushing pre-eminence since the summer break prompted frustrated Hamilton to compare Red Bull's superiority to the soporific decade of dominance enjoyed by Michael Schumacher, but, as he faced the press in Suzuka on Thursday, the Mercedes driver declared he still believed he could break the German's run of victories this weekend.
"This is definitely one I would love to win," said Hamilton, whose only previous victory in the Japanese GP occurred when the race was staged at the Fuji Speedway circuit in 2007. "The first sector is the most challenging and critical, but the Red Bull has been the quickest there over the last four years and I anticipate they will be the quickest there again.
"But I hope that our strong showing in the second sector at Korea will correlate here. So fingers crossed. We'll see, but I hope we can give the Red Bulls a close race. I haven't given up. We just need a weekend to go our way.
"I've not had any good races here and I really hope this will be a new start for me here."
After his comments comparing Vettel's current success to Schumacher's overshadowed the fall-out from the race in Korea, Hamilton published a series of tweets on Tuesday morning in which he heaped praise on the German.
"I was in my hotel and looking at Twitter and some of the reports people were writing and because we are constantly doing interviews it's very easy things to be misunderstood and I just wanted to clarify what I said," explained Hamilton.
But while Hamilton was forthcoming on his ongoing rivalry with Vettel, the 2008 World Champion is refusing to elaborate on the reasons why he struggled with wear tyre during last Sunday's race.
"There is an explanation but I am not going to tell you!" he told reporters. "But it's me, not the car."