Kimi Raikkonen says the back injury that flared up in Singapore is now 'no problem'
Finn fully expects to race in Korea
By Mike Wise in Yeongam. Last Updated: 06/10/13 7:34am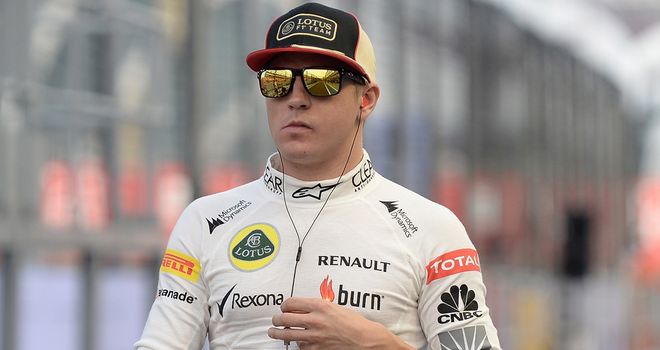 Kimi Raikkonen: Has suffered back pain for "a long, long time"
Kimi Raikkonen says the back pains he suffered in Singapore are now "no problem" and that he fully expects to race in Korea this weekend.
"I wouldn't be here if I wouldn't be racing - it would be a bit pointless to come here if it wouldn't mean that I will race," said the Finn at the Korean International Circuit on Thursday. "But obviously tomorrow we'll see.
"Right now it's no problem. It's always difficult to say, until we drive and try our hardest. But I think it should be okay."
Raikkonen overcame the pain to finish third in the Singapore Grand Prix but said it was nothing new. He has suffered on and off since a testing crash during his maiden F1 season at Sauber in 2001.
"It wasn't the first time and it isn't going to be the last time," the 33-year-old said. "I've dealt with it for a long, long time. Sometimes it's fine, sometimes not so.
"Every year I have been racing and sometimes I have to deal with the pain. Obviously every year you get older, it always seems to come up with more issues."
Raikkonen came through the field from 13th on the grid to finish third at Marina Bay in a race dominated by Sebastian Vettel.
The World Champion's win was his third in a row but Raikkonen, who won in Abu Dhabi last year, still thinks victory is possible with six races to go.
He also reckons that, unlike Red Bull, Lotus have been one of the teams to lose out since Pirelli introduced a new tyre in for safety reasons in Hungary.
"We've beaten them before this season and I'm sure there's hopefully a chance to beat them later again. They've obviously been pretty strong in the last few races," Raikkonen said.
He added: "They've been strong all year I would say. For sure, there have been some races where they probably were not as strong as people expected.
"Lately they've been very strong but hopefully with the coming, more normal, circuits it will help us a little bit.
"For myself, I'd rather use the old tyres, they were more for my liking. Not really in the race but for one lap it seemed to be what I wanted.
"It's obviously not ideal to change them but one of those things. It doesn't really matter what you like or what you want, because it's not going to usually happen.
"We're trying different things on the car and hopefully we'll get it back more to where we were at the beginning of the year."
Button added: "People don't realise the difference a kilo of weight can make, even if it is to change the balance of the car. It's 30 milliseconds per kilo and around most circuits ten kilos is about three tenths per lap.
"If you're four kilos overweight, it's a lot. It's almost two tenths."
Button said the matter would be discussed at a GPDA meeting ahead of Sunday's race at the Korean International Circuit.
"It should be easy for us to stick another ten kilos of weight on the car; I don't understand why we can't talk about that. But maybe it's because we haven't talked about it - we haven't asked for the cars to be heavier," he added.
"It's one of the easiest things to put right. It could save a driver's career."
You can see all the action from the Korean Grand Prix this weekend. Coverage of the first practice session starts at 1.45am on Friday morning. Practice three and qualifying is from 2.45am on Saturday and all the build-up and the race is from 5.30am on Sunday morning, and it's all live on Sky Sports F1.