Romain Grosjean says he's ready to step up when Kimi Raikkonen leaves Lotus
Frenchman reckons he can handle greater responsibilities
By Mike Wise in Singapore. Last Updated: September 20, 2013 10:32am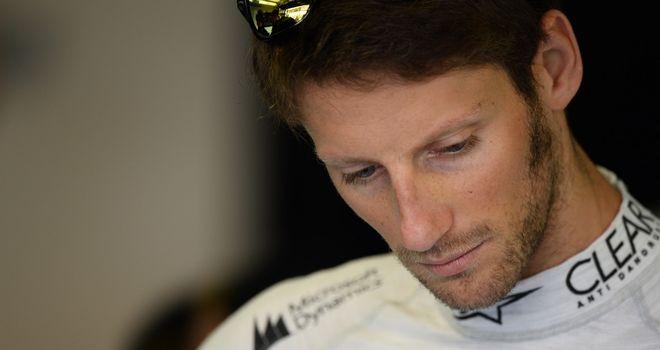 Romain Grosjean: Natural to want to step up
Formula 1 Betting

Formula 1 Betting

Join the Free Bet Club
Romain Grosjean says he feels ready to step up at Lotus following Kimi Raikkonen's decision to leave the team and head back to Ferrari next year.
Raikkonen's move to the Scuderia, with whom he won the 2007 world title, leaves an obvious gap at the Enstone team as his team-mate acknowledged.
Yet Grosjean, who has scored two podium finishes so far this season, reckons he's at the right stage in his career to take it to the next level. The Frenchman has scored points in each of the last four grands prix and thinks that a similarly consistent level of performance through the remaining seven races is needed to convince team bosses.
"I always said he'd be a loss for the team," Grosjean said of Raikkonen, whose departure was confirmed last week. "He's a really good driver, no doubt about that. We push each other hard in the sessions to go as quick as we can and he has been very consistent.
"I think it was good experience to be alongside him. But it's next season and hopefully it will not change too much."
Of his desire to be number one, Grosjean said: "It's quite natural. If I'm here to race, the dream will be to become World Champion and if I become World Champion then I need to be number one. That's what I'd like to achieve.
"I've been in the team for two years. Now that Kimi's going, I'll do what I did in the last few races, keep doing a good job, and from there things will naturally turn."
The notion of Grosjean assuming greater responsibilities might cause consternation in the minds of those with fresh memories of his performances last year, when getting through the opening lap proved difficult at times.
Yet the 27-year-old said he'd stepped up in junior formulae and sees no reason why F1 should be any different.
"It's quite a big change. I prefer to be in that situation than last year. Every time I've been team leader, whether it be in Formula 3 or GP2, it's a good situation. But you have to create it," he said.
"So I'll keep doing a good job, keep doing what I enjoy, be happy with my races and, as I said, from there things should naturally turn towards the positive side."
Both Nico Hulkenberg and Felipe Massa appear favourites to replace Raikkonen, with Grosjean saying: "Nico has been my team-mate already (in F3 in 2007) so we know each other. He's a very quick driver. With Felipe, I don't know any more than what I see on the drivers' parade but as long as it's a quick driver then it's good for the team."
Although Raikkonen cited Lotus's financial straitjacket as the main reason for his decision to leave on Thursday, Grosjean thinks the team will overcome their money woes and are actually improving.
The Finn followed former Lotus Technical Director James Allison back to Maranello, where they will also be joined by the team's former head of aerodynamics Dirk de Beer.
Yet Grosjean said: "To me the team is getting stronger. It's been three years in a row that we've done a very good car; there's still a few areas where we can improve clearly to be part of the top two, maybe. But it's the getting there.
"I like the atmosphere and I like the team. I live very close to Enstone so I can get there often and I really feel at home. I don't see any reason why it should go back and the money situation should get better and better."