Jenson Button keeps faith in McLaren to seek an extension until end of 2015 season
2009 World Champ confident revival will begin next season
By Pete Gill. Last Updated: September 5, 2013 3:23pm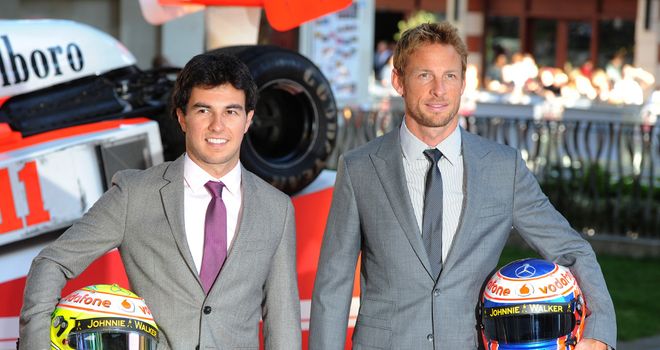 Button and team-mate Sergio Perez at the Rush premiere on Monday
Formula 1 Betting

Formula 1 Betting

Join the Free Bet Club
Jenson Button says he is convinced that remaining at McLaren is his best option for the future as he seeks a new deal with the team until the end of 2015.
Although McLaren are yet to exercise their option on Button's services for next year, an extension is expected to be announced over the coming weeks - and perhaps even as early as this week as the team celebrate their 50th anniversary at the Italian GP.
"I think when you are at a top team, any of the top three or four teams, it is better to stay put," the 33-year-old confirmed during a media briefing at Monza.
After a painfully difficult 2013 season in which they have regressed into the midfield pack, 2014 will mark McLaren's last year in partnership with Mercedes before Honda, with whom the Woking outfit enjoyed a sustained period of success in the late 1980s and early '90s, return as their power supplier. Button is convinced the reunion will spark a revival - and is determined to stick around to enjoy the spoils.
"I think 2015 is a very exciting challenge for the whole team. It's always interesting working with new partners and new engine suppliers but I think it's also something necessary for this team and the future," he told The Guardian.
However, according to The Daily Telegraph, 'it is understood negotiations over extending his McLaren career beyond next year have not yet started and will be separate from his one-year extension'.
After launching their revolutionary MP4-28 in a blaze of optimism six months ago, McLaren are yet to register a solitary podium finish this term and have already turned their focus to 2014 after failing to master their complicated new design. Yet far from being downhearted, Button is convinced that his beleaguered team will emerge stronger from their ongoing adversity.
"When you have a bad season like this it really comes out. You see how frustrated people are. We're all working so hard and we're not able to get the results that we feel we deserve. It brings you closer," the 2009 World Champion declared.
"It either breaks you or makes you stronger as a team and we're definitely not broken. The atmosphere is very good and we will learn from the mistakes we made this year. This is a big family of a team, a massive family and one that wants to succeed in this sport and will succeed in the sport soon."
Starting in 2014?
"I want to succeed next year. I don't want to wait another few years," Button added. "I think we do have the right people on board. We can win the championship next year with Mercedes-Benz. It is still a very good partnership with them. And it would be nice to go out on a high.
"You have three teams [Red Bull, Ferrari and Mercedes] who are still fighting for the championship and they are going to push right the way to the end of the season. Whereas for us, we are concentrating more on next year's car. So we are limiting how much we can move forward this season."