Jenson Button was at a loss to explain why his McLaren struggled in Belgian GP practice
Briton happy with his car early on - but things go awry after that
By Mike Wise. Last Updated: August 23, 2013 7:12pm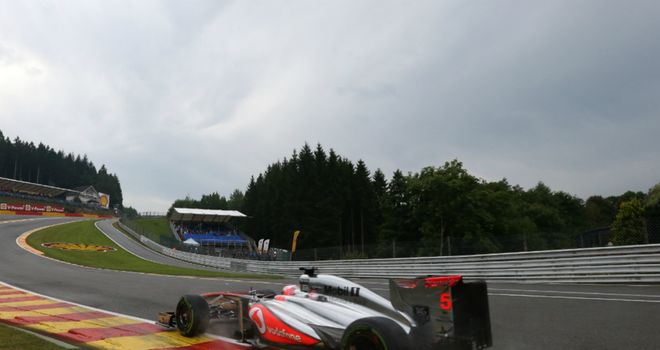 Jenson Button: Struggled on Friday afternoon
Spa might be one of the more undulating tracks on the F1 calendar but Jenson Button found the going to be uphill only at the Belgian Grand Prix on Friday afternoon.
Button, winner of last year's race, was happy enough with his performance during the damp morning practice session but things went awry when the sun came out after lunch.
The McLaren driver, who has predicted that they might score their first podium finish of the season this weekend, struggled to set a time good enough for 15th fastest and was at a loss to explain what had happened.
"P1 was very good - very happy with the car. The balance felt good and I think our pace was very good. We couldn't push very hard in the wet sectors but in the dry it felt very good," said Button, whose best time in P2 was over 1.8s slower than that of pacesetter Sebastian Vettel.
"This afternoon it was completely different As soon as I exited from the pits, the car felt very, very different. We don't know why - I think it's the same for both of us, we're struggling with the same things, but I don't think it's a problem with the car.
"Obviously with the temperature and what's happening with the weather maybe - with the wind - we were getting very affected. The pace isn't there and the feeling is not there.
"We've got a lot of work to understand why that is but hopefully it'll be good tomorrow."
Team-mate Sergio Perez was fourth fastest in P1 and later eighth overall, half a second faster than Button.
The weather forecast for the remainder of the weekend is for conditions similar to those in P1 but Button said, "I'd rather it was dry, so we can see what the car can do then. We know we're not looking very strong."
Button added that his MP4-28 had felt marginally better during his high-fuel run.
"The long run was okay but we're still a second off the Red Bull. But most cars are," he added.
"On the option tyre and the prime tyre it was all right. But the whole of the session on lower fuel, the balance was very strange and it's something I haven't experienced for a long time with the car."