Paul Di Resta confident Force India can return to form at Belgian GP and respond to McLaren
Scot optimistic team have made progress with understanding revised tyres
By James Galloway at Spa. Last Updated: 22/08/13 3:22pm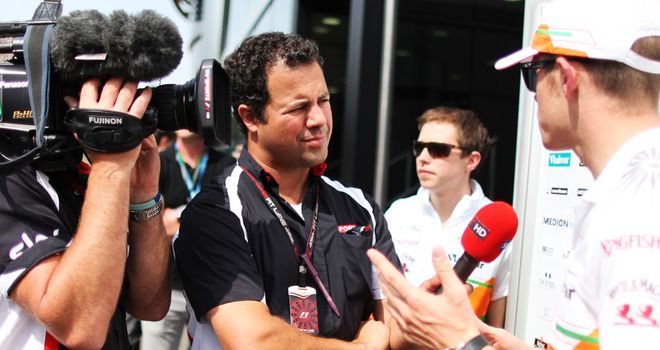 Formula 1 Betting

Formula 1 Betting

Free Matched Bet
Paul Di Resta is optimistic Force India have arrived in Belgium with a better understanding of Pirelli's revised tyres and can keep McLaren at bay in the Constructors' Championship, provided they recapture the form they displayed before Germany.
Having scored points in all but one of the opening eight rounds of the season to establish themselves in a strong fifth place in the standings, Force India failed to claim points in either of the two rounds prior to the summer break and their lead over McLaren has suddenly shrunk to just two points.
Force India had initially robustly resisted any change to the tyre compounds prior to the blow-outs that marred the British GP and their slump in form at the Nurburgring and Hungaroring coincided with the rubber reverting to 2012-spec structures and constructions.
But having had time back at their factory to assess either side of the summer shutdown, Di Resta believes the situation will be better at Spa and that the VJM06 fundamentally remains a strong car.
"I think you can definitely say we have come here with more knowledge," he told reporters on Thursday when asked about the tyres.
"Tomorrow's probably key to making sure we've tried to react in the way we are. The nice thing is that it looks like it's going to be stable conditions and our Friday practice running is mainly going to be dominated to making sure we try and get our performance back.
"You have to have every belief in that car, if you can get it right, works very well and is capable of scoring points and staying in front of McLaren. If it's not in the window like it was in Hungary, we are going to have a difficult time.
"But I think that everybody surrounding us can have faith we are going to be far better than we were there [in Hungary]."
Although McLaren have in turn made small steps forward with their own form recently, and the more durable Pirellis appear to relatively suit their MP4-28, Di Resta insists securing fifth place remains a realistic target for Force India over the second half of the season.
"You have to respect of McLaren for what they are and their car has transformed since changing to the other construction of the tyre. But equally when our car is working well we can be in front of them," the Scot argued.
"That purely depends on how we get to grips on where we are and if we can solve the issues that have been hampering us over the last couple of grands prix. But having said that, it can very easily switch the other way and we will be working hard to try and do it.
Davidson's Spa guide
"We won't give the position [up] easy but they are a team that won this race last year, so we're going to have to be working at the top of our game to stay where we are. That is still the goal for the second half of the year - to remain in front of them."
Force India's chances of a revival will nonetheless be boosted by the very nature of the Spa-Francorchamps circuit, according to Di Resta, given the high-speed, low-drag track has traditionally played to Force India's strengths.
"I don't think you can go on one year but one thing I will say is it is naturally lower-downforce tracks and less drag that suits the car," he replied when ex-Force India driver Giancarlo Fisichella's 2009 podium finish was mentioned to him.
"The last time in Canada we had a great result in lower-downforce, equally in Monza last year we had a good run. It's a big part of the year I think and where it's going to lead you for the upcoming grands prix."