Luca di Montezemolo gives reasons why he felt need to 'tweak the ear' of Fernando Alonso
Ferrari President now challenges team to turn form around
By James Galloway. Last Updated: August 7, 2013 12:05pm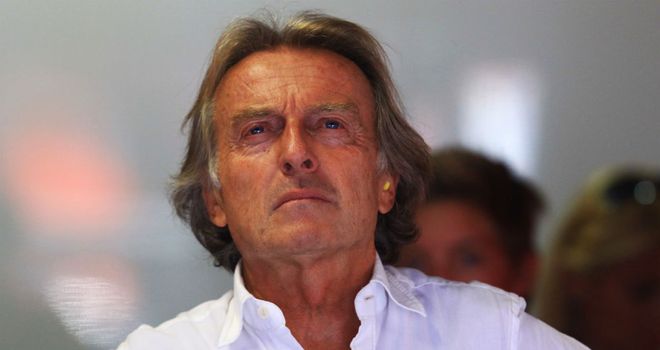 Luca di Montezemolo: Wants Ferrari to stick together
Formula 1 Betting

Formula 1 Betting

Join the Free Bet Club
Luca di Montezemolo has said he does understand Fernando Alonso's frustration with Ferrari's dip in form but nonetheless insisted he felt the need to rebuke the Spaniard to remind him of the team's "family values".
A relationship that had always appeared rock-solid between Ferrari and their star driver has come under scrutiny in the day's since the Hungarian GP after the team's website published a statement which included details of a telephone conversation between its President and Alonso in which the former "tweaked the ear" of the driver after di Montezemolo took umbrage with the Spaniard's remark to the Italian media that he wanted "someone else's car" for his 32nd birthday, which he celebrated last week.
The unprecedented move to admonish Alonso in public came just days after the Spaniard was linked with a shock move to World Championship rivals Red Bull for 2014, despite his Ferrari contract running for another three seasons.
Di Montezemolo has now explained the reasoning for his rebuke of Alonso in an interview with Italy's Corriere della Sera newspaper, which Ferrari have republished in part on their website.
While the Italian said he understands and shares Alonso's strong desire to win, he made clear that some of the Spaniard's recent negative remarks - which he suggested were particularly close to the bone after the British GP - had gone too far.
"Fernando is a great driver and I understand him, he is a bit like me: he wants to win," Di Montezemolo told the newspaper. "He must just remember that one wins and loses together and for its part.
"Fernando has given a lot in these last years and I repeat, his disappointment, which came about mainly after Silverstone, where all of us expected to be more competitive, is understandable. But I didn't like some attitudes, a few words, some outbursts. And I said so...
"I reminded everyone, including the drivers, that Ferrari comes before everything, the priority is the team. Rather like a family father pointing out the need to respect some family rules: I wish to underline the concept of family values..."
Since winning for the second time inside three races at his home Spanish GP in May, Alonso has only twice finished on the podium in the subsequent five rounds and went into the summer break 39 points adrift of Sebastian Vettel in the battle for the drivers' title.
Montezemolo admits it has been tough to see the F138's steady slide in competitiveness and says Ferrari must now work methodically to start moving forwards again.
"It doesn't sit well with me seeing our car is not competitive," he said. "That's why I intervened, even if I didn't want to abuse my authority over my men. However, it had to be done. But how? We started so well, we had begun the world championship with a very competitive car, maybe even considered the best.
"But something happened and instead of moving forward we went backwards. Therefore the right attitude, the one I am taking from now on is as follows: understand the mistakes, fix them and after this careful analysis develop the car in the right direction.
"We must put our heads down in this return match, as I describe this second part of the season after the break, a break I don't like, but we have to adhere to it."
On a brighter note, Montezemolo did suggest that Ferrari should theoretically be stronger at the next two grands prix venues and it was now up to the team's technical team to "demonstrate their worth".
"We must get back on the path we were on up until Barcelona. We can do it," the Italian added.
"Secondly, Spa and Monza are two circuits that could suit the characteristics of our car. Yes, the conditions are in place to give a strong signal of a recovery and, on top of that, I expect results from our engineers who must demonstrate their worth."