Martin Whitmarsh says McLaren can go a second a lap quicker on the soft tyre in India
Team Principal says there is more time to come from the option tyre
Last Updated: October 27, 2012 9:04am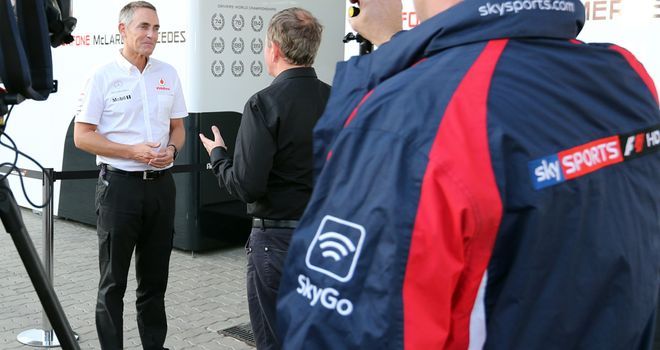 Martin Whitmarsh believes McLaren can go quicker
Formula 1 Betting

Formula 1 Betting

Join the Free Bet Club
Martin Whitmarsh is sure McLaren can go a second a lap quicker in India - if they can unlock the MP4-27's single lap pace on the option tyre.
After finishing Friday some nine tenths slower than Sebastian Vettel, Saturday morning's final practice session showed some improvement with Jenson Button less than two tenths behind the Red Bull.
And whilst that improvement pleased the McLaren Team Principal, he remained cautious - hinting that Red Bull could also go quicker.
"I think we made a step forward, but in fact I think we still have a big issue - we are quite quick on the prime tyre but struggled on the option tyre," he told Sky Sports News.
"Of course, second and fourth, in the final practice is a step better, but we really need to get on top of that. We need to be finding half a second to a second on the option tyre and we failed to do that this morning and we really need to find a way to do that in Q3.
"I think this was a good representation in one sense but the truth is a lot of the teams got the lap out of the option tyre but we didn't - and I don't think Red Bull did either so they can go quicker if they get the time in the option tyre we have to do the same to stay with them."
The Buddh International Circuit boasts multiple overtaking points and two DRS Zones, but Whitmarsh says his drivers need to qualify on the first two rows if they are to challenge for victory.
"It is probably one of the easier places to overtake, but you lose time and damage your tyres if you are not up the front," he added.
"So it is quite important to get up the front and run your own race, run your own strategy and manage your tyres so we will try to get up there on the first and second row but it is going to be tough."
Sporting Director Sam Michael said on Friday said that reliability was the reason McLaren were not leading the Championship rather than being out developed by Red Bull and Whitmarsh agrees that they should have scored more points this year.
"You have to have everything right," he said.
"We've had times were we have been very quick and lots of times we have been on the front row. So we should have scored more points, but that is looking backwards. I think Red Bull have made a good step recently and they are going to be tough to beat but we go into every race trying to win and that is what we are going to do this weekend."
The teams met once again in India to discuss the sport's future and Whitmarsh hinted a budget cap could be on the cards to help the smaller teams compete.
"There is an RRA in place and that has reduced the spending at McLaren we have had in recent years," he said.
"There are maybe four teams at this end of the pitlane that can afford our giddy numbers, but we need smaller teams kicking our buts now and again and we need to make sure they have a sustainable business model - most of them at the minute don't seem to have one so we need to make sure something is done."