Toro Rosso appoint Key
Former Force India and Sauber Technical Director starts work
By Mike Wise at Monza. Last Updated: September 6, 2012 10:16am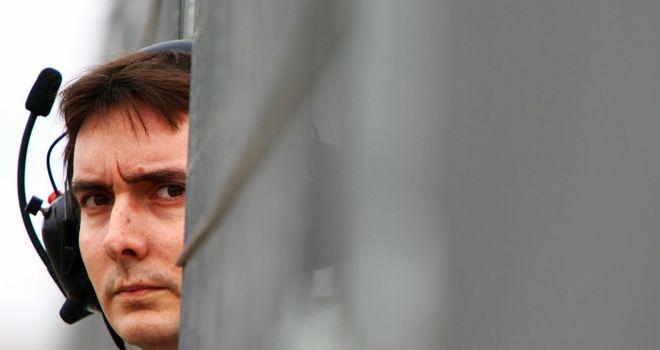 James Key: New Toro Rosso Technical Director
Formula 1 Betting

Formula 1 Betting

Join the Free Bet Club
Toro Rosso announced on Thursday that James Key has taken over from Giorgio Ascanelli as the team's Technical Director.
The Italian team had already confirmed that Ascanelli had resigned the post having failed to attend a grand prix since earlier this summer.
Key, 40, was previously Technical Director at Force India and Sauber but departed the latter team just before the start of the current season.
"I am very happy to be joining Scuderia Toro Rosso after a few months away from Formula 1. It's a great opportunity for me to join a team that strikes me as extremely ambitious with a workforce that is very motivated," said Key, who started work on Monday.
"Even after just a few days, I have sensed, from everyone I have dealt with, an enthusiasm to move the team forward. There are clear opportunities coming up through regulation changes and we intend to look not only at the long term, but the short term too.
"We will be studying the team's working practices, throughout all the departments, while looking to see which areas need strengthening further. Our aim has to be to move the team up a level in terms of its position within the F1 hierarchy.
"Next year's car project is already well underway and it seems to be going in the right direction and now we have a few months left to ensure it is a step forward from this year's car."
THE ONLY PLACE TO BE
Sky Sports F1 HD is THE only place to watch the 2012 Formula 1 season in full live. Our extensive coverage continues with the Italian Grand Prix exclusively live on 7 -9th September.
FRIDAY 7th - P1 from 8.45am. P2 from 12.45pm
SATURDAY 8th - P3 from 9.45am. Q from 12pm
SUNDAY 9th - Race from 11.30am
To find out all the different ways to watch the action, click here
Toro Rosso have so far struggled this season and currently lie ninth in the Constructors' Championship, although Daniel Ricciardo and Jean-Eric Vergne both scored points in Belgium last weekend.
"Looking closer to home, there is still some development to come on this year's STR7 and we will be doing our best to make the most of the remaining eight races with the developments already in the pipeline, all of it coming off the back of a good weekend in Spa," Key added.