P3 report: Alonso goes fastest
World Championship leader sets Spa pace
By Mike Wise at Spa. Last Updated: September 1, 2012 4:41pm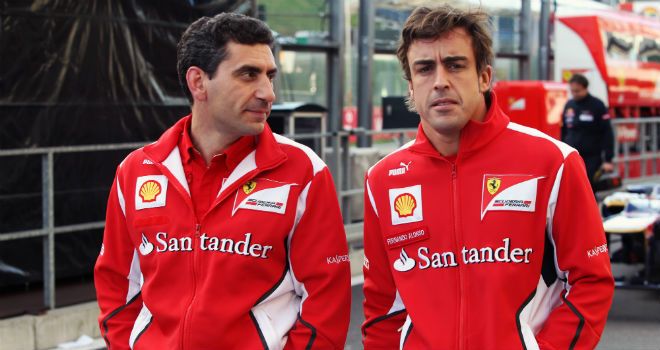 Fernando Alonso: Fastest in third practice session
Fernando Alonso set the pace in final practice ahead of qualifying for the Belgian Grand Prix on Saturday.
The Ferrari driver, who currently leads the World Championship standings, lapped the 7.004km Spa-Francorchamps circuit in a time of one minute 48.452 seconds.
Lotus's Kimi Raikkonen was second quickest 0.141s slower, ahead of Sauber pair Sergio Perez and Kamui Kobayashi. Jenson Button was fifth for McLaren ahead of Felipe Massa (Ferrari), Mark Webber (Red Bull), Romain Grosjean (Lotus), Sebastian Vettel (Red Bull) and Paul di Resta (Force India).
"I don't think the Ferrari is necessarily a bad car in these conditions around this track, which means that Alonso could have been bluffing a bit on Thursday when he said they were the slowest top team."
Sky Sports F1's David Croft Quotes of the week
Outside the top 10 came McLaren's Lewis Hamilton, who was 12th one place ahead of Michael Schumacher, with his Mercedes team-mate Nico Rosberg dropping out of the session early on with an apparent gearbox problem.
Rosberg pulled off the track on the run to Turn 12 in the opening minutes. "No drive," reported the German, with Mercedes mechanics now facing the prospect of a gearbox change - with consequent penalty - ahead of qualifying.
Webber must already race with a gearbox penalty after an enforced change on Friday - quite a headache for Red Bull as well after the ground they lost as a result of the day's washout.
All teams were in the same boat, however, and it came as little surprise that the track was a hive of activity just as soon as the pit lane opened.
Raikkonen, whose car along with that of team-mate Romain Grosjean, was not fitted with Lotus's 'Device' that produces a boost in straightline speed, was soon back in his pit complaining about his set-up.
"The car is too stiff for me, we are not learning anything - absolutely nothing," Raikkonen told his engineer. Aero adjustments were made before the Finn went out again.
The Ferraris of Alonso and Massa, both of whom were trying out a new, lower downforce rear wing, were quickest after 20 minutes while the Marussias of Charles Pic and and Timo Glock were fourth and fifth at this point.
Belgian GP - P3
Marussia are introducing updates of their own this weekend, with Pic putting them through their paces to go a full minute faster than the time he set at the end of the sodden P2 session.
Perez produced the first sub-1:50s lap just past halfway before Grosjean and then Webber went quickest.
There seemed no common pattern in the various programmes teams were running. Webber stuck with the prime tyre early on, for example, while Button and Hamilton spent more time on the option.
Neither McLaren threatened the pacesetters at any point, suggesting that they concentrated on heavy-fuel runs.
THE ONLY PLACE TO BE
Sky Sports F1 HD is THE only place to watch the 2012 Formula 1 season in full live. Our extensive coverage continues with the Belgian Grand Prix live on 31st August - 2nd September.
SATURDAY 1st - Q from 12pm
SUNDAY 2nd - Race from 11.00am
To find out all the different ways to watch the action, click here
However, speaking on Sky Sports F1, Ted Kravitz said: "They're not looking exactly delighted down at McLaren. If I can read some body language, there's some pretty long faces down here on Hamilton's engineer who's looking at his computer which is always a bad sign. So I'm not sure everything particularly is going well.
"But just bear in mind they will still have the first 10 minutes of Qualifying One in that 20-minute session to do some tweaking to their low-fuel set-up."
Vettel moved second to his team-mate with 15 minutes to go, with Perez and Kobayashi briefly one-two before Alonso - who denied he was the title favourite on Thursday as he felt his car was not currently quick enough - again went top.
Sky Sports F1's Johnny Herbert had this to say about Sauber's weekend: "I had a word with them yesterday and they were quietly confident that they had a good type of car for this type of track with these long, flowing corners.
"That's where they seem to feel their car is very, very good and at the moment it's proving that way."
Further down the order, Di Resta's time was set in spite of a twitchy VJM05, whilst Caterham's Heikki Kovalainen ended the session 18th (ahead of both Marussias) despite suffering a DRS failure.