Whiting: Drivers still have respect
FIA race director reveals why Rosberg and Hamilton were not penalised in Bahrain
Last Updated: 12/06/12 3:49pm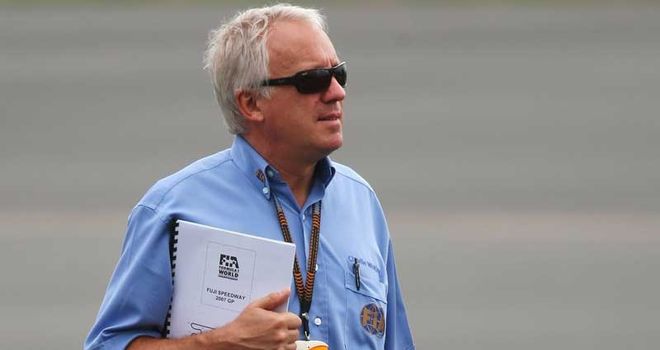 Charlie Whiting: Improved safety means drivers 'probably' take more risks
Charlie Whiting has given a rare interview about current driving standards in Formula 1 in which he says that he doesn't believe drivers exploit modern-day safety standards to deliberately endanger rivals.
THE ONLY PLACE TO BE
Sky Sports F1 HD is THE only place to watch the 2012 Formula 1 season in full live. Our extensive coverage continues with the European Grand Prix on 22 -24th June.
FRIDAY 22nd - P1 from 8.45am. P2 from 12.45pm
SATURDAY 23rd - P3 from 9.45am. Q from 12pm
SUNDAY 24th - Race from 11.30am
To find out all the different ways to watch the action, click here
The driving of the sport's current generation of drivers has come under close scrutiny on several occasions this season following controversial incidents this and last week former World Champion Jacques Villenueve expressed some typically forthright views on the matter.
The 1997 World Champion, who served as an analyst for Sky Sports F1 at the Canadian Grand Prix last weekend, cited several incidents, including those involving Nico Rosberg at the Bahrain Grand Prix in April, as examples of drivers showing a lack of respect on the track.
Labelling current F1 stars as "daddies boys", Villeneuve said the 2012 crop of drivers had become complacent given the high standards of safety the sport now enjoys.
Speaking in an interview with F1 journalist Will Buxton, Whiting, the FIA's Race Director, explained the decision by stewards not to punish Rosberg for his moves on both Lewis Hamilton and Fernando Alonso in Bahrain.
Although instinctively believing that Rosberg should be punished when he first saw the incidents, Whiting changed his mind upon closer inspection - but still thought the decision was "marginal".
Explaining the stewards' rationale, Whiting said: "It was much clearer in the case with Lewis. At no point when there was one car width left between Nico's car and the edge of the track was any part of the car behind alongside him. That's what swayed it just in Nico's favour.
"The rules specifically say he's allowed to use the full width of the track. He didn't force the driver off track, the other driver drove off the track. Fernando backed off, lost momentum, but Lewis decided he was going to go for it whatever and kept going, and that for me was the only contentious thing: did Lewis gain an advantage by going off the track?"
Hamilton was able to run wide on to the huge expanses of run-off surface at the Bahrain International Circuit, and Whiting admits that drivers "probably" feel able to take more risks at such forgiving tracks.
"They probably do more because they know that the worst that could happen to them is to spin off into a vast expanse of asphalt," he said.
"Normally, and I think Bahrain is the exception to the rule, the track verges, as in the edges of the track, are grass. So it would have been a whole different story if Lewis would have kept his foot in and used the grass instead of the asphalt in Bahrain. He would have lost downforce and grip on the grass.
"I don't think Nico would have done anything different had it been grass, I think it's the driver behind who would have done something different."
While further admitting that such incidents are "an unintended consequence" of modern safety standards, Whiting said he didn't believe that drivers would use the perceived reduction in risk to deliberately endanger a rival.
"I'd like to think drivers didn't think that. I'm sure they take more risks when it comes to trying to do a quick lap, when they've got open expanses of run off area. That's inevitable - I think laptimes around Monaco would be a bit quicker if there was no guardrail there.
"But I don't think that they do anything that they shouldn't do, and even if they did they'd be nicked. It wouldn't matter how big the verges or the run-off areas are, whether it is grass, asphalt or gravel. If the move is wrong, it is wrong."