Alonso angered by Rosberg
Spaniard unhappy with decision to clear Mercedes driver
Last Updated: 24/04/12 11:02am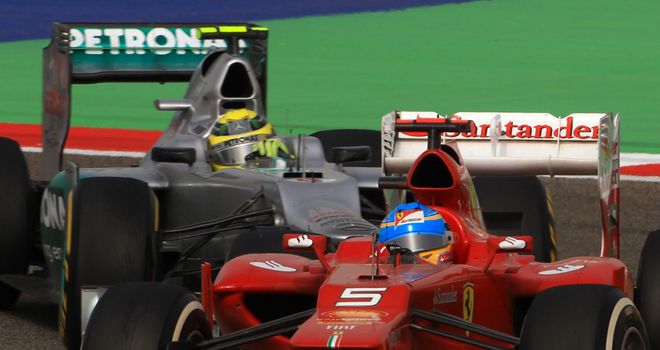 Alonso and Rosberg were in close company all race
Fernando Alonso has reacted with disbelief to the decision of race stewards to clear Nico Rosberg of dangerous driving in Bahrain, claiming only the circuit's expansive run-off areas prevented a major accident in his incident with the Mercedes driver.
Rosberg was at the centre of two controversial incidents during the course of Sunday's 57-lap Grand Prix which were subsequently investigated by stewards after the end of the race, the second of which involved Alonso as the pair came onto the straight between turns three and four.
SKY SPORTS F1 HD
Watch all this season's races
No ad breaks - uninterrupted live race and qualifying coverage
Enjoy F1 on the move with Sky Go
Expert commentators and pundits - including Damon Hill, David Croft and Ted Kravitz
In-depth programmes and analysis
To find out more about Sky Sports F1, click here
After several hours of deliberation, the stewards ruled that Rosberg hadn't been guilty of illegally crowding in either case, and on the incident with Alonso, stated that "the driver of Car 8 [Rosberg] commenced his move to the right after the exit from T3 and moved to the right in a constant and continuous straight line manner, not making any sudden movements" and that he had moved to the inside of the track before the Ferrari attempted to pass.
That ruling appears to have left Alonso deeply unimpressed with the two-time World Champion quoted by the Press Association as saying: "Instead of such a wide run -off area (if) there had been a wall, I'm not sure I'd be here now to talk about it."
The Ferrari driver also took to Twitter after the ruling was announced, sarcastically suggesting that the judgement gave the green light for drivers to disregard the rule book from now on.
"I think you are going to have fun in future races!" Alonso wrote. "You can defend position as you want and you can overtake outside the track! Enjoy!"