Horner bullish after practice
Champions improving the RB8
Last Updated: 20/04/12 4:14pm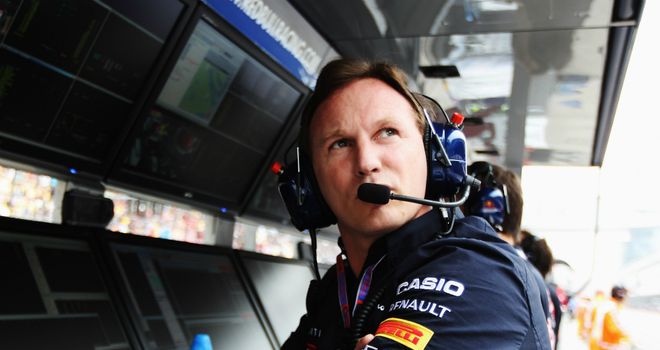 Red Bull believe they have made progress with the development of the RB8 after a positive day of running in Friday's Practice sessions in Bahrain.
THE ONLY PLACE TO BE
Sky Sports F1 HD is THE only place to watch the 2012 Formula One season in full, with live and exclusive coverage of the Bahrain Grand Prix.
SATURDAY - P3 from 8.45am. Q from 11am
SUNDAY - Race from 11.30am
To find out all the different ways to watch the action, click here
Having lagged behind McLaren and, particularly in China last weekend, Mercedes, the World Champions looked to have improved in the early stages of this weekend, claiming P2 in both of Friday's on-track sessions.
"It's dangerous to read too much into Fridays, but it's been a positive day for us," reported Team Principal Christian Horner to Sky Sports News. "The drivers seem reasonably settled in the car, but as we've seen already in the championship, things can move around a lot quickly.
Yet there is no doubt that, in low-fuel trim at least, Mercedes represent a formidable opponent.
"We expect Mercedes and McLaren to be very strong at this track," confirmed Horner. "We believe it plays to the strengths of their cars, but we will try our best to take the fight to them."
For his part, World Champion Sebastian Vettel also indicated that he believes Mercedes and McLaren remain the teams to beat, but offered a positive report on his day's work.
"We did a lot of running today, so that's good. Regarding set-up, I think we got the answers in China that we were looking for and that's helped us here," Vettel commented.
"I think others are the favourites this weekend, but we are focusing on ourselves and pushing hard. We made a step forward, but we see where we are tomorrow."