Crown Prince: Race is force for good
Prince responds to fresh calls for cancellation
Last Updated: 20/04/12 4:15pm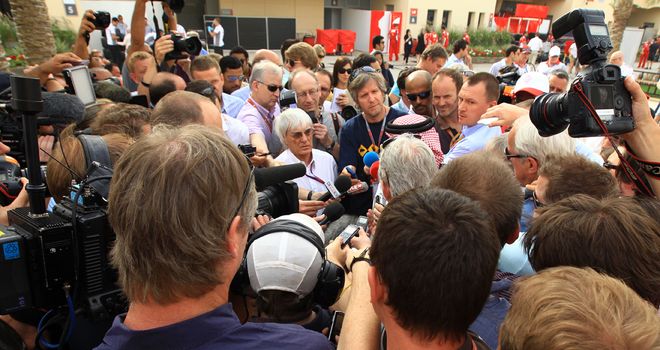 The scene inside the paddock on Friday night
The Crown Prince of Bahrain has insisted that this weekend's grand prix should be held and will act as a unifying force for the troubled kingdom state.
SKY NEWS IN BAHRAIN
Sky News is providing full coverage of the political situation in Bahrain as it plays host to the grand prix. Click here for more from the Sky News team.
The withdrawal of the Force India team from Practice Two on Friday, coupled with the disclosure of Sauber that their personnel also witnessed disturbances on their return to their hotel from the circuit on Thursday night, has prompted renewed calls for the race to be cancelled.
However, speaking to a posse of reporters inside the paddock following the completion of Friday's running, the Crown Prince vowed that it was right for the event to proceed.
"We are a real country with real issues and we hope you see us with all our complexities and all our shades," he declared. "I genuinely believe that this race is a force for good. It unites many people from many different religious backgrounds and sects.
"I think this race should continue because it is indeed a very big event for this country. It is important economically and socially.
"Political parties from across the whole spectrum, both conservative and opposition, have welcomed the race and as far as I understand it was a few politicians [in Britain] who made those comments and it doesn't certainly represent the entire British political spectrum."
Yet, with Force India opting out of Practice Two in order to leave the circuit before darkness fell, it is the issue of safety that is increasingly becoming paramount for those inside the paddock.
THE ONLY PLACE TO BE
Sky Sports F1 HD is THE only place to watch the 2012 Formula One season in full and will have live and exclusive coverage of the Bahrain Grand Prix.
SATURDAY - P3 from 8.45am. Q from 11am
SUNDAY - Race from 11.30am
To find out all the different ways to watch the action, click here
"I absolutely can guarantee that any problems that may or may not happen are not directed at Formula 1. And it goes to show that there are people that are out to cause chaos.
"You had these problems last year in your country and there's a very big difference between protesting for political rights and rioting and the attack that happened around Force India was aimed at the police and it was unprovoked and it was quite dangerous.
"But at no time was anyone from Formula 1 in danger."