Liuzzi eyes F1 return
Italian admits he misses racing at the pinnacle of motorsport
By William Esler. Last Updated: April 7, 2012 11:59am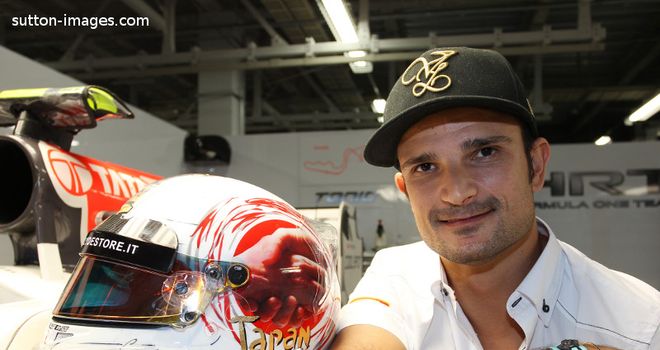 Vitantonio Liuzzi: Misses racing in Formula One
Formula 1 Betting

Formula 1 Betting

Join the Free Bet Club
Vitantonio Liuzzi has admitted he misses Formula One and would love to return the championship once again.
The Italian, who is still HRT's third driver, is embarking on a new chapter in his career driving a Mercedes for CAAL Racing in the Superstars Series.
The 30-year-old made his debut in the touring car championship at Monza last weekend and took a podium in race one before winning race two.
"Of course I miss Formula One because it is the pinnacle of the sport and the ultimate goal in a racing driver's career," the Italian told Touring Car Times.
"For sure I would like to try to get back there in the future. On the other hand I'm really happy to be here, this is another chapter in my career and I'm glad I had the opportunity to prove myself in a high level championship as the Superstars Series.
"If I had the chance to go back to F1 midway through the season I would need to evaluate the situation very carefully.
"Of course I'm still linked to the Grand Prix world as a third driver for HRT and it has a priority for me, so if the opportunity comes I would have to think about it and you never know what's going to happen in the future.
"In the meantime we enjoy this good weekend we had at Monza and this new adventure I'm living and then we'll see."