Brawn takes the positives
Mercedes team boss looks on bright side after poor result
Last Updated: 30/03/12 2:48pm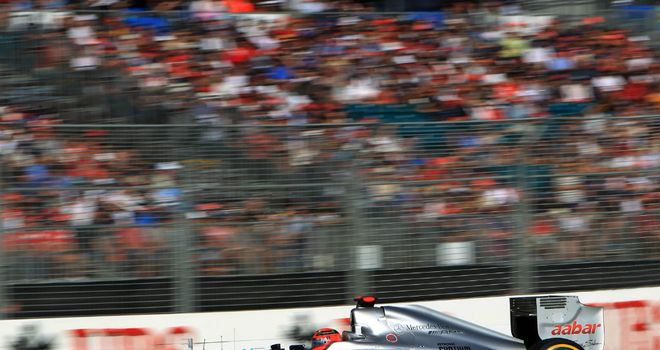 Michael Schumacher ran third for Mercedes before his gearbox problem
Formula 1 Betting

Formula 1 Betting

Bet with Sky Bet
Mercedes Team Principal Ross Brawn remained upbeat despite a disappointing result at the Australian Grand Prix in Melbourne.
After their drivers Michael Schumacher and Nico Rosberg qualified in fourth and seventh respectively, Mercedes were left disappointed when neither was able to finish in the points.
Schumacher was running in an impressive third before retiring with a gearbox problem on lap 11, while Rosberg lost a points-paying position on the last lap after clashing with Sauber's Sergio Perez.
But Brawn thinks that Mercedes showed encouraging general pace, even if he was concerned with the performance drop-off in the tyres throughout the course of the race.
THE ONLY PLACE TO BE
Sky Sports F1 HD is THE only place to watch the 2012 Formula One season in full. We will have live and exclusive coverage of the Malaysian Grand Prix starting with P1 on Friday.
FRIDAY - P1 from 1.45am. P2 from 5.45am
SATURDAY - P3 from 4.45am. Q from 7am
SUNDAY - Race from 7.30am
To find out all the different ways to watch the action, click here
"After a very encouraging weekend today was not a good result for us," Brawn said.
"Despite excellent starts, both Michael and Nico had difficulties from the start of the race with their tyres.
"With the development of the circuit and track temperatures, we fell out of the working window and struggled with degradation.
Quick
"However, we remain positive as both here and over the winter tests we have demonstrated we have a fundamentally quick car and we have a lot to build on.
"So we need to look at what happened today, unravel the problem and work out where we need to improve."
Schumacher was chasing a first podium finish since coming out of retirement but was left to rue his luck after the mechanical failure.
"It was especially unfortunate as we have not had this problem during the winter tests and were very reliable," the seven-time World Champion said.
"But this is why I am not concerned as I know things like this happen in racing, and our reliability is not in question.
"I believe I could have had a good race, and I can still take some positives out of the weekend.
"As we have seen our car confirmed our feelings, is definitely a clear step forward and we can now build on that and start improving further."
Rosberg added: "The race did not turn out as we had hoped. The end was particularly unfortunate with Perez when we touched on the straight, causing a puncture which took away a points finish.
"We have a lot of work to do to understand what went wrong, and how we can use the full potential which our car definitely shows."