Pirelli names tyre choices
Soft and medium tyres to be used in two of opening three rounds
Last Updated: 16/02/12 6:07pm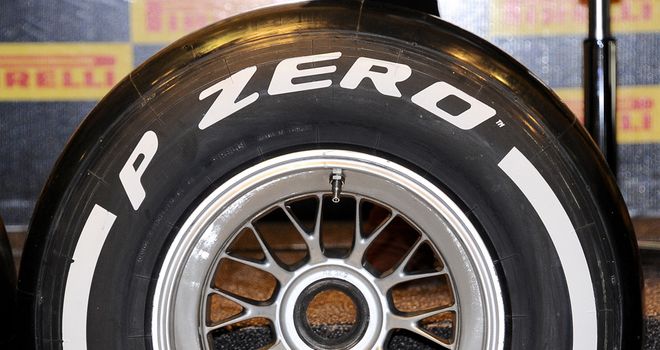 Pirelli's medium compound will be used at all three opening races.
Formula 1 Betting

Formula 1 Betting

Bet with Sky Bet
Pirelli has announced its tyre allocations for the first three rounds of the new season, which kicks off in Australia next month.
The Italian tyre manufacturer is introducing a revised range of compounds for 2012, with only the super-soft surviving in its 2011 form from the end of last season.
All three of the new slick compounds will make an appearance across the opening trio of flyaway races, with the soft tyre to be the 'option' and the medium tyre the 'prime' at the season-opener in Australia and then also at the third round in China.
For the second round in Malaysia, the medium will become the 'option' compound with the silver-banded hard tyre pressed into service alongside it for the first time in 2012.
Speaking at the end of last week's opening pre-season test at Jerez, Pirelli's motorsport director Paul Hembery expressed his encouragement with the performance of the new-look tyres.
"The tyres performed exactly in line with our expectations in Jerez," he said.
"We've had a very positive reaction from the drivers and teams so far, who have reported more grip at the rear, fewer 'marbles' and a reduced lap time difference between the compounds as well as faster overall performance - which is precisely what we wanted.
"We're happy with the level of degradation and we had no issues, as was the case for all of last year."
Pirelli also confirmed that four sets of its newly-named green-banded intermediate Cinturato tyre, along with three sets of its blue rain tyre, will be made available to each driver over each grand prix weekend.