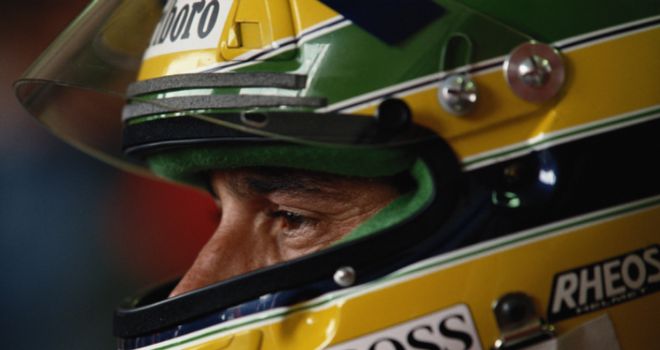 To many fans and ex-drivers, Ayrton Senna is the greatest Formula 1 driver that ever lived. The Brazilian's astonishing speed, commitment and sheer mystique marked him out even at a time when the sport was blessed with a generation of drivers that would go on to become all-time greats.
A karting champion in his homeland, Senna narrowly missed out on World Championship honours at this level but the Sao Paulo-born star was soon making waves when he entered the European racing scene. He notched up a stack of wins in Formula Ford before pipping future F1 rival Martin Brundle to the prestigious British F3 championship in 1983.
After tests with several F1 outfits - including future employers Williams and McLaren - he graduated to the top level with the midfield Toleman squad and didn't take long to make his mark. Most memorably, on his debut at barrier-lined Monaco, he finished second to future foe Alain Prost in atrocious conditions and may well have won had the race not he been red flagged after just 31 laps, such was the rate with which he was catching the Frenchman.
He promptly switched to the more competitive Team Lotus for 1985 and, in the famous black and gold-liveried challenger, claimed his maiden pole and victory all on the second weekend of the season, adding a second win at Spa along with a further six poles before the year was out. Senna finished fourth, fourth and third in the Championship in his three seasons at Lotus but a year later finally had his first Drivers' title after switching to McLaren alongside Prost, who by now was already a two-time World Champion.
The pair's two seasons together became increasingly acrimonious as both sought for supremacy at McLaren both on and off the track. After Senna claimed the title in a 1988 season that saw McLaren win every race bar one, the crown went to Prost the following year but only after the first of two hugely controversial collisions at Suzuka, when the Frenchman blocked the sister car off at the chicane.
A year later, and with Prost now at Ferrari, Senna, angered that the pole position slot had been moved to the other side of the grid, simply drove into his rival after being beaten off the line, giving him title number two.
The Brazilian was certainly a ruthless racer yet his intensity for racing and winning sat somewhat paradoxically alongside a softer and more emotional side away from the circuit which involved extensive charity work.
In 1991, he joined the ranks of back-to-back World Champions after seven more wins. After making it six seasons at McLaren with some extraordinary drives in an inferior car in 1993 - including an astonishing first lap and eventual victory at Donington - Senna left his spiritual home for rivals Williams in 1994.
With a new younger rival Michael Schumacher emerging at Benetton, a battle between old and new master was highly-anticipated by all in F1. Tragically, however, the rivalry was cut short as Senna was killed after a crash in the San Marino Grand Prix on 1 May 1994; just a day after Austrian Roland Ratzenberger had also lost his life. F1, and the sporting world as a whole, had lost a true superstar at the age of 34.
Nearly two decades on from his death and the Senna legend lives on through a new generation of fans thanks to the footage of his sensational driving and the highly-acclaimed documentary film of his career released in 2011.