Rod Harrington: Ted Hankey didn't step over line against Simon Whitlock
Rod Harrington defends Ted Hankey from Phil Taylor's criticism - but says he's not back to his best yet.
Last Updated: 15/11/13 3:53pm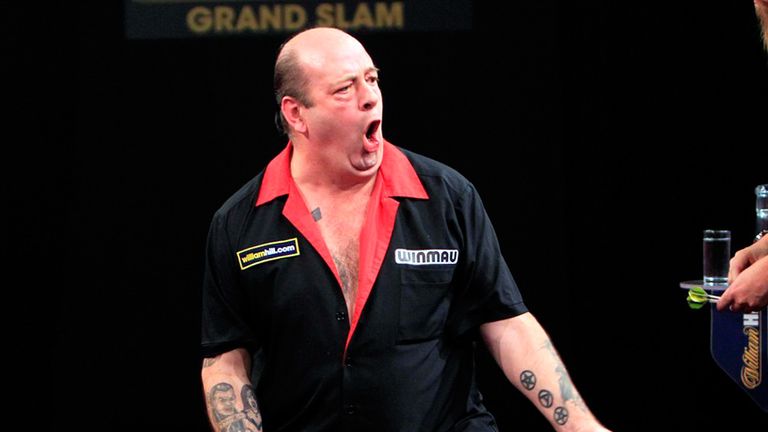 He feels Ted is such a good player that he shouldn't have to use tactics and gamesmanship to put another player off and win a match.
During Wednesday night's match he was slowing things down and reacting to the crowd - but that's nothing we haven't seen before from other people. Whitlock himself did it to Justin Pipe in Hamburg last year.
Ted played well, but Simon Whitlock was 6-1 up and should have had the experience to close the game out - but he let his opponent get to him instead of playing his own game. He got involved with Ted and got done. Ted won legs at crucial times, pulled it back and won the decider.
This wasn't the first time that Simon has lost from that sort of position, but as an experienced Premier League player he is normally able to get on with his own game and to be fair to him, I haven't heard any complaints from him.
You have to remember that the crowd is an important part of this game - we are not just a sport, we are an entertainment as well - and that means we want players to get the crowd going. It's part of the game and you have to put up with it.
There is a fine line, but I don't think Ted stepped over that line. I think Simon just had one of those bad days at the office. He was 6-1 up, took his eye off the ball a little bit and before he knew it he had given the advantage to his opponent.
Premier League chance?
As for Ted, I don't think he is back to his best just yet - but that's not to say that he won't get there.
He is a two-time world champion, he was an exceptional scorer and when you have that sort of ability anything is possible. However, he's had a bad year with a couple of illnesses and that's put him on the back foot.
He has turned up to Tour events throughout the year and hasn't been able to understand why he hasn't been winning more. He's not a top eight player nowadays - but as with a lot of players, you never know what might happen if they suddenly turn it on.
When you've been at the top and lost it then it's very hard to get it back. It's different for young players like Kim Huybrechts and Peter Wright, who don't know their boundaries. They've never suffered defeats in big finals and are yet to find out just how good they are.
When you're on the way up you don't worry about losing so much because you're half-expected to lose but once you know your boundaries things can get a bit negative psychologically. You start to over-think things instead of going up and throwing darts in a relaxed fashion.
So it's harder to get back to the top when you've already been there you have to remember, Ted threw an average of less than 86 against Whitlock and I don't think we can say he's in contention for the Premier League on the back of one win.
Don't get me wrong, he is entertaining to people at home and the crowd in the venue. I realise more than anyone how important entertainment is in darts and you have to do what you can to make money and earn a wage. Sometimes the sport needs to take a little bit of a back step to satisfy what your commercial partners want - and that's entertainment for the viewers.
But there is a fine line between entertainment and playing ability. We have to select players for the Premier League who are capable of doing a good job on the board and don't get their backsides kicked every week.
I like Ted Hankey. I think he's a lovely guy and he's good for the game - and if he goes on and wins the Grand Slam of Darts then he would get my vote for the Premier League.
He needs to prove it in more than one game first.
A cracker
Finally, I must mention the Adrian Lewis v Michael van Gerwen match which was box office entertainment.
Those two boys stood up there, threw their darts and forgot about everything else. It was a cracking match to watch.
When two players are throwing so quickly and so brilliantly, you don't need any thoughts of tactics or gamesmanship!