Rod Harrington: Phil Taylor still best bet to win World Grand Prix
Rod Harrington says Paul Nicholson needs to believe he can beat Phil Taylor on Wednesday night.
Last Updated: 15/10/13 3:11pm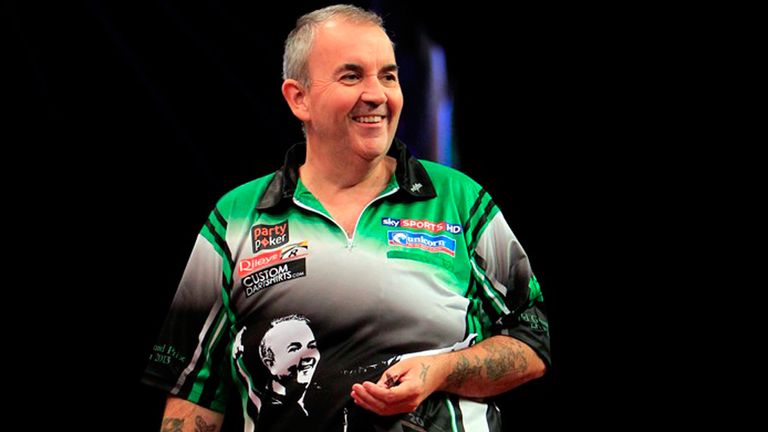 Phil Taylor had a tough match against Jamie Caven and we thought we could be in for an upset when he lost the second set, but he turned it on and got through.
Barney has looked quite comfortable after playing very well in the two Tour events in Dublin over the weekend - and I thought Kevin Painter played very well, too.
Dave Chisnall had a good performance, even though he's renowned for missing doubles, while Paul Nicholson came back from one set down against Robert Thornton, which showed that he's got some grit and determination back.
A lot of players lack that at the moment.
Adrian Lewis was taken all the way to the last leg against Brendan Dolan and he dealt with some stick from the crowd. We all love him because he's a lovely lad and a great player, so I was glad to see him come through.
But I'd have to say that the performance of the first round has to go to Gary Anderson.
He averaged over 100, he didn't miss a double and was getting in with big three-dart scores straight away. He didn't even let Jelle Klaasen have one dart at a double, which is an incredible performance.
I'll also mention Connie Finnan, who knocked out Terry Jenkins. I spoke to Eric Bristow before that match, and while I said Terry should win I said an old-school player like Connie wouldn't bottle it.
I spoke to Terry the next day and he just said that things sometimes don't go for you and he's right. Darts players aren't robots and sometimes you have to accept it didn't work, move on and forget about it.
Jenks has got a good attitude and will come back from this. He's admitted he's going to play darts until the drops out of the top 32 - and then he'll think about quitting. Until then he'll take the money, as he puts it.
Here's how I expect things to go on Wednesday night:
James Wade v Connie Finnan
I can't see another upset here. We're into the best-of-five from now on so that will suit Wade. He looked cool in his win the other night, but if he loses the first set then it could be a different game. However, his consistency and bottle should see him through; he tends to pull things out at the right time.
Wes Newton v Gary Anderson
This should be an absolutely cracking game and if Gary plays like he did the other night then Wes has got a tough night on his hands. Wes has learned how to battle and grind results out and I can't call this one. Based on the first round you'd pick Anderson, but I just hope I get to commentate on this because it should be a great game.
Phil Taylor v Paul Nicholson
I think 99% of the world's population would pick Taylor here, but as long as Nicholson is in the 1% - and really believes he can beat him, rather than just saying that he can - he has a chance. He has to focus on his own game and on his doubles; he's a good thinker and I like his strategy. He beat Thornton by getting in on double 16 and then following it up with treble 19s rather than going up the board to treble 20. He does have a chance, but I've tipped Taylor to win the tournament because he's playing so well.
Simon Whitlock v Ronnie Baxter
Whitlock was very fortunate to get through after Michael Mansell missed three match darts and sometimes when you think you've got Lady Luck on your shoulder you can go a long way and it changes your attitude. We've all been there! Baxter beat Colin Lloyd, who didn't really play his best match, so it's hard to judge Ronnie's form. Baxter is old school, but I think Whitlock will play his own game and will get through.