Rod Harrington calls Grand Prix openers for Van Gerwen, Lewis and Barney
Rod Harrington says Van Gerwen, Lewis and Barney will find it tough in round one at the Grand Prix.
Last Updated: 09/10/13 11:02am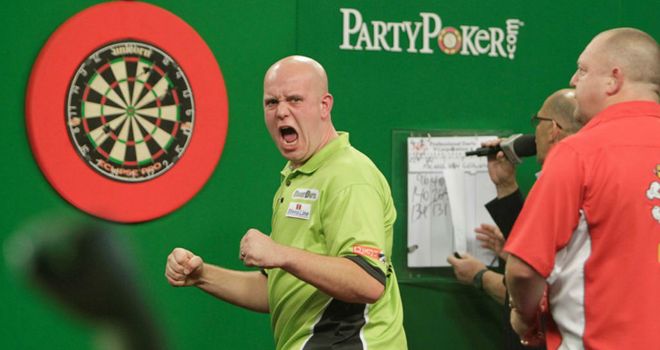 I know Michael van Gerwen won here last year, but the fast players have a tendency to miss doubles and that's obviously a disadvantage in the double-in format.
You can easily see someone throw in two 12-darters and lose a set 3-2 because they can't get their double-in quick enough in the other legs.
Van Gerwen isn't in the form that he was six to eight months ago and I think that's because people aren't as scared of him any more. A lot of people think he's going to win so they go up there and relax against him and the fear factor diminishes.
He can't afford to mess around against John Part in the first round. The old fella isn't playing the best darts of his life but if he gets chances he will take them - and the double-in format will suit him.
Adrian Lewis will be one of the favourites when you look at the way he's been playing in the last six to eight months, but opening opponent Brendan Dolan will have the Irish crowd on his side.
That could affect Lewis and it's a dodgy match for him. Lewis will need to concentrate, shut the crowd off and get the double-in as soon as he can. It seems unfair that the crowd is always against him because he's a double world champion and deserves more gratitude, but that could be a telling factor in the match.
The way Raymond van Barneveld has been playing for much of this year, it's hard to rate his chances. He may turn it on like he did in last year's Grand Slam, but I think he needs to be careful. He could easily be an early casualty. Stuart Kellett beat him in the European Open a couple of weeks ago and will be confident. If Barney's head goes down then he could be on his way home.
Barney needs to focus and get some emotion into his game. Emotion is what gets the motor running and allows you to do the exceptional things, but Barney is dead as a doornail at times.
Wayne Jones v Mervyn King
Mervyn King has been playing really well and lost in the Euro Final last week, however that was the first time Wayne Jones has turned up for a long time. I've got to go with King to win this match because he's starting to get some good form back.
Justin Pipe v Andy Smith
Justin Pipe lost every match at Crondon Park a couple of weeks ago, but lost most of them 6-5. I felt so sorry for him because he was so close. He played brilliantly and speeded up his game in a couple of matches, but still couldn't get a win. I'm going to back him to win this and I think his overall game will wear out Andy Smith.
Kevin Painter v Richie Burnett
This could be a game of real attitude. You'll see Richie Burnett giving it a bit of arrogance, something I love to see, but Kev has got the same sort of streak in his personality. There'll be bragging rights to be had after the first leg and plenty of chest-pumping and showmanship early on. I've known both of these guys for a long time and I'm sitting on the fence.
Dave Chisnall v Ian White
Dave Chisnall has been playing exceptionally well and his 180 count is always excellent. Back him to outscore his opponent on 180's all the time and you'll win the bet nine times out of 10! He is renowned for missing doubles though and Ian White is a solid player, but I think Chisnall will win this match.
Andy Hamilton v Kim Huybrechts
This will be a real tough match to call because Kim Huybrechts has been coming right back into form and is a really high scorer. That scoring will go up against the solid game of Andy Hamilton and should give us a great match, but I'll go with Hamilton because he's probably better on the doubles.


Stuart Kellett v Raymond van Barneveld
I'm going to back Barney to win this match because he has the ability, but it wouldn't surprise me at all if Stuart Kellett causes an upset. He beat him the last time they met and if he can take the first set then I think he will go on to take the match. There hasn't been much fight in Barney this year when he's gone behind and Kellett won't be scared of him.
Michael van Gerwen v John Part
I think Michael van Gerwen will have enough extra scoring power, leg-on-leg, to win this match - but you cannot take John Part lightly. He won't miss many doubles, but I think the defending champion will edge him, even though he no longer has the fear factor that he had earlier this year.
Adrian Lewis v Brendan Dolan
Let's not forget that Brendan Dolan has made the final and the semi-final of this tournament in the last two years. He's a cagey old player and won't be rattled, but I will go with Lewis because he has the experience to do the right things at the right time. He plays the game properly now and knows he needs to get into his opponent early. If he can do that I expect him to go on and win it.