Rod Harrington: Phil Taylor still favourite at World Grand Prix
Rod Harrington expects upsets aplenty at the World Grand Prix - but still thinks Phil Taylor will win.
Last Updated: 08/10/13 9:58am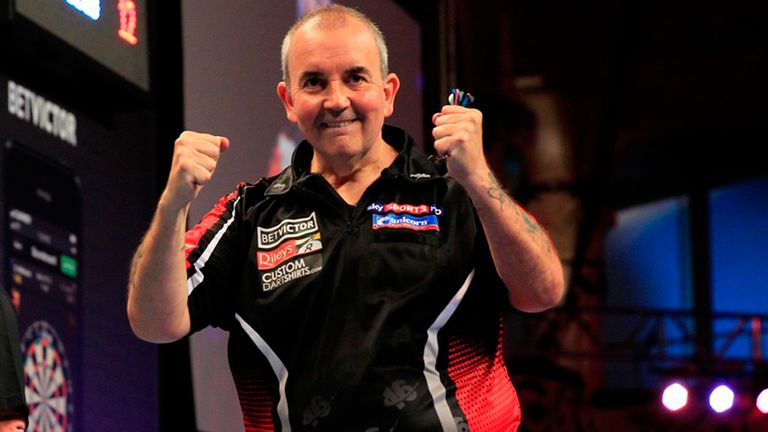 Because of the double-in format, the non-seeds go into the tournament feeling more confident of beating the big boys. It brings the likes of Phil Taylor back into the pack, especially in the first round.
I expect to see a few big-name casualties because at every tournament the standard is getting stronger and stronger. As a player I used to hate this tournament because there's more upsets than any other - but now I love watching it!
There's no question Taylor is still the favourite and you just have to look at the final of the World Matchplay to see why. Adrian Lewis hit nineteen 180s in that game and still couldn't beat him!
Taylor's checkout ability from 60 to 120 is incredible, so much better than every other player, and that's the difference. That's where the old warhorse beats players and wears them down.
We had a tournament at Crondon Park last week and he won the first day, which is the hardest of all to win. The stats and performances say he will be the one to beat.
Elsewhere, James Wade is returning after a month's break and he's usually pretty good on the doubles so this tournament should suit him. The fact he's won here twice before shows that.
Simon Whitlock is always going to be a threat in a tournament like this because he's solid on doubles and is a very consistent player, but there's no easy draws in the World Grand Prix, especially when it's best of three sets and double-in.
But if you're looking for a winner then you can't look past Taylor. People slag me off for backing him all the time - but I'm usually right!
Here are the games you can look forward to on the opening night:
Ronnie Baxter v Colin Lloyd
What a tough game this is for both players. Colin Lloyd has had a few problems with diabetes and has been struggling of late. Meanwhile, Ronnie Baxter broke his roach pole at our fishing competition last week so he needs to win a bit of money to get a new one! I'm going to have to sit on the fence in this one.
Wes Newton v Peter Wright
This is the game of the first round for me. Both players are playing brilliantly and Peter Wright, over the last year, has been the most-improved player in darts. The guy doesn't miss many doubles and he'll make it hard for Wes Newton. I can see both players winning and it could go to the final leg.
Paul Nicholson v Robert Thornton
Robert Thornton has been messing around with his doubles in the last few months and has had a few problems there. He went out of the Championship League early because of that and if that happens in Dublin then Paul Nicholson will beat him. If Thornton can find the form that won him the UK Open then it will go the other way.
Simon Whitlock v Michael Mansell
I've got to go with Simon Whitlock to win this one. Michael Mansell will get the home crowd behind him, but Whitlock usually gets a good piece of the crowd wherever he goes so that won't worry him. Mansell is no mug, but I've got to go for the consistent Whitlock.
James Wade v Steve Beaton
James Wade is a brilliant player, there's no doubt about that, but Steve Beaton is the sort of player that could hurt him. Beaton is on a high after winning a Euro event and Wade has just had a month off so you could make a great case for both. It all depends on which Wade turns up and I hope the break hasn't hurt him too much.
Phil Taylor v Jamie Caven
We've seen the likes of Adrian Gray and Andy Callaby cause upsets in the past and Phil Taylor knows that Jamie Caven is playing well and could cause an upset over the short distance. I tell you what, if Caven takes the first set this could be an edgy match for Taylor, but I've got to back The Power to win this.
Gary Anderson v Jelle Klaasen
Jelle Klaasen has slowed up his throw and has been playing some really good darts, as has Gary Anderson. But as Anderson will say more than anybody else, he has a problem with doubles and that is a big factor in this tournament. I would still go with Anderson here though.
Connie Finnan v Terry Jenkins
Connie Finnan is a good old Irish player and has been around for a long time. He will play his own game and won't get rattled, but I've got to go with Terry Jenkins for the win. He's been playing really well of late and seems to have got a little bit of drive back. He dropped to number 16 in the rankings and has had a reality check and isn't talking about giving up the sport any more. I've got to go with Jenkins.