Rod Harrington hails World Matchplay as sign of darts' bright future
Rod says the Matchplay was the best tournament he's ever seen and darts now has a bright future.
Last Updated: 30/07/13 5:20pm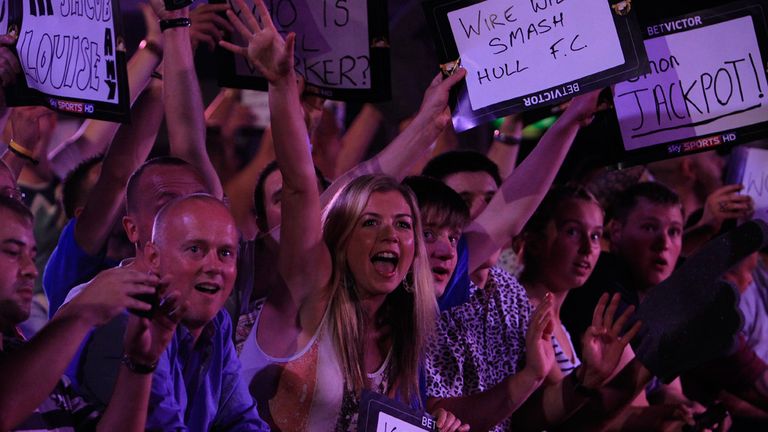 From the very first round, the quality of games was so high. Back in my day, you'd only see one or two good matches in round one but nowadays there are no easy draws.
When we got to the last 16 we thought it couldn't get any better, but the quarters were better still and the semis were better again. It's a testament to the PDC rankings that the pairings were so strong and it clearly works because the top four seeds were in the semi-finals.
The Michael van Gerwen match against Adrian Lewis was always going to be a cracker because of the mix of speed with such a high quality of darts. It was unbelievable to watch and was up there with anything I've witnessed in the past.
In the other semi-final, James Wade got to 10-10 with Phil Taylor and didn't look like he was playing at his best, but then Phil stepped on the gas and his consistency got him through.
Then the final between Phil Taylor and Adrian Lewis was just an unbelievable game of darts.
Difference
There were many reasons why I thought Phil would win in Blackpool.
A lot of idiots on Twitter accuse me of favouritism for tipping Taylor to win all the time, but I only do it because I know him and I know what he can do! His overall game is a few points better than anyone else (and by the way, I didn't hear people saying that when I tipped Michael van Gerwen to win the Premier League...)
For me, Phil is so great because he puts leg-on-leg pressure on his opponents and when it comes to check-outs between 60 and 120 he seems to land 8/10 when the other players only get 4/10. If you look at the stats, that's the only difference.
We saw it in the final against Adrian Lewis. Phil needed 227 and Adrian was on 187 and I predicted that Lewis would hit a ton and miss a shot at the bullseye, whereas Phil would hit 140 and then take the shot out. That's exactly what happened.
Lewis thought he had that leg in the bag, but he lost it. That's why Taylor is such a great player. Lewis threw nineteen 180's and twenty-four 140's, but he couldn't match Taylor's average of 111.23. He never dipped below 110 in the whole game, which is incredible darts.
People have been talking about Van Gerwen for the last year and a competitor like Phil hates it when others are talked about ahead of him. He wants to prove people wrong when they say he's coming to the end and that's when he brings the best out of himself.
I take my hat off to him and also to Aidy Lewis. He's has had a go at a few people over the last 18 months saying that we've written him off, but I don't agree with that. It's just that, as pundits, we naturally talk about the people who are winning.
I always said we needed Lewis to get back to his best - and as a PDC person I was delighted to see him do so well in Blackpool.
But all of the players, all of the PDC staff and all of the staff at Sky Sports deserve credit for giving us the best tournament I have ever witnessed from start to finish.
The crowds also deserve a mention. They were true darts fans and I didn't hear very much booing at all. They were in unbelievable all week.
Better
If this is the way our game is going then I'm so pleased to be a part of it.
The PDC board have approved prize money of more than £100,000 for the Youth Tour next year and more than £160,000 for the Challenge Tour so things are only going to get better.
We're going to bring the next generation through and alongside the PDPA we will give them media training and look at bringing in guest speakers and motivational experts. All those little things will make the game better and enhance our business.
The players that are on the drift and don't play properly will be on the way out. There's no sympathy in this game any more and the PDC and Sky Sports are only interested in the best players taking on the best players in every match. As our chairman says, the only criteria we ask for is ability.
I filmed some scenes for our sponsors for the commercial breaks at the Matchplay (which I only did because there were no players available) and people complimented me on my smooth action.
A few people have asked if I'll ever play again - but when you see the standard in Blackpool you'd have to say 'don't be silly'. Peter Manley is thinking about coming back and I told him before the final that he shouldn't embarrass himself! The old players have had their day.
I have no intention of throwing darts again, but I still wake up every morning with a smile on my face to be involved in this sport. Some mornings I have to drive across the country to Wigan or somewhere for a tournament and I can't wait to get there and walk around and watch the players.
After a tournament like the World Matchplay, it's impossible not to be upbeat about where our game is going.