Rod Harrington reflects on another Phil Taylor masterclass
Phil Taylor showed he's still the man to beat by clinching a fifth UK Open title, says Rod Harrington.
Last Updated: 11/06/13 4:55pm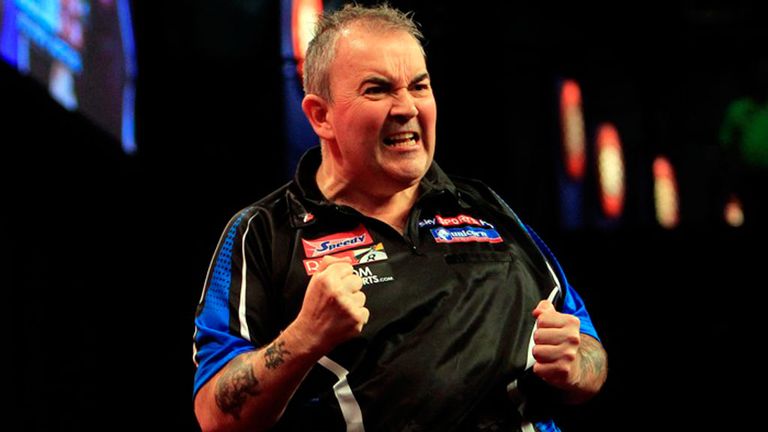 To win it five times is incredible but I think Taylor will have enjoyed it more when he overcame Michael van Gerwen on his way to winning it. Van Gerwen had won the last five tournaments and was unbeaten in 25 matches and all the talk was about the Dutchman.
People had been saying it was the start of the demise of Taylor but I never believed it.
He was so up for winning the competition from the very first game, posting 100+ averages. In fact, his overall tournament average was one of his highest. That proves how much he wanted it.
I said that I wanted him to go back to his previous set of darts with a bronze or gold colour, because I thought the bright silver ones he was using had a different feel and looked bigger in the board with the light shining on them. He actually went back to those darts and the extra consistency they give him gave him the impetus to beat Van Gerwen.
I'd like to see him stay with those darts from now on. He looks more comfortable and more consistent with them, and those are things he's going to need to stay ahead of everyone else.
Finishing
They're all great scorers these days, people like Gary Anderson, Adrian Lewis and Raymond van Barneveld but when push comes to shove at the end of the leg, they just don't have that consistency that Taylor has. It's when you want 86, 92 and 114 and your opponent's left himself a double and you take that shot out. That's what hurts players and Taylor does it 8 out of 10 times when he's on form.
You look across the categories in darts and that's the only category that Taylor dominates. When we went on air ahead of the Van Gerwen game I said that I thought Taylor would make his form happen, while Van Gerwen only thought his form would happen.
In the early stages of tournament, Van Gerwen just went up to the dartboard and threw darts at it. That was fine against the first players he played because he was that much better than them, but against Taylor he had to grind it out and he never did that. He thought it would automatically happen but he needed to get down and dirty. He missed doubles at the end but if he'd have gone in there ready to fight from the first dart, he could have won. He's still learning.
Taylor taught him a lesson in the World Championships before Van Gerwen did a few exception things in the Premier League over those shorter distances to win that, but here Taylor stayed so consistent leg upon leg to keep the pressure piled up on his opponent. He spurred on and when Van Gerwen missed doubles, Taylor wasn't going to miss the opportunity to win.
Pinnacle
I would say that it was one of the best performances because most people expected Van Gerwen to beat him. There was only Eric Bristow and I who had tipped up Taylor to win. He just seemed like the more complete player and was consistent from the very first game he played, unlike Van Gerwen.
A lot of games Taylor plays, his opponents do have chances to win legs early on but those chances are not normally three or four darts - they are one or two on checkouts. If they miss, he goes on to pulverise them because of the leg-on-leg pressure he puts on people. If you look at his career, when people miss the odd dart against him, he punishes them.
He put everything into that tournament and was very tired afterwards. I've never seen him try so hard in a tournament and it was clear he wanted to prove something. Like most top-class sportsmen, he really doesn't like being second best.
As for finalist Andy Hamilton, he had a great tournament and is another battler who never gives up. Perhaps a little tiredness made him miss a few doubles at crucial times, but if you're going to be a champion and win your first major then you've got to get over that.
Next up
Looking ahead to the World Matchplay, it's a special tournament for me because I won it in 1998 and 1999 and went close a couple of other times. It's a special arena, like an old big music hall.
It has a different feeling to any other tournament because the fans are more darts enthusiastic. The holidaymakers go to the darts now. I used to love playing golf, too, and there are some great courses round there. It was always sunny in those days and I'd go for long walks along the sea-front and go swimming a lot!
I always used to walk to the venue and it was nice because you'd always have people say 'Good luck tonight' because there's that holiday feeling. Other tournaments don't seem to have that - you turn up at the back door and leaving by the back door. It has a special feeling.
Going into it, you'd be a silly man to say that Taylor won't go and win it. He's won it 10 times in the last 12 years and it's some record. It's nice to think I'm the only person besides him who has retained that title - it's very pleasing!
There's no question that Van Gerwen will be in the mix at the end of it and a final against Taylor is the obvious call
Van Barneveld seems to get tired very quickly and makes mistakes and Adrian Lewis has something in his head with hitting doubles. There are a lot of players - maybe as many as 16 - that have got the scoring power to beat Taylor, but have they got the nerve to finish?