Rod Harrington previews this weekend's UK Open in Bolton
Rod Harrington is expecting plenty of thrills and spills at the UK Open in Bolton - and MVG to prosper.
Last Updated: 05/06/13 5:08pm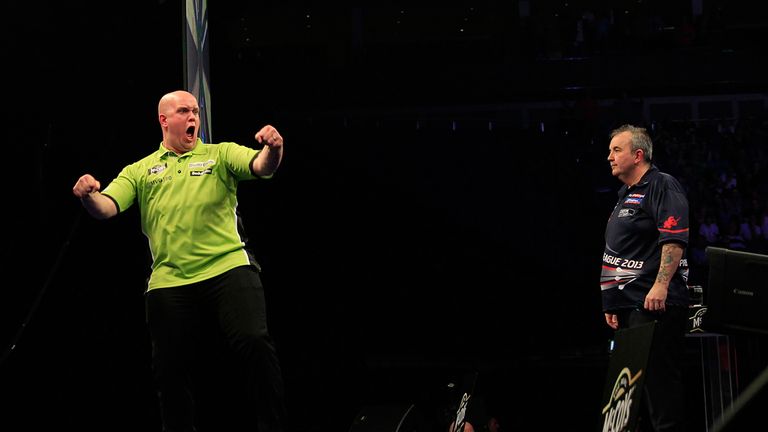 I am a big fan of this tournament; there is so much going on, especially in the early rounds, and for spectators it is the best around because they are able to walk around and watch the favourites, the newcomers and all the big names.
Man United can draw Man City in the third round of the FA Cup and that can happen here as well and because there is so much strength in depth, there are going to be upsets.
Most of the big guns aren't in action until Friday but Phil Taylor finds himself playing on the opening night after finishing 44th in the eight qualifying events, so he needs to win a couple of games before he earns any money.
Demanding
James Wade could find himself playing three matches on Thursday night after he finished outside the top 64. That's a tough ask for any player but what makes me laugh is that some players complain about having to play too many games. They wouldn't have had to if they turned up and played better in the qualifiers!
James is good enough and shouldn't find himself in this position. He didn't enter a couple of qualifiers because he felt there were too many players competing, but extra dart boards were introduced and those tournaments were over quicker than what a normal UK Open would be.
James has been playing really well this year and has showed glimpses of a return to top form, such as in the Premier League when he reached the semi-finals.
I'm sure some of the up and coming players would fancy taking his scalp in those early rounds, but if he quickly finds his form the game could be over quite quickly.
The likes of Roland Scholten, Vincent van der Voort and Justin Pipe are also in the preliminary rounds; it's a worrying position for those guys but again, it just shows the current strength in depth because they played in all eight qualifiers.
Okay, they might have had the odd bad draw but you don't have eight of them. If you're not fully focused going into your first game you're going to get beaten.
Scholten had a shoulder injury and he's never really recovered from that, while Van der Voort has had serious back problems and has found it extremely hard to break back into the top flight.
That's why I quit and stayed quit; I wasn't willing to put myself through that. These guys are going to look at themselves in the mirror and question whether they're still going to be around in a couple of years.
Favourite
Michael van Gerwen is the favourite to win a maiden UK Open and deservedly so. He won his 10th title of 2013 - and fifth in a row - in Austria last weekend and is unbeaten in 24 games. But it's not just the fact van Gerwen is winning tournaments - it's the way he's winning them.
I commentated on his final with Raymond van Barneveld at the Dubai Duty Free Darts Masters. Barney left himself on a double, but van Gerwen took out 170. Then he broke Van Barneveld again with a 164 checkout. He has the ability to produce moments of exceptional quality at crucial moments in games.
The youth tour taught Van Gerwen how to hit doubles under pressure. That put him on the road to winning and he hasn't stopped. He loves the game; you could get him up at 3am and he'd still want to play darts.
One player who needs a big tournament is Adrian Lewis. I'm a huge fan of his and keep saying that he'll turn the corner at any moment, but it hasn't happened. He really has to look at himself because if he keeps slipping he could drop out of the top 16.
The problem with Adrian is that he's still throwing some great darts, but he's too inconsistent. I think he's moving too much on the oche. When he won his first world championship he was so solid and only his arm moved and he's got to stay static.
Turn
Whether he chooses to listen to people about these issues is up to him but he needs to get a coach in. I'm hoping this can be the tournament where he turns it around. Like Van Gerwen and Van Barneveld, it just takes one tournament to get back on form.
Van Gerwen is the favourite but Taylor and Barney should do well, and one player that seems to like this type of format is Ronnie Baxter. Colin Lloyd also had a good run last weekend; if he gets a good draw it wouldn't surprise me if he went on and did well.
But also keep an eye out for some of the young guns, such as Michael Smith. He is an exceptional player and I think he'll break into the top eight inside the next five years.
Adam Hunt, who hails from Hull, is playing really well at the moment and only lost 6-5 to Barney at a recent European event in Dusseldorf, while Ross Smith is also back playing well after winning a couple of challenge tour events.
There are some fantastic Youth and Challenge Tour players around at the moment; they're fearless and will attack the dart board so expect plenty of shocks.