Awesome foursome
Van Gerwen, Barney, Taylor, Wade... Rod Harrington says it's impossible to call the Play-Offs.
Last Updated: 15/05/13 9:52am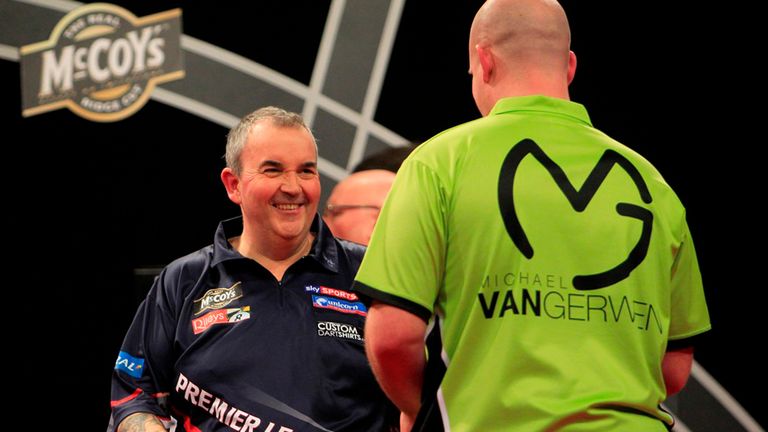 For the players, Premier League Finals night at the O2 Arena is one of the biggest nights of the year.
Remember, the top 10 players get to play on TV every Thursday night while the rest of the professionals are sitting at home and doing nothing. It shows how essential it is to get into the Premier League.
There's no question we've seen the best 10 players in the world taking part this year. Sometimes with the wildcard system you can argue otherwise, but that hasn't been the case this year.
That's not to say there hasn't been some indifferent performances. The biggest disappointment has been Adrian Lewis who hasn't found any form this year and the same could be said for Gary Anderson. It's a shame that the two players with the most raw talent in the game have had poor seasons.
But overall it's been a good Premier League and unlike most TV events I'd say the best four players - Michael van Gerwen, Raymond van Barneveld, Phil Taylor and James Wade - are in the semi-finals.
You've got four real contrasting styles; Van Gerwen is the extrovert; Barney is the great who beats himself up; Wade is someone who gets up and focuses on the job in hand; and Taylor just likes to beat the player in front of him.
If you're going on form you'd be tipping the table-topper Van Gerwen to win on Thursday night. However, a little bit like Wigan in the FA Cup Final, you can forget the form book at this stage.
Some commentators talk about the history between various players, but that means nothing in semi-finals and finals, compared to league matches. If you can step up and get into the game early then anything can happen.
This is the most open Premier League we've seen both in the league stage and in the finals and I'm really looking forward to being at the O2 Arena on Thursday night. Here's a look at the players involved...
Michael van Gerwen
Michael van Gerwen has been the star of the show this year. His passion and love for the game has been brilliant, as has his relationship with the crowd. This is a show - it's completely different from a regular tournament which is why it isn't ranked - and the players are asked to react with the crowds on TV. Some players don't but Michael has done it every single week. He was seven darts into a nine-darter last week and it would have summed up his season if he'd got it. He deserved it because he's been brilliant this year.
He's been a superb player since the age of 14, but he didn't have the winning mentality to finish games off under pressure and he got frustrated with himself because of that. People didn't used to be scared of him, but he picked up a winning mentality by playing on the Youth Tour. He was winning week in and week out and then he went on the Pro Tour and it worked straight away for him. That increased his confidence in his own ability and that's why he's where he is now and it's nice to hear him praise the Youth Tour whenever he gets the chance. Nowadays he just gets up, throws darts and doesn't care what his opponent hits. That's the perfect attitude to have.
James Wade
James has been brilliant at times this season, but pretty average on other occasions. Some weeks he turns up on a high, but in other weeks he's on a low and that's the way it is with him. He might be playing the form man in Michael van Gerwen, but write him off at your peril. His performance against Phil Taylor last week in Newcastle was one of the best displays of the Premier League for me. Nobody gave him a chance, we all thought The Power would win comfortably, and Wade needed to get a point to reach the semi-finals. There's no bigger pressure and yet he managed to take a point off the guv'nor. He was 6-5 down in the last leg and a lot of top players would have bottled it, but James stepped up to the plate and threw a 13-dart leg. It doesn't get any better than that.
He looked really focused last week and if he goes up with the same attitude and Van Gerwen is off the mark in the first few legs then Wade looks like good value. I'm not saying he will beat him but he's got decent odds and knows what it takes to win a major. A lot of punters will take the value on him, but I wouldn't touch that match with any of my money! We have the best four players in the semi-finals and I'm sitting well and truly on the fence. On form you would have to pick Van Gerwen, but I have a sneaky feeling Wade's display last week will set things up for a very good game.
Raymond van Barneveld
I can't remember the last time Barney beat Taylor on TV. He has never beaten him in a Premier League match (although they did have a draw a few weeks ago) and he seems to have this thing in his head where he so wants to beat him to prove something (to himself more than anyone else) that sometimes it ties him up. However, Barney has got the game to beat Phil and I expect it to be another great semi-final.
He has been playing really well this year, but we often see him suffer dips of form during the match where he doesn't score as well. He will need to be careful that Taylor doesn't punish him on those occasions. It wouldn't surprise me if this match went either way, but I just think Phil has the edge over him when it comes to the mental side of things.
Phil Taylor
Phil Taylor is not quite as good as he was. He's changed his darts, his averages are down and I think he may have worked too hard on the road. More importantly, the other players have stepped up to the plate more and aren't as afraid of him as they used to be. They want his scalp, they attack him more and they take more doubles out under pressure. Just look at Robert Thornton, who beat him three times last year and stepped into the Premier League and did it all over again. That's why it's been closer this year and why Phil didn't top the table.
However, The Power is very good at doing the right things at the right time and he can produce an extraordinary shot at a vital moment. If he can do that early in the semi-final against Barney, and get in front of him, then he'll have a great chance. People say I always go for Taylor, but I am going for him to edge it and make it into the final. If he does play Van Gerwen in the final it will be hard to call. Over a long distance I'd pick Taylor, but the shorter format brings it into the realm of Van Gerwen. The form book says Van Gerwen should win on Thursday, but you might as well chuck that out of the window when you start talking about semi-finals and finals!
World Youth Championship Final
I must finish by mentioning the Youth Tour Final, which will also be held on Thursday night with Michael Smith taking on Ricky Evans. Smith has been around for a few years now, while Evans has come out of our youth system and has been taking scalps on the Pro Tour. I expect another close game, although maybe Smith is the favourite because of his experience although he has had a bit of back trouble. Evans will get up there and play his own game, he's very focused and very talented.
We're going to increase the Youth Tour in future years because there's so much talent out there. There's 500% more talent than I expected there to be and I could name 30 players who will be contesting big events in the next five years, possibly even more. We had a cracking World Youth Championship Final between Van Gerwen and James Hubbard last year and I expect more of the same this time. It'll be a good spectacle.