'Only five players still in Premier League semi-final contention'
Simon Whitlock needs a win to stay in the semi-final running - but Rod Harrington says he won't get it.
Last Updated: 01/05/13 12:11pm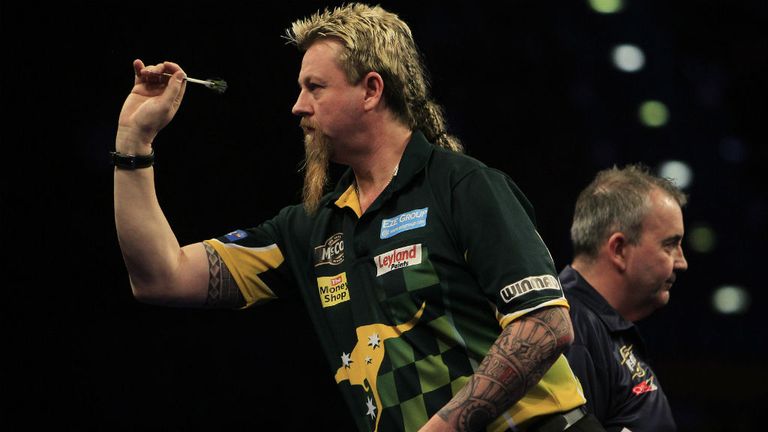 I predicted he'd win both games and it turned out to be a good double! Two weeks ago people were saying that Taylor would not make the last four for the first time ever but they should never count him out - he is now in second place with two games remaining and well-placed to seal a semi-final spot.
Despite losing to Taylor, Whitlock also kept himself in the running by beating Michael van Gerwen which was a little unexpected. However, the game of the night was Raymond van Barneveld's 7-2 win over James Wade.
Barney has had little dips and troughs in his games recently but he was consistent throughout this contest and produced a really solid performance.
Just outside of the current semi-final spots in fifth is Robert Thornton. He's still in with an outside chance but I reckon Adrian Lewis and Andy Hamilton are out of it now and they'll be disappointed to be so far adrift with two rounds to play.
But, I make it five players going for four spots so it should be another interesting night of darts action in Liverpool's Echo Arena on Thursday night.
Michael van Gerwen v Andy Hamilton
I don't think Hamilton can qualify now and Van Gerwen is really on a massive high at the moment. He won another Pro Tour event over the weekend and he is just loving his darts at the moment. He does not fear anybody and is making people fear him. We know Hamilton is a fighter but I think the consistent scoring power of Van Gerwen will see him win this game quite easily.
ROD'S CALL: Van Gerwen win
James Wade v Simon Whitlock
James Wade did not play that badly last week but he was just not firing on all cylinders. He will be up against his stablemate Whitlock who is really on the ropes and knows a loss puts him out of the running completely. Wade is a tough cookie and he also needs to win - and he is very good at pulling out a win when he really needs to. It would not surprise me if Whitlock won this game but I am going to go for Wade to just nick it.
ROD'S CALL: Wade win
Robert Thornton v Phil Taylor
Taylor is only playing one game this week so he will prepare himself just perfectly for it this week. Thornton beat Taylor early on in the Premier League but I cannot see him doing it again. He has gone off the boil just a bit and I think Taylor will be really gunning for him. Taylor does not want to finish fourth in the table because then you are down to play Van Gerwen in the semi-finals - and at the moment no-one wants to play Van Gerwen! So Phil will be really up for winning this - and I think he will.
ROD'S CALL: Taylor win
Raymond van Barneveld v Adrian Lewis
Lewis has had an atrocious year - probably an atrocious 18 months to be honest. He is just not consistent in the whole of his game while Barney is playing some super darts. We always say Adrian Lewis can turn up at any time and beat anyone. Well, I keep on saying it and saying it but he has not done that this year and I cannot see him doing it either. Barney wants to stay in second or third place and I'm going for form all the way and tipping Van Barneveld.
ROD'S CALL: Van Barneveld win
James Wade v Andy Hamilton
Wade will be looking for four points on Thursday and the form book says he should beat Hamilton. But he does not want to make any mistakes because Hamilton can really punish people. He has gone off the boil a bit with his checkouts - he has been missing doubles the last few weeks whereas Wade hasn't. Forget about his loss to Barney last week, though, that is Wade all over and the previous weeks he has played brilliantly. I have to go for a Wade win.
ROD'S CALL: Wade win
A nice little fourfold would be Van Gerwen to beat Hamilton, Taylor to beat Thornton, Van Barneveld to beat Lewis and Wade to beat Hamilton. That pays about 4.5/1 which I think is a very good bet!