Power hungry
Rod Harrington says Phil Taylor will be as motivated as ever to take down Raymond van Barneveld.
Last Updated: 27/03/13 3:18pm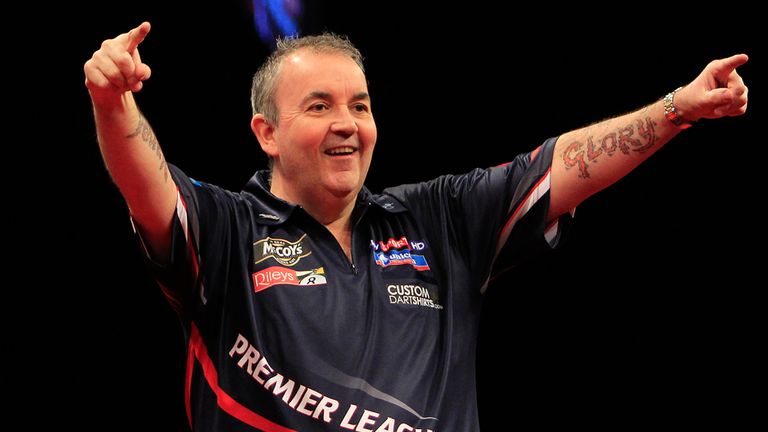 If Adrian Lewis avoids relegation from this year's Premier League, he'll look back on his win over Robert Thornton as the telling factor.
A draw last week would have left him in trouble, but a big 155 checkout and the double five at the end gave him the win and that now gives him a chance to stay out of the bottom two, especially with Gary Anderson and Wes Newton being defeated.
Newton was beaten by Phil Taylor's B-Game (which is still a 98 or 100 average) and Wes didn't look quite right. He looked beaten before he walked on stage and I think his fate will effectively be sealed if he fails to win against Anderson in Glasgow.
Michael van Gerwen played extremely well to thrash Anderson 7-1 last week and it's clear he loves the game right now. He wants to play darts whenever and wherever and his upbeat attitude makes him play better.
That's a lesson to other players. Four of them have dropped out of the European Tour event in Germany this weekend claiming to be tired - and I really can't understand that.
I can give a case for Phil Taylor because he has done an awful lot for the game and done a lot of promotions, often without being paid. Other players haven't done that and we need their support to spread the game to other countries, so it's disappointing.
I find it hard to understand players who would rather go and do exhibitions than play in tournaments. If I was playing nowadays I'd do what Van Gerwen is doing by focussing on tournaments because that gives you an edge.
Andy Hamilton has the same attitude and he's not a young man - and look at how well he's playing. The proof is in the pudding.
Players should set their itinerary around tournaments because if you play well then you'll earn more from them than you will at exhibitions.
Anyway, back to the Premier League and here are my tips for Glasgow...
Adrian Lewis v Andy Hamilton
As I always say, it's hard to predict what you're going to get from Adrian Lewis. However, you know what you're going to get from Andy Hamilton; a guy who doesn't miss many doubles (especially the double 16) and is always solid. He takes his chances and doesn't have many dull legs. He had a brilliant result against Simon Whitlock last week and I like the guy because he has a good attitude and goes about his job in the right way. Lewis has got superior scoring power, but he looked so edgy last week and when it came to the match dart it was almost a case of closing his eyes and hoping it went in. I don't like to sit on the fence, but I can make cases for both players to win this. Lewis needs the win to move away from the relegation places, but he will need his A-Game to beat The Hammer.
ROD'S CALL: If Lewis turns up on his A-Game he wins, if not it's Hamilton's
Simon Whitlock v Robert Thornton
Simon Whitlock has been having three or four legs in the middle of a game where he's been losing his accuracy on the treble 20 - and that's what cost him against Andy Hamilton last week. He allowed his opponent to get in front of him and it stayed that way. That loss was out of the blue because Whitlock has been playing well and the same can be said for Robert Thornton. He's having a good season and you never hear him moaning; he just turns up, gets on with his job and plays everywhere. I am struggling to split these two when it comes to form, scoring power and checkouts. They're level on every stat at the moment and I think it's got 6-6 written all over it.
ROD'S CALL: Draw
Phil Taylor v Raymond van Barneveld
These two had a spat at the World Championship and that sort of thing happens to a lot of people in sport. I remember falling out with players during my career, for example Peter Manley thought he could intimidate people when he first came on the scene (but when you've had to put up with Eric Bristow, as I did in my early days, nobody else can intimidate you). I think the Taylor-Barney issue is long gone, but there's no doubt Sky Sports will hype it up! Phil will go out, as he always does, with a point to prove - and he especially likes beating Barney. His form has been down lately and he hasn't been starting games as well as we expect. But the same is true of Barney, who has been struggling on the treble 20 in the middle of matches. He hasn't got the bite and drive to rediscover his form and I've got to go for a Taylor win. I know I always stick with Phil, but I think he has big motivation to beat Barney.
ROD'S CALL: Taylor win
Gary Anderson v Wes Newton
Both of these players are in the bottom two and a draw is no good for anybody here; both of them need a win to have any chance to get out of the relegation zone. Wes has lost a bit of consistency and I wish he would switch when his first dart lands below the treble 20. He needs to practise switching to treble 19 when the 60 is covered because that's the percentage shot. That may increase his consistency level and turn losses into draws and draws into wins. Anderson got his backside kicked by Van Gerwen last week, which was a surprise when you look at his scoring power. If Anderson is on top of his form then he will out-score Wes and win, but if Newton can put a streak together he has a chance. The form book says this will be a close game.
ROD'S CALL: Draw or Anderson to nick it
Michael van Gerwen v James Wade
James Wade has been playing solid darts and if he plays the dartboard then he has a great chance. Some players are playing Van Gerwen these days, like they used to play Taylor, and are almost getting beat before the game has started. You need to forget your opponent and just try to go out in a minimum of 15 darts on your throw and then try to throw one 12-darter to break your opponent. James has that attitude and could make this a good game. However, I've got to go for Van Gerwen with the way he's playing. You could wake this guy up at 3am at the moment and he'd throw darts for you. He's a joy to watch and it'll be tough for Wade against a man on such a confidence high.
ROD'S CALL: Van Gerwen win