Warrior's chance
Rod Harrington says Wes Newton needs a few more legs of consistency to beat Phil Taylor in Cardiff.
Last Updated: 20/03/13 4:13pm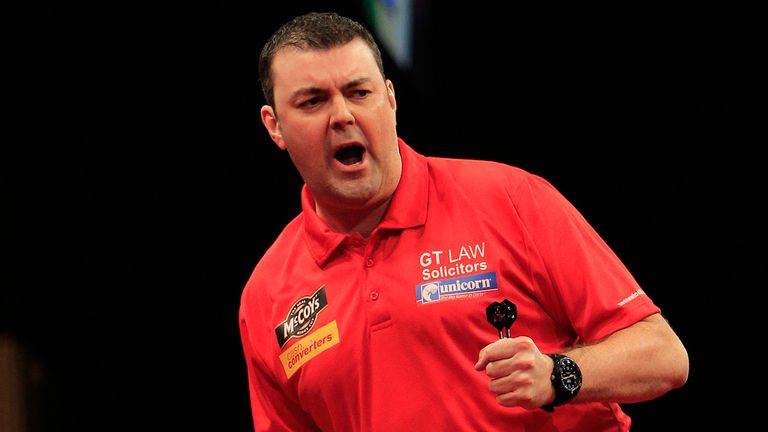 I wasn't in Manchester last week, but I watched every dart at home on television with my grandson.
He's only 10 months old, but as soon as the music started he stopped buzzing around the floor and he sat on my knee mesmerised by the darts!
The first match between Wes Newton and Michael van Gerwen was a great advertisement for the sport with both players going hammer and tongs, showing great rhythm and speed.
The Dutchman's consistency saw him win and the only thing lacking from Newton's game is a bit of consistency in the odd two legs of a match. In other tournaments you can often get away with that, but not in the Premier League with the best 10 players in the world involved.
The second game between Gary Anderson and Adrian Lewis was another great match and you were sitting on the edge of your seat because both are so unpredictable (they'll hit a big one and then follow it with a couple of treble 20's). It was no surprise to see it end as a draw.
Simon Whitlock's win over James Wade was also very entertaining. Wade did one thing wrong in the whole game - he missed three clear darts at double top to go 4-2 up - and that rattled him and Whitlock never looked back. One mistake can cost you at this level.
Robert Thornton, who won a Tour event at the weekend, proved how good he is in his draw with Raymond van Barneveld. He was unlucky not to pick up the two points because Barney was always chasing him.
And then we saw Phil Taylor lose again in the final match of the night. He didn't look comfortable from the start and hasn't got used to his new darts yet. Because it's him, every time anyone has the chance to put his scalp on their pole they will raise their game.
Andy Hamilton had beaten him in Minehead and the guy I call the streetfighter did it again to beat him in Manchester. It was a great display.
I've been in this game for 30 years and I could still sit and enjoy the whole night on TV and I think that speaks volumes for the entertainment value. I'm expecting another good week in Cardiff because we always get good crowds there.
Andy Hamilton v Simon Whitlock
This is going to be a close game. You can put your mortgage on Andy Hamilton hitting the double 16 because he doesn't miss it very often; I'd say he's hitting it nine times out of 10 at the moment. The crucial thing with him is that he stays with people and he makes himself very tough to beat. The same can be said of Whitlock, who is also enjoying his game right now. Both of these players had big smiles on their faces when I saw them at the weekend (especially when I told them about the extra prize money coming into the game) and that is showing in their play. This is such a hard call, but if you put me on the spot I'd say Whitlock could nick it - but it's a tough prediction because Hamilton has beaten Taylor twice in the last fortnight! There won't be many mistakes and the sixth, seventh and eighth legs will define where this game goes.
Rod's call: WHITLOCK TO NICK IT
Gary Anderson v Michael van Gerwen
This will be a high-scoring game with a lot of 180's. Gary had a nine-darter in the Tour event at the weekend and played really well, but Van Gerwen won that tournament, so I've got to go for the Dutchman here. He's playing exceptionally well at the moment and loves the game right now. Even if he throws a few bad darts he's capable of hitting 180 with the next three because he doesn't care what he's hit previously. Other players think about the previous three darts, but you can't turn back history and Van Gerwen is very good at forgetting about it and moving on. He just puts his foot on the oche and throws. Anderson worries about practising and doing the right things, but with his skill he shouldn't think too much about things like that. If he gets in front he could do the job, but I've got to go for Van Gerwen.
Rod's call: VAN GERWEN WIN
Robert Thornton v Adrian Lewis
Adrian is showing signs of coming back to form, but he still isn't showing the consistency that made him a double world champion. There is negativity in his head, which is a contrast to Thornton who is enjoying the ride in this Premier League. He is scoring very well at the moment and he is extremely consistent leg on leg and will be tough to beat. If Lewis turns up, he has the talent to blitz anyone and that's why I'm finding it quite difficult to call this one, but he really needs the two points and that extra pressure will be tough for him. I think it could be another draw and to be honest, I wouldn't be surprised if we saw five draws this week. That could be worth a fun bet!
Rod's call: DRAW or THORNTON WIN
Wes Newton v Phil Taylor
Newton had two 10-darters in his match with Van Gerwen last week and could have had a third. As I mentioned above, the only thing standing in his way of winning a major is a slight lack of consistency in a leg or two in a match. But let's not forget that he is a newcomer and if he keeps on progressing as he has over the last five years then he will win a major and do some serious damage in the world of darts. Phil has not looked right in the last three weeks and this is the best time for Newton to play him. If he can get out of the gate quickly and get in front then you never know - and a win for Newton would be huge for him, not only in the Premier League but in darts for the rest of the year. But I've got to go for a Taylor win.
Rod's call: TAYLOR WIN
James Wade v Raymond van Barneveld
I don't think I've ever sat on the fence so much, but I'm struggling to split these two as well! Both players have been playing exceptionally well and I think it could come down to a mistake made by one of them between the fifth and seventh legs, something like that. If Wade can get in front and not miss the double tops like he did last week then Barney could be a little bit vulnerable. I could make cases for both players to win this and if I was to stick my neck out I'd say Barney will nick it.
Rod's call: DRAW or BARNEY NICK