Raymond van Barneveld is top of the Premier League on form, says Rod Harrington
Raymond van Barneveld is confident and can seal another Premier League win, says Rod Harrington.
Last Updated: 12/03/13 5:21pm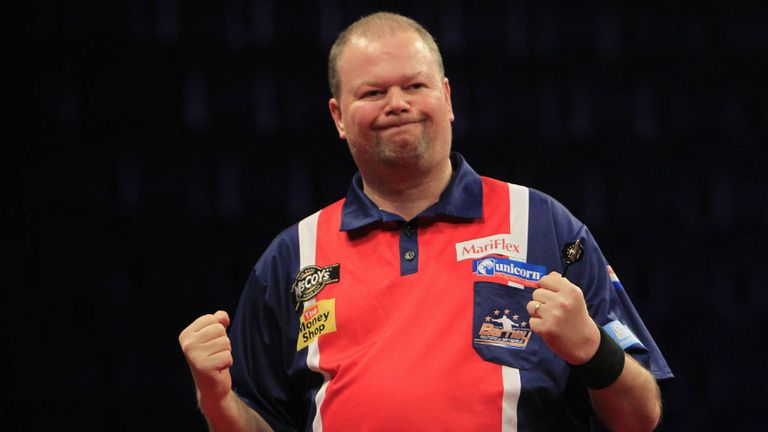 The 2007 world champion had doubted himself for some time and, as a result, his form tailed off dramatically.
Everyone kept telling him 'you don't become a bad player overnight, you have to keep believing in yourself,' but it wasn't until the Grand Slam of Darts in November last year, when he edged out Michael van Gerwen in the final, that he truly regained his self-confidence. He wasn't actually going to play in that event but his wife asked him to and he went on and won it - and he hasn't looked back since.
From that tournament he's been playing really well and showing confidence in his own ability. That was the big turning point for him and proved that you should forget about all the doubts in your head and just get up there and throw darts.
You can over-think this game too much - but he's found what made him tick 10 years ago and it's working again now.
He'll be hoping to maintain that advantage at the top of the pile in week six at the MEN Arena in Manchester. Here's how I see this week's round of fixtures unfolding:
Michael van Gerwen v Wes Newton
We all expected Michael van Gerwen to beat Lewis last week, however the two-time world champion did a couple of things right at the right time and got away with it. But I don't think Wes Newton is going to get away with it this week. Van Gerwen was as poor average-wise as we've seen him for some time but I expect him to put the pressure on Wes Newton on Thursday and have too much scoring power for him. Newton is under pressure now because he's second from bottom in the table and is very much in the relegation mix. He blew a 4-1 lead against Simon Whitlock last week, as he had done against Robert Thornton earlier in the tournament, and you can't afford to do that in this league. That could be the difference between him staying up and being relegated - and I expect Van Gerwen to put the pressure on him again this week.
Rod's Call: VAN GERWEN WIN
Adrian Lewis v Gary Anderson
This is such a hard match to call. These two players have the ability to turn up and blitz the other one - but they're just not hitting their top level consistently enough. Last week Gary Anderson handed Phil Taylor his first defeat of the tournament but Taylor didn't play at the top of his game and Anderson did what he had to do. Over the weekend Anderson went to Minehead and didn't play well while Adrian Lewis - who got his first win of the Premier League last week against Michael van Gerwen - got to the quarter-finals and played some good darts. By the form book you'd have to say this is a draw all the way. You can make cases for both players but I can see both player missing doubles and drawing this one.
Rod's call: DRAW
Simon Whitlock v James Wade
This is going to be the game of the night. It will pit the consistency of James Wade against the consistency of Simon Whitlock. Wade is playing exceptionally well and played well in the UK Masters, where he could have gone on and won, so I'm going to go for him to win this in a close game. The draw wouldn't surprise me but Wade has got the right attitude now and he's really playing well. In the last three weeks he's had 100-plus averages and been very consistent on his doubles. The best I can see Simon getting is a draw. He got an important win last week when he fought back against Wes Newton but it wasn't the most impressive of victories and he's up against a different breed in James Wade here. A year ago I'd have said Whitlock would win this no problem but with the way Wade's playing I see him emerging victorious.
Rod's call: WADE WIN
Raymond van Barneveld v Robert Thornton
Robert Thornton is the dark horse of the Premier League this season. We thought the big crowds might get to him but they haven't and he's playing exceptionally well. He's been hard to beat and although last week he was hammered 7-1 he still had a 99 average, which needs to be taken into account. With the way he's played I expect this to be another close game. Barney has been playing really well, too, but if he isn't on the top of his game Thornton could nick it. Barney will probably have to average over 100 to beat him and produce some good finishes, as well. And, given his current form, I reckon he'll do just that.
Rod's call: VAN BARNEVELD WIN
Phil Taylor v Andy Hamilton
Phil Taylor lost his first Premier League match of the season to Gary Anderson last week and I can see Andy Hamilton having a good go at him as well. Hamilton beat Taylor in the quarters of the UK Masters in Minehead over the weekend and Taylor hasn't been as consistent as he'd like to be with his new darts. If Hamilton sticks with Phil, as he did last week he can take out plenty of finishes and cause Taylor problems, as he did at the weekend. But I think Phil is going to win. If he doesn't find the consistency he's been lacking over the past three or four weeks Hamilton could get a draw but I've got a hunch Taylor will win through. Although it could be closer than the bookmakers think.
Rod's Call: TAYLOR WIN