Aid concerns
Rod Harrington says Aidy Lewis will be relegated if he loses to Wes Newton in Exeter this Thursday.
Last Updated: 27/02/13 12:48pm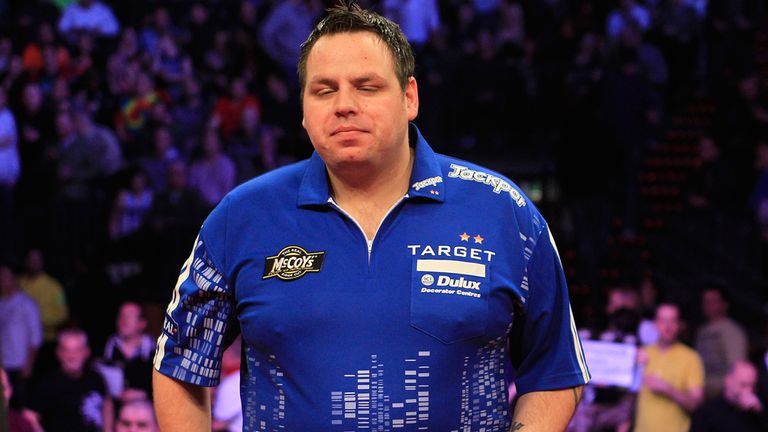 I'll hold my hands up and say I got a lot wrong in this column last week
Perhaps I was hoping that certain players would perform, rather than going by the form book, but I was wide of the mark to predict victories for Adrian Lewis and Gary Anderson; I keep thinking that Lewis will turn up and perform, but yet again he didn't.
When you've got so many good players in the field, as we have in this season's Premier League, then the games can go either way and Phil Taylor is the only player you can tip for a guaranteed win.
So let's see if I can get it right this time as we look at what's coming up in Exeter...
Robert Thornton v Gary Anderson
In my eyes, Robert Thornton is probably the favourite here, but you can never tell with Gary Anderson because he scores so well, but keeps missing doubles. He keeps telling me not to mention that (although he talks about it more than anyone else), but on Sunday in Crawley he missed about a dozen darts at a double to win his last-16 match so I think there is a problem inside his head.
The same can't be said for Thornton, who threw a nine-darter and reached the semi-finals of the UK Open qualifier on Saturday, so he's in pedigree form. Anderson's scoring power will always give him chances at doubles and one week he's going to turn up, hit every double and thrash his opponent. It could be this week, but I think this is a good bet for a draw. It all depends whether Anderson turns up on the top of his game or not.
Rod's call: DRAW
Andy Hamilton v Michael van Gerwen
Even when Michael van Gerwen is playing indifferently he manages to do the right things. He was 3-1 down to Anderson at the weekend and went on a run and won 6-3. He did the same thing to Raymond van Barneveld in Bournemouth last week when he put two darts in the treble on every visit and took his doubles out superbly. He had two 10-dart legs in that match, which is incredible darts, and he punished Barney for missing a few early shots. Van Gerwen is the number one Dutchman now and is loving the game; I'm sure if you woke him up in the middle of the night he would play darts for you!
Like Thornton, Andy Hamilton is a solid player who isn't easily beaten and you have to play well to get anything off him. He will fight for every inch of the stage, as he did in his solid display over Anderson last week, and he is trusty on his doubles, especially the double 16. He needs to throw no more than 15 darts on his own throw to get anything out of this though. I can't see Van Gerwen losing and he will need to miss a few doubles if Hamilton is to have a chance. He's got the extra gear above everybody except for Taylor at the moment and is capable of running off five or six legs on the trot.
Rod's call: VAN GERWEN WIN
James Wade v Phil Taylor
This could be the game of the night when you look at how well James Wade played last week, but remember he was motivated to beat Adrian Lewis. Those two don't get on and there's a good professional rivalry there, but this week if he goes 3-0 down you might see him shrug his shoulders and end up losing heavily. If a motivated Wade turns up then this will be a good game because when he's on top of his form, the only person that can beat him is Phil Taylor.
As for Taylor, he looked mean and up for it in his brilliant display against Simon Whitlock last week. If he brings that to the stage then there will only be one winner. Wade needs to bring his best game to the stage or else he will fall the way of everybody else and Taylor could end up winning comfortably. I've got to go for Taylor here - and I think a Taylor-Van Gerwen double at around even money is a great bet this week. Also back Taylor for the highest checkout in this game.
Rod's call: TAYLOR WIN
Wes Newton v Adrian Lewis
This is already one of the games of the Premier League and it has nothing to do with winning the trophy. This is all about relegation because I can't see the loser of this match avoiding elimination. If Adrian Lewis loses his fourth match in a row, then I can't see him getting enough points from his last five matches, especially with the likes of Van Gerwen and Van Barneveld still to play. However, if he wins this match he'll have a chance. He isn't consistent enough right now and has a lot of negatives in his head; he needs to stop making excuses and just get up and throw darts like he used to.
Wes Newton was 6-3 up on Thornton last week, but only got a draw. I thought I was going to have to eat my words after describing him as a "rabbit in the headlights" and I'd be happy to be proved wrong because I like him. He got out of the gate quickly, but let it slip and he couldn't afford to do that. He needed the two points last week and if he loses this game I can't see him getting out of relegation. We're forecasting that you'll need eight or nine points to avoid elimination and I'm tipping Lewis to win this week if he can keep his concentration because that's what has been killing him. If Newton can get out in front early, he has a chance, but I'm going for Aidy to nick it.
Rod's call: LEWIS WIN
Raymond van Barneveld v Simon Whitlock
Simon Whitlock only has two points, but played a brilliant Taylor last week, who didn't make a mistake in the whole game and took out some crucial checkouts. Whitlock played fairly solid and will be glad to have The Power out of the way. He was also unfortunate to play home favourite Anderson in Scotland and I think the crowd got to him there, which is understandable.
This week he faces Barney, who was playing really well until last week when he got his backside kicked by Van Gerwen. He shouldn't let that worry him because sometimes you face guys in a purple patch and you just have to accept it. If he's going to win this then he needs to take out three or four ton-plus shotouts and if Whitlock is to win it he needs to take out the odd 140 or 150+ shot. They are pretty equal on scoring and checkouts and I really believe this match has got "draw" written all over it.
Rod's call: DRAW
Tired
Finally, we haven't reached the end of February yet but there are some players in the sport who are complaining about being tired. I can't understand that for the life of me! Maybe go and work as a manual labourer all day and then come and complain to me about being tired. It's pathetic. We had 239 players at the UK Open Qualifiers at the weekend and I got moans from several top names saying that all those players shouldn't be there.
But when they were coming into the system they weren't complaining about being given those chances. We have to give opportunities to everybody and it's ridiculous and pathetic to hear the top guys moaning. We're giving people chances to become millionaires and all they do is moan. If the 14 players who started this company had been like them then the PDC wouldn't be around today!