The Thorn supremacy
Rod tips Robert Thornton to prove his doubters wrong and Barney to win the battle of the Dutchmen.
Last Updated: 20/02/13 1:54pm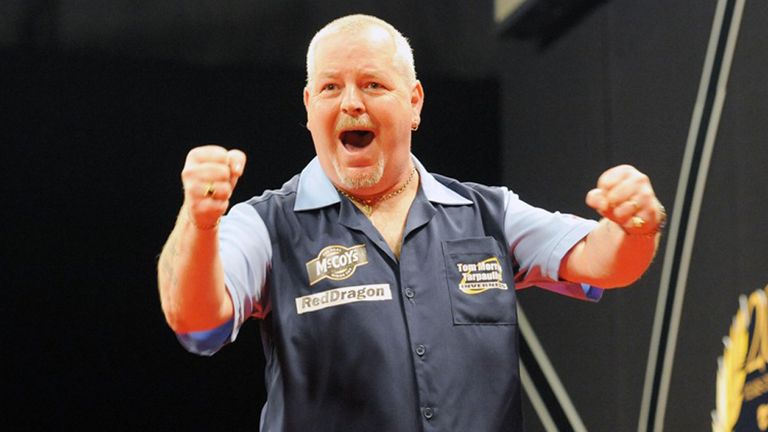 There were a few sceptics about the new format of Premier League Darts, but I think the PDC is proving them wrong.
The increase to 10 players has been great so far, as has the inclusion of Robert Thornton, who has performed absolutely brilliantly in the last few weeks.
He won his first match against Andy Hamilton and drew with Michael van Gerwen in Aberdeen, when he really should have won. He's in a very good position, at least to make sure he's not eliminated.
On the other side of the coin, fellow debutant Wes Newton looks like he's been thrown in at the deep end after losing two matches out of two. This Premier League has ruined a handful of players over the years; we've seen Mark Webster struggle and even Wayne Mardle, Colin Lloyd and Peter Manley had difficulties in their later years.
I wonder if the noise of the big crowd has been getting to Newton? When you're on a bit of a downer you can hear the crowd more and more and this event is totally different to the other Tour tournaments.
But I'm hoping Wes can turn things around because the first two weeks have not been good enough - and he knows that.
Apart from that, it's been a brilliant season so far and I'm looking forward to more fun in Bournemouth...
James Wade v Adrian Lewis
I think Adrian Lewis needs to look in the mirror after two defeats in his first two matches. We've all been there, myself included, where you try to kid yourself that your form is going to turn around overnight. Sometimes it does, but sometimes it doesn't and it's not like he's been playing well and getting bad luck. Last week, Phil Taylor played very poorly in the first few legs and Aidy failed to hammer him; then Taylor got into a bit of form and Lewis didn't produce the sort of performance we expect from him. He's got unbelievable talent, but we're not seeing it and if he loses to James Wade then he'll be in real danger of relegation. Wade was solid in week one, but didn't play great last week so it's a hard one to call. I've just got a funny feeling that Aidy will turn up and win at even money (but there's no question that he'll lose if he plays like he has in the last two weeks). I think he can turn up and throw some good darts this week - and I'd back him to hit the most 180's too.
Rod's call: LEWIS WIN
Robert Thornton v Wes Newton
As I mentioned above, I think the first two weeks have shown that the PDC was right to give Robert Thornton a wildcard and given his form you would back him all the way. At some bookmakers you can get him at 5/4 to win this match and I think that's unbelievable value. He's loving the Premier League at the moment and the crowd seem to love him. He got the most 180's in Aberdeen and Wes has been looking a little bit out of his depth. I've got to go for a Thornton win and I think he looks like great value too. I'd certainly back him to throw the most 180's in this game and it's worth looking at a Lewis-Thornton double on the most 180's.
Rod's call: THORNTON WIN
Simon Whitlock v Phil Taylor
I think the Aberdeen crowd got to Simon Whitlock last week. He had Gary Anderson on the ropes, but ended up losing as the Scotsman fought back on home soil. I think you can ignore that performance because of the context and generally he's a very solid player, who has taken results off Taylor a few times. The Power started off slowly against Lewis last time out and if he does that again then Whitlock will punish him for it, but I'm still going for the world champ to win this because I've seen signs that he has started to get the motor running in this competition. It won't be a runaway win though and I can't see a scoreline of more than 7-4.
Rod's call: TAYLOR WIN
Michael van Gerwen v Raymond van Barneveld
I couldn't believe it when I looked at the odds for this game and saw Raymond van Barneveld as the outsider. On the last two weeks of form, I cannot see him losing this because he's been taking out big shots at crucial times and has been scoring heavily. I'd be very surprised if Michael van Gerwen wins this because he's missed so many doubles in his first two matches. He should have beaten Taylor and he didn't take advantage when Thornton was letting him off in the early part of their game last week. If Barney gets in front then I can't see Van Gerwen getting it back and I've got to back Barney on form. I like the look of a Barney-Thornton double this week and I'd also back Barney for the highest shot-out of the match after hitting some big ones in the last few weeks.
Rod's call: VAN BARNEVLED WIN
Andy Hamilton v Gary Anderson
Not many people know this, but Gary Anderson has got problems with his left eye and he needs to get it sorted out. Maybe I'm overthinking it, but I wonder if that's why he struggles on doubles. When you aim at the treble 20 you don't have to move the dart, but when you have to go for doubles, especially when you switch across the board, your vision has to switch and I wonder if that's why he misses. He keeps having a go at me for mentioning his missed doubles, but I only mention it because it keeps happening - and in fact, he mentions it more than anybody! As I left him at the airport last week I said to him 'how can someone hit treble 20's like you can, but not hit a double?' He said if he knew that he would win everything! If Tiger Woods or Alastair Cook have a problem with their action they get a coach to sort it out, but in darts nobody ever does that (but it will come in one day...) and maybe he should think about that. He plays Andy Hamilton this week, who doesn't make many mistakes or miss many big numbers, so if Gary misses his doubles The Hammer will beat him. However, I feel Anderson's scoring power will give him the extra darts at double and he'll nick it.
Rod's call: ANDERSON WIN
I'll leave you with a fun bet that you might be able to find with some bookmakers. If you bet on the first dart of each match being any other number except 20 or treble 20 then you'll get odds of around 9/1. There were two matches last week where the first darts didn't go in the 20, so if you'd put a pound on the double you'd have got about £90 back! I think it's worth putting 50p of anybody's money on doubles, trebles, four-folds and a five-fold. It may not come up, but it's great value and this sort of fun bet is much better than playing the National Lottery!