War of the World
Rod is tipping England at the World Cup of Darts - but look out for the Dutch, the Scots and the Belgians!
Last Updated: 31/01/13 4:58pm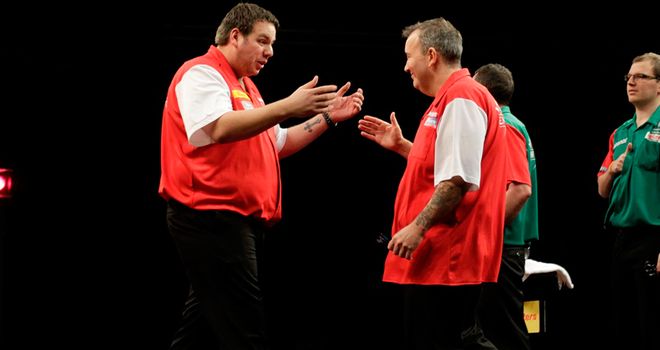 In every sport, the words 'World Cup' have a nice ring to them - and darts is no different.
In my opinion we need a World Cup in our sport because darts is spreading worldwide and this tournament will grow and grow. You only have to look at the number of countries that now televise the top Sky Sports events for evidence of that.
When you look at the pairings it's clear that we're going to see a great event this year. People who say that only a few countries have good darts players don't know what they're talking about because there's several teams who could win this.
A lot will depend on how the players gel - you've got to like your team-mate - and sometimes it doesn't matter how good the players are; pairs is a very funny game and upsets are always possible. We saw that when the Spanish duo beat Phil Taylor and James Wade a few years ago.
Here's a look at some of the teams in order of seedings:
1. England (Phil Taylor and Adrian Lewis)
England are favourites to win the World Cup, but not long-shot favourites because a few other teams are just behind them. Phil played brilliantly at the World Championship and the final against Michael van Gerwen was an exceptional performance. Adrian did not have a great 2012, but played better at the World Championship and his game with Van Gerwen was the best game he'd played in a long time. I hope he's had a rest with his wife and his newborn and has straightened himself out a bit. He wouldn't have a great livelihood without darts and I hope he is firing on all cylinders this week. This team will be tough to beat.
2. Netherlands (Michael van Gerwen and Raymond van Barneveld)
This is a great team and a lot of people would put them as favourites. Van Gerwen is firing on all cylinders and doesn't care who he plays, while Barney is back in great form. He lost to Taylor at the World Championship when they had a bit of a spat, but that sort of thing happens in every sport and it's over now. If they can gel then they will be really tough to beat, but the only problem I can foresee is that Michael arrives as the top seed in this team. Who will be the captain? In my eyes, Barney should be the skipper and take the youngster under his wing, but I think they will gel and in the eyes of many people they are the favourites.
3. Australia (Simon Whitlock and Paul Nicholson)
This pair lost in the final last year and will be looking to go one better this time around. Whitlock is as solid as you can get and doesn't make many mistakes, while Nicholson started playing much better at the end of 2012 and was unlucky not to go further in the World Championship. When we get down to the last 16 - and especially the last eight - it's going to be a tough road and teams like this will need some brilliant darts to get through. They should be very hard to beat.
4. Scotland (Gary Anderson and Robert Thornton)
This is another strong side. Thornton had a brilliant 2012 and deserved his place in the Premier League because he's so solid and doesn't make a lot of mistakes. In contrast, Anderson is a prolific scorer, but misses a lot of doubles - and that's what cost him at the World Championship and other tournaments. If he can sort out his finishing - and the odd pat on the shoulder and word of encouragement from Thornton might turn it around - could see the Scots emerge as one of the teams who can win this.
5. Wales (Mark Webster and Richie Burnett)
Webster is one of the nicest guys on the Tour, but has had a torrid time for the last year or so. He didn't have a great draw at the World Championship, but showed a few signs of playing much better. Wales reached the final of the first World Cup and it was one of the first times I'd seen Mark show emotion and drive, probably because he was representing his country. He stepped up to the mark that year and you might see him do it again. You also know that when you put the Welsh dragon on Burnett's heart you are in for a fight, so these two should play really well together. Of all the teams I expect them to gel the best.
6. Northern Ireland (Brendan Dolan and Michael Mansell)
Dolan has been playing well for a very long time, particularly at the World Grand Prix, and Mansell is a good solid player. I don't think they have the firepower to win it, but if any team takes it too easy against them then we could see an upset. They deserve to be seeded though because they've both fought hard over the last few years, Brendan in particular.
7. Germany (Jyhan Artut and Andree Welge)
Artut has just won his Tour card after coming through Q-School so he will come into the World Cup with a good bit of form and confidence and the same can be said for his partner who also picked up his Tour card this month. I've known Andree since he was 19 and both of them are good players, although I can't see them winning the trophy. If I was looking at it from a business point of view, then Germany winning this World Cup could be the best thing for darts in Europe, especially as the tournament takes place on their soil. Don't take them lightly.
8. Republic of Ireland (William O'Connor and Connie Finnan)
I know both of these players fairly well; Finnan has been around for a long time, but O'Connor's only been on the scene a couple of years. Both of them are very good players, but this sort of event is new to them and with all due respect I can't see them going out there and winning it. However, there's no doubt that these two will gel and will get together and work together. That means there's always a chance of an upset.
The best of the rest
Certainly look out for the Huybrecht brothers from Belgium. We all know what Kim can do, but I watched his brother Ronny at Tour school and he's an exceptional darts player as well. If I had to pick a non-seeded team to do well, they would be the ones. Also, the Canadian pairing of John Part and Jeff Smith and the American team of Darin Young and 1994 World Matchplay winner Larry Butler will have plenty of bottle. They will punish the big boys if they make any mistakes.
However, I've got to put my hand on my heart and tip the English to win because I'm a patriot, but there are a few good sides out there. The Dutch will take some stopping, the Scottish could turn up and make waves and the Australians are very strong. I'm tipping the English, but it really wouldn't surprise me if one of four other teams won it.
The World Cup of Darts kicks off at 1.30pm, Friday, Sky Sports 2 HD.