Rod Harrington explains decision to increase Premier League Darts field to 10 players
Rod Harrington explains why having 10 players in Premier League Darts will give fans better value.
Last Updated: 03/01/13 1:15pm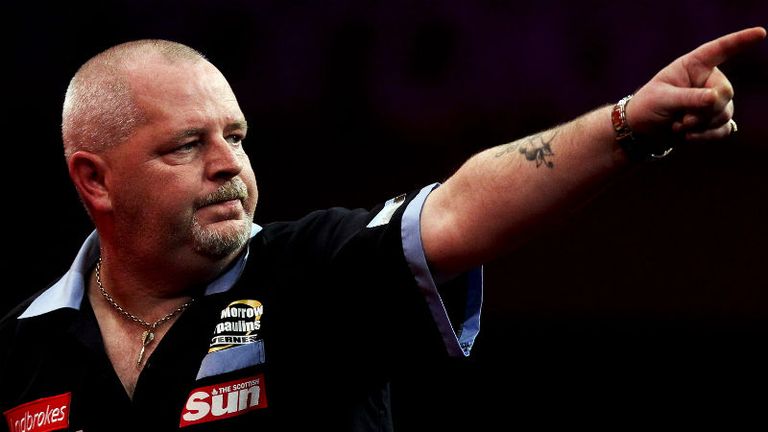 Well the top four in the world rankings - Phil Taylor, Adrian Lewis, James Wade and Michael van Gerwen - get an automatic spot and in my opinion Simon Whitlock and Raymond van Barneveld pick themselves.
That left us, in my opinion, with four other people to fit into two wildcard places and I felt you could make a good case for all of them:
- ANDY HAMILTON - He has made the quarter-finals of every TV event this year and the crowd love him. He's a larger-than-life character who has great passion and you rarely hear the fans boo him. He also made the Premier League semi-finals last year.
- GARY ANDERSON - Everybody loves Gary Anderson, who won the Premier League in 2011, simply for his scoring power. He's such an exciting player when he's on form, even though he misses doubles. We need players who will put the fans on the edge of their seats and he does that.
- ROBERT THORNTON - Many people would have put down Robert Thornton as an outsider, but he won the UK Open and beat Phil Taylor twice on Sky last year. Not many people can say they've done that in darts history!
- WES NEWTON - He has had a couple of great years, even though he hasn't really done it on TV in big tournaments. He got to the final of the European Championship and is number six in the world, which merits a place, and we're hoping the Premier League will teach him to play on the big stage and win big tournaments.
So as a director of the PDC, I sent an email to the PDC CEO Matt Porter and Sky Sports' Executive Producer Rory Hopkins to discuss it - and then I sent an email to Barry Hearn suggesting increasing the field to 10.
It gives the spectators two more players to watch - and therefore an extra game each week - which is better value for them.
We'll also bring the match format down a bit, probably best of 12 legs, because a shorter format is more exciting to watch. Plus if you end up with a bad game the crowd won't get bored because they're not up there for long.
Sky were happy with the idea, Matt Porter was happy with the idea and we were just waiting to hear from Barry. He straight away agreed - and suggested the idea of relegation after each player has played each other once.
In some years, we've seen players get towards the end of the league stage unable to make the top four and they've just gone through the motions. So this year, after nine weeks, two players will be relegated.
We then need to fit the rest of the matches into five weeks - so in some weeks the fans will get six games on a night.
We still need to work out the exact format, but the fans should get extra value. It works for them and it works for us and everybody agreed with it (which is unusual!)
It got the final tick at Wednesday's PDC board meeting and that's the way things are going to be this year.
To be honest there was nobody else really in the frame. Dave Chisnall won the Tour Players Championship, but hasn't really done anything on TV yet.
There's no doubt he's an unbelievable player and in the future he will probably get in if he carries on the way he is.
But at this moment in time it was only really the 10 names that were considered.
The state of the sport
The Premier League will build on the best ever World Championship.
The PDC has proved it has got the ranking system right because the players coming through are good hardened professionals. With the enhancement of the Challenge Tour this year to provide the youngsters with a stepping stone, it's only going to get better.
I'd also like to pay tribute to the production team at Sky Sports, who do an unbelievable job which makes the sport so appealing to the viewers at home - as well as the players who have done brilliantly this year.
We enjoyed a fabulous final with Phil Taylor coming from two sets down on two occasions to beat Michael van Gerwen, the brightest young talent in the game.
My admiration for both players is great and I don't think anybody should blow Phil's spat with Raymond van Barneveld out of proportion. The shook hands at the Awards Dinner and we are keeping it in proportion backstage; for those two it's all forgotten.
The tournament, overall, couldn't have been much better and I don't think you could have written a better script before it started.
The game is in a very healthy state right now. We have a package that certainly works.
Premier League Darts kicks off live on Sky Sports on Thursday February 7