Five stars
Rod Harrington names the five men who impressed most in the first week at the World Darts.
Last Updated: 21/12/12 5:33pm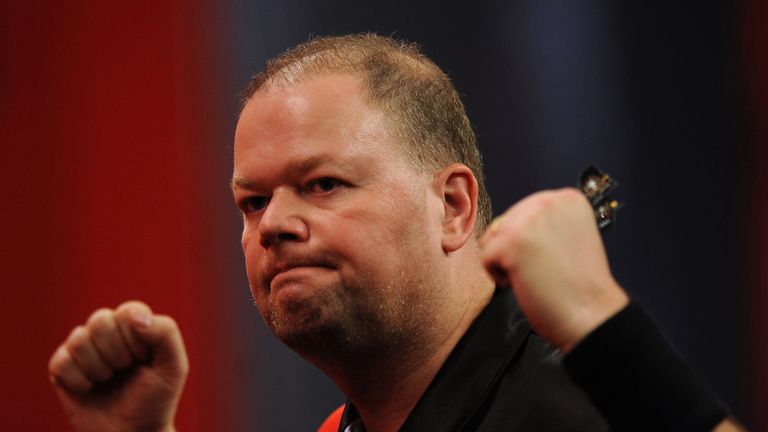 Sky Sports has been lighting up your screens with all the fun of the darts.
We've seen some explosive action in the first week at Alexandra Palace and the action has really been hotting up as we move towards the later rounds.
But who were the stars of the first week of the tournament? Sky Sports expert Rod Harrington has watched all of the 72 players and we asked him to pick out the five that caught his eye following their opening matches.
Here are the famous five he came up with...
Raymond van Barneveld
The first one we have to talk about is Barney. He won the Grand Slam and that seems to have turned his whole life and career around. In the last two to three years, all we've had is a miserable Barney, who I believe has been listening to the wrong people, who have been leading him down the wrong path instead of allowing his natural ability to come through. Instead of enjoying the game he was on a downer, but now he's saying how great he feels. He did an interview and mentioned my name, saying he'd listened to people like me that know the game and now he is playing brilliantly.
He's certainly got a chance to win this tournament. In the first round he threw a 108 average, had a couple of 180's and some good checkouts. It was the best performance of the first round and puts him in with a massive chance to win the trophy. It just shows how a different attitude can breed a different performance.
Scott Rand
We don't talk about Scott Rand very often, but he played very well against Kim Huybrechts. He looked very cool, very calm and took out doubles under pressure. I'm not saying he's got the experience to win it, but if he plays like that again he's going to do some damage and earn himself some money. I know Huybrechts has had personal problems following the loss of his father, but you have to be impressed with his performance because he threw nearly a 100 average - so that shows how good Rand's performance was.
Rand had a good go at this tournament two years ago and he likes the big stage. He believes in his own mind that he plays better on the big stage and if you believe something is going to happen then you're part of the way there. I was very impressed with him.
Mark Webster
Mark Webster has had a torrid time for the last two years and when myself and Wayne Mardle did the draw for the World Championship I felt so sorry for him because it was one of the hardest draws of the first round to pull out Ian White. Mark ducked out of a couple of exhibitions, including one I was working at in Portsmouth on the Saturday before the tournament, because he wanted to practise - and he came up trumps. He played extremely well in his first match.
He deserves a bit of a break. He's a former BDO World Champion, so he's got the pedigree and who's to say he won't go on and do really well for the rest of the tournament? I was really pleased to see him step up to the mark, get a bit of luck and do something with it. I don't know if he's got the form to win it though; he's got the bottle and the know-how but he will need to find a little more form to win the trophy. But that's not to say he won't up his standard and go on and win!
Dean Winstanley
Dean Winstanley's match with Mervyn King was the game of the first round and I felt sorry for his opponent because it was such a great match. Mervyn puts himself down when he loses, saying he didn't play well, but Winstanley stepped up and there was only the odd dart-at-a-double between them. It could easily have been the opposite result, but Winstanley came through.
He came over from the BDO last year, took a chance and has been playing extremely well. He's a very good scorer but he tends to miss the odd double at crucial times - whether that will come back to haunt him in rounds to come is yet to be seen. His scoring power will give him chances though and I was very impressed with that first match. I don't know if he's quite ready to win it, but he's reached the semi-finals of the Grand Slam in the last two years and that shows he has the pedigree. He has the game, but does he have the mental attitude? We'll only find out in time.
Andy Hamilton
Andy Hamilton was very solid in both of his opening matches. He's played some really good games over the last 18 months to two years and he has so much self-belief. If he loses a set he believes he's good enough to come back and he doesn't let anything worry him. It doesn't matter if he has a bad leg or a bad set, he just gets on with it. It's his doggedness that most impresses me. I call him the streetfighter - he'd punch his opponent if it was within the rules - and he's definitely one of the most solid players in this tournament.
Finally, I'll mention the best game I have commentated on so far, which was Dave Chisnall against Daryl Gurney. I've commentated on some great games over the years, but this was one of the best ever. I had a chat with Gurney afterwards and he has a great future. I told him to go to Q-School and give the PDC system a try - but it's all down to money because he lives over in Ireland. It's the first time I can remember anyone hitting more 180's than Chisnall and the number of 140's and 180's in the match was astonishing. He lost 4-1 in sets, but every set went to 3-2 and he could easily have turned it around. Chisnall is a prolific scorer and gives himself chances and his success at this tournament will come down to whether he takes those chances. People will be scared of his scoring power though - and Gurney should not be disappointed by that defeat. I hope he gives it a go in the PDC because I'd love to see him playing and earning money in our system.