The right Van man?
Rod Harrington previews the rest of round one and expects much of rising star Michael van Gerwen.
Last Updated: 17/12/12 8:43am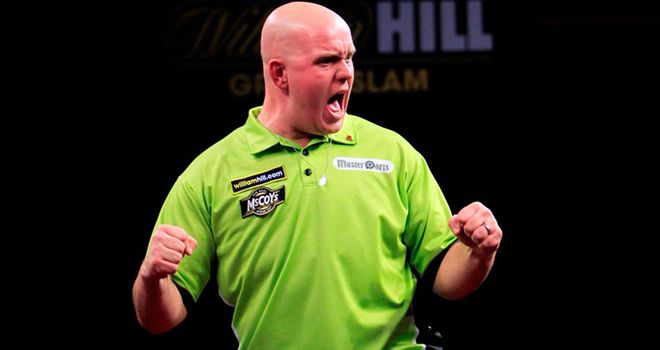 The biggest darts tournament of the year is here.
Sky Sports will bring you all 20 sessions from this year's PDC World Championship live in high definition and there's a feast of action for you to tuck into over the festive period.
With so much to look forward to, we asked Sky Sports analyst Rod Harrington to mark your card and pick out some of the key clashes that you mustn't miss each night.
Here's what's coming your way over the next few days...
Monday Dec 17 (7pm, Sky Sports 2 HD)
7.10pm Peter Wright v Arron Monk
8.15pm Carlos Rodriguez v John Bowles (P)
9.00pm Mark Webster v Ian White
10.00pm James Wade v Peter Hudson
11.00pm Jamie Caven v Rodriguez/Bowles
This is a good night of darts. Peter Wright played well in the Tour Players Championship against Wayne Jones, but Arron Monk is an extremely good young player. I've watched him since he first came on the scene and all he lacks is a bit of experience on that big stage. I've told him to go up and not do anything different; if he plays his own game and shows some emotion he can do well. It's a tough game for both players and on experience you'd pick Wright, but Monk has got a very good chance of getting through the first round. If you look at the stats, Wright rarely takes out big shots - but you can't afford to do that in the World Championship. He'll need to take out a few to win this game.
As for Mark Webster, he's one of the nicest guys you'll ever meet and of all the 72 players he could have done with a break because he's had a tough year. But then he went and pulled the hardest non-seed you could pull. Ian White has been exceptional all year, he's taken some big scalps and this will be so tough. I can't call this one. On experience, Webster should win it but White is no mug.
Tuesday Dec 18 (7pm, Sky Sports 1 HD)
7.10pm Steve Beaton v Kyle Anderson
8.15pm Lourence Ilagan v Jamie Lewis (P)
9.00pm Wes Newton v Johnny Haines
10.00pm Mervyn King v Dean Winstanley
11.00pm Colin Osborne v Ilagan/J Lewis
There were two bad draws for the seeds - Ian White and Dean Winstanley - and Mervyn King got the latter. Merv has been playing his best darts in two years, but Winstanley scores really well and has been hitting his doubles, which was a flaw in the past. I would pick King to win it - but he ain't going to win it easily and I wouldn't put any of my own money on that game! It will be a good match though and will probably top the averages, in terms of the pairings, in the first round.
Wes Newton will have a bit of trouble, too. Johnny Haines is another of those players that nobody knows, but I've watched him on the Tour and he's a good older guy who just plays the dart board. Wes has been playing brilliant all year, but needs a good run here because his management keep on about getting into the Premier League. He needs to forget about that for now and focus on Haines. He needs to go out with all guns blazing and put him to bed, because if he doesn't the old boy will take his chance. It probably won't be an upset, but you never know.
Wednesday Dec 19 (7pm, Sky Sports 2 HD)
7.10pm Justin Pipe v Andy Jenkins
8.15pm Haruki Muramatsu v Dave Harrington (P)
9.00pm Ronnie Baxter v Dennis Priestley
10.00pm Colin Lloyd v Darin Young
11.00pm Simon Whitlock v Muramatsu/Harrington
What a game we have in store when Ronnie Baxter plays Dennis Priestley. Ronnie is a diabetic, but doesn't advertise it like some of the other players do, and he just gets on with it and doesn't let it affect him. He's also had muscle breakdown on the right-hand side, but he's still ben throwing well. As for good old Dennis, every time he's rocked up at a Tour event he's done well. He just wants to keep playing - and when you've got a player who's just playing for fun rather than money or ranking points then it's dangerous. Ronnie has a tough game on his hands and will need to be on top of his form to come through this.
We've seen glimpses of the brilliance that made Colin Lloyd a former world number one, but it's not been consistent. My professional call on him is that he's starting to get edgy when trying to close games out. We saw it in the first round of the Tour Players Championship and when that creeps into your game it's hard to get rid of it. He may turn up and blitz Darin Young because he still has the scoring power, but he mustn't be too edgy on those doubles. I expect Lloyd to come through - but it will hurt him if he goes out in the first round.
Thursday Dec 20 (7pm, Sky Sports 1 HD)
7.10pm Mark Walsh v Darren Webster
8.15pm Paul Lim v Mohd Latif Sapup (P)
9.00pm Kim Huybrechts v Scott Rand
10.00pm Vincent van der Voort v Stuart Kellett
11.00pm Michael van Gerwen v Lim/Sapup
Mark Walsh is another solid player and has been playing well of late, but he's had the odd stutter here and can't afford to do that against Darren Webster, who will be bang up for it. That's another game where the first set will be crucial. On form, the seed should get through though. Then we see Scott Rand, who had a brilliant World Championship last year but struggled to handle the pressure when he packed up work and started playing full-time. He's turned that around in the last two or three months and is a really good player. Kim Huybrechts is a fine player, who is at the top of his game at the moment. I don't think it will be an upset, but - and I keep saying it - the first set will be so crucial.
Michael van Gerwen is last up and I expect him to be playing Paul Lim, a close friend of mine in the darting fraternity. He's a super player, but if he wins his prelim match he's up against the form horse in world darts. We did an exhibition with eight players down in Portsmouth last week and he beat Simon Whitlock and James Wade to win it. I love his rapport with the crowd and I expect him to win on the night. When you're playing at the top of the game, none of the demons are in your head - and that's how Phil Taylor plays. Nothing upsets his rhythm and he throws too fast to think anyway. He could easily walk away with this World Championship as long as he takes out a few crucial doubles.
Every session of the World Darts Championship will be shown live on Sky Sports HD. Click here for full listings.