A real Barn-stormer
Rod Harrington talks you through the can't-miss matches on the opening weekend of darts.
Last Updated: 13/12/12 5:19pm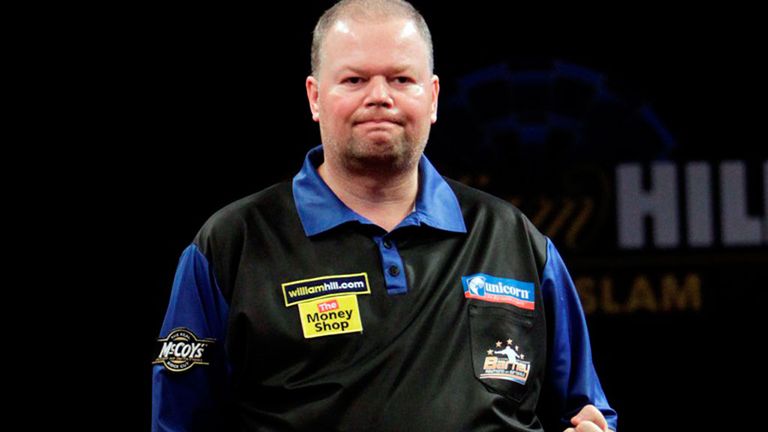 The biggest darts tournament of the year is upon us.
Sky Sports will bring you all 20 sessions from this year's PDC World Championship live in high definition and there's a feast of action for you to tuck into over the festive period.
With so much to look forward to, we asked Sky Sports analyst Rod Harrington to mark your card and pick out some of the key clashes that you mustn't miss each night.
Here's what's coming your way over the next few days...
Friday December 14 (7pm, Sky Sports 1 HD)
7.10pm Robert Thornton v Magnus Caris
8.15pm Andree Welge v Leung Chun Nam (P)
9.00pm Paul Nicholson v Co Stompe
10.00pm Adrian Lewis v Gino Vos
11.00pm Kevin Painter v Welge/Chun Nam
The first match of the tournament sees Robert Thornton play Magnus Caris, who has been in the game for almost as long as I have! I first met him in the early 1990s and he's a close friend of mine, but he's up against a guy playing the best darts of his life. Robert Thornton has proved this year what a class player he is by beating Phil Taylor twice on TV and he doesn't play bad games any more. Magnus has got a chance, but he needs to win the first set against one of my tips to have a good run in this tournament.
Also look out for Adrian Lewis' first match against Gino Vos. He's got married and had a child this year and I asked him if he felt like a load had been lifted off his shoulders and he said yes. He said he can relax now and I hope the Adrian that can throw brilliant darts turns up. He hasn't really shown it this year, but I think this is a perfect first-round game to ease into the competition. He doesn't have to panic, he can get up and play his game and he should come through. Remember, he didn't play well in the first couple of rounds last year, but still ended up winning it.
Saturday Dec 15 (12pm, Sky Sports 3 HD)
12.10pm Wayne Jones v Jerry Hendriks
1.15pm Daryl Gurney v Robert Marijanovic (P)
2.00pm Richie Burnett v James Hubbard
3.00pm Terry Jenkins v Steve Brown
4.00pm Andy Smith v Gurney/Marijanovic
Make sure you tune in to see Terry Jenkins, who is one of the toughest players on the Tour and a seven-time major finalist. However, he's been missing a lot of doubles lately and that will be weighing on his mind. He's up against Steve Brown, a player who knows how to throw darts. He's started up a lot of Youth Academies and that may have detracted from his own professional game, but he is a really good player and if Terry starts missing doubles then this is an upset waiting to happen. The bookies will have Jenkins as favourite on pedigree and form, but Brown could cause an upset here. It's not ideal to come into a tournament missing doubles, so this could be close.
Wayne Jones shouldn't have too many problems against Jerry Hendriks, but the games are short in the first round and you never know. Jones was brilliant in the first round of the Players Championship, beating Dave Chisnall 6-0, but then when you expected him to beat Peter Wright he went and lost. Nothing is certain in this game!
Saturday Dec 15 (7pm, Sky Sports 1 HD)
7.10pm Dave Chisnall v Shane Tichowitsch
8.15pm Max Hopp v Charl Pietersen (P)
9.00pm John Part v Joe Cullen
10.00pm Phil Taylor v Michael Mansell
11.00pm Denis Ovens v Hopp/Pietersen
Micky Mansell is a good player, but on that big stage there shouldn't be a lot of trouble for Phil Taylor. He's really up for this tournament, he wants to get his crown back and I don't think he'll have a problem winning that match.
It might be different for John Part. We've seen some good flashes from the former World Champion, but some bad flashes as well - although he always plays best on the big stage. Joe Cullen is one of the new breed of players who is coming through and if Part doesn't take his chances he could end up in a bit of mishap. When you're looking for games that may be an upset, this is one of those. You expect Part to win, but keep an eye on Cullen for sure.
Sunday December 16 (7pm, Sky Sports 1 HD)
7.10pm Brendan Dolan v Mark Jones
8.15pm Jarkko Komula v Jani Haavisto (P)
9.00pm Andy Hamilton v James Richardson
10.00pm Raymond van Barneveld v Michael Smith
11.00pm Gary Anderson v Komula/Jaavisto
Gary Anderson's got a nice easy draw, which he needs in the first round but Raymond van Barneveld has an interesting game. Michael Smith has talent in abundance and we've seen him go up in Tour events and thrash senior players. He's won twice on the main Tour, he's won plenty on the Youth Tour and he is a class player. All he's lacking is experience on the big stage. However, Barney is playing the best he's played for years - he's slowed his throw down to become more deliberate - and he proved by winning the Grand Slam that he's capable of some great darts. I expect Barney to win because of his experience, but he'll be under pressure if he loses the first set because a lot of these new guys are great leaders, although aren't so good coming from the back. I've tipped Barney as a good bet each-way for the tournament, but if Smith gets in front then he could prove to be a stumbling block.
James Richardson beat Barney last year, but the last six months of this year haven't been as good as the first six months. He'll go on that stage feeling lucky and that will help a lot; he knows he's done it before so he can do it again. He faces one of my favourite players in Andy Hamilton, he's 100 per cent honest and he's a solid player, so I expect him to come through it. There's always a chance of an upset over a short distance, but Andy is solid in his all-round game and he could have a run at this tournament.