Raymond van Barneveld and Michael van Gerwen are big favourites for World Championship, says Rod Harrington
Rod Harrington says Raymond van Barneveld's wife has made him a World Championship contender.
Last Updated: 20/11/12 3:53pm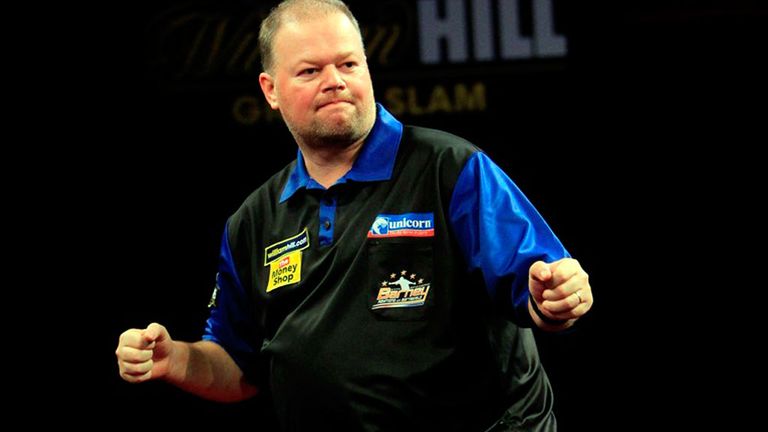 She didn't take any nonsense from him and told him to just get on with things. He said after the semi-final that he was feeling tired, but she told him he was at work and that he could have a rest the next day.
There was no sympathy for him and I think that kick up the backside really helped. He showed exceptional professionalism in the final and it's great to see him winning majors again.
He slowed his throw down by a split second for each dart and that made him more accurate and more solid. He didn't miss big numbers and didn't rush his doubles, especially in the early part of the game.
He took out some key finishes which hurt his opponent and he got in front of Michael van Gerwen early on. There were four times in the match when Michael got within a leg of him on his own throw - and Barney broke him all four times to get the lead again.
He hasn't been at his best in the last two or three years and I've had a go at him several times for whingeing instead of going up there and doing it, but in this tournament he got up there and delivered.
He'll now have big confidence in himself before the World Championship and having won a major, he's put one foot firmly in the door of the Premier League again.
He's an entertainer, the Barney Army follow him all over and it's great to develop the sport in Holland. He's great for the sport.
Delivered
Speaking of which, Van Gerwen delivered big time, which we expected because we know what he's capable of.
As I said to Dave Clarke on TV, you'd be a fool not to put him in the Premier League. That tournament is a show, as much as a darts match, and he is an entertainer. He's got a great awareness on stage, a great rapport with the crowd and that's what the Premier League is all about.
Like Barney, he's got one foot firmly in the door because from a commercial point of view, he's perfect for the competition. He's a brilliant player and he ticks all the boxes.
He's got to be one of the favourites for the World Championship as well. Barney showed some flaws in the young man, but those are just a lack of experience. He's got to be worth a punt to win at Alexandra Palace.
Phil Taylor had another mediocre tournament but I don't think he's playing much worse than before, it's just that everybody else is getting better. I'd still make him the favourite for the World Championship, but Van Gerwen and Van Barneveld are very, very close behind.
There's probably 24 of the top 32 in top form as we head to Alexandra palace next month. Jamie Caven is playing some of the best darts he's played in a long time, Colin Osborne is starting to get some form back and Dave Chisnall (little tip - always back him to score more 180s than his opponent in any match) will be hard to beat.
Performance-wise, I'm looking forward to possibly the best World Championship ever.
Grit
I'd also like to mention the grit and determination of Dean Winstanley and Andy Hamilton, who are both a credit to the game.
Winstanley never gave up in his match against Van Gerwen, even though his opponent was on fire. I like to watch fighters and afterwards he said it was a pleasure to see his opponent play so well - but he still wanted to try every inch to beat him.
He's also a very polite guy. After his defeat he went backstage and went out of his way to thank everybody. A lot of work goes on behind the scenes to put these tournaments on and to give these players a chance to become millionaires, but you don't get thanks very often. I wish every player was like that!
Hamilton is the same sort of person. He never gives up, you don't hear him making little niggles at people and what you see is what you get with him. I've got a lot of time for those boys.
I should also mention the BDO boys, who were exceptional in their conduct and their performances.
Christian Kist had a good run, but Barney eventually proved he was the boss in Holland. Who's to say we won't have a Dutch World Champion in the PDC and the BDO this year?
I also spoke to Scott Waites and I can't believe he still goes to work because he has the ability to be a professional darts player. There's no question he's good enough; anybody who beats Phil Taylor is no mug on the dartboard.
I can't bet on the PDC events because I'm not allowed, but I think I'll have a gamble on him to win the Lakeside.
The World Darts Championship starts Friday December 14 and the whole tournament is live on Sky Sports