Rod Harrington says 'wounded' Phil Taylor can go on and win Grand Slam of Darts
Rod Harrington reflects on shock exits for Lewis and Whitlock - and tips a wounded Taylor to recover.
Last Updated: 26/11/12 11:37am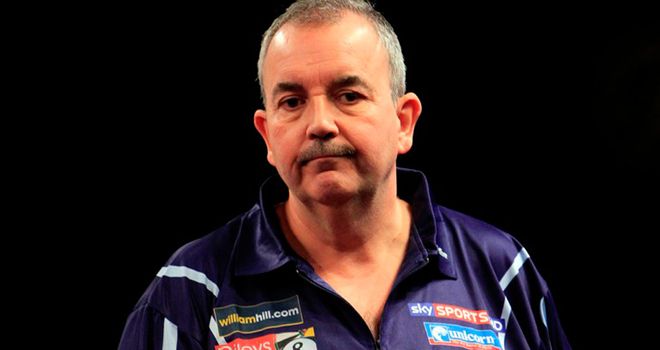 World champion Adrian Lewis just hasn't looked right and finished bottom of his group. He looked better in his final group game against Gary Anderson and if he'd lost that one it would have really dented his confidence going into the World Championship next month.
People are very quick to write him off, but he has a lot of work to do to get back to anywhere near his top form.
Simon Whitlock also went out in the first round, which none of us expected. He was sitting there quite comfortable after winning his first two games, but then all of a sudden he lost 5-1 to Dean Winstanley and he was out!
I have to say that Winstanley played exceptionally well in that game. His back was up against the wall, but came out with all guns blazing and pulled off a great win.
Terry Jenkins is also out and what cost him was missing too many doubles in the early part of his matches. He was scoring well and he's a solid player, but a few crucial doubles means he's going home.
The short format helped some of those upsets and has been great for the crowd and TV viewers - and even the indifferent games have been over quickly so you can never get bored.
All in all, it's been a great event so far and the BDO players have done themselves justice and have played really well. Things have gone really smoothly and I'm looking forward to some more fabulous darts in the knock-out stages when the format gets longer.
Who is going to win? The standard is so close between the players left in the tournament and they can all throw 12 or 13-dart legs back-to-back for fun. There are five or six players that have a strong chance of winning this trophy.
But I'm still going for Phil Taylor. He is wounded after losing to Scott Waites in his last match and I think that will make him dangerous.
A wounded animal is a dangerous one...
Second Round Preview
Dean Winstanley v Arron Monk
This is one of the biggest games of young Arron Monk's career so far, but I expect him to have a lengthy career in front of him. However, I think Winstanley may have a little bit too much firepower and experience. I'd love to see Monk win the match because he's come through the Youth Tour that I've been involved with, but I feel Winstanley's leg-on-leg consistency should see him come through - especially after watching the way he played against Whitlock in his last game.
Mervyn King v Kevin Painter
Mervyn King has been smiling and laughing all week, which is good to see, and there's no doubt he's back to his best. This should be the closest game of the night and is likely to come down to a few missed doubles. Kev mustn't beat himself up if he misses a few early on and I think it's a really close call and should go all the way. Strictly on the form book you'd lean towards King, but Kev likes the big stage and it could go either way.
Michael van Gerwen v Phil Taylor
Everyone's looking forward to this one. Young Michael van Gerwen's on fire, but I think Phil Taylor has so much to prove after losing to Waites that I think he'll be on top of his form. Once again, I feel Taylor will edge it because of the leg-on-leg consistency that he'll have throughout the match. Van Gerwen needs to get out of the gate quick, get in front and stay there - but I feel Phil's bloody-mindedness will see him roll off the legs. I think he'll edge it.
Scott Waites v Robert Thornton
Robert Thornton is in the form of his life, having beaten Taylor twice on TV this year, but the way Waites played against The Power was exceptional. He took the game to him and the telling factor was that it was almost impossible to beat him on his own throw. Holding your throw is so important and he did it brilliantly. This will be another close one because Thornton has a lot of bottle, but the form book says Waites may nick this.
John Part v Brendan Dolan
I spoke to John Part on Wednesday night and he seems to be up for it. He's looking for a good result here to build confidence for the World Championship and I think his experience should see him win this match. He's very good at taking his chances and taking advantage of mistakes and I expect to see him do that here. Brendan's a happy-go-lucky guy who's playing some great darts, but I've got to go for Party.
Wes Newton v Christian Kist
Wes Newton is on fine form. He has a great attitude, is confident in himself and I think he's going to win this. This week is the first time I've met Christian Kist and he's a lovely guy and a great player, but Newton plays strong players on our Tour every week and I think that might give him a little edge of consistency. Don't get me wrong, Kist is good enough to win but I'll lean towards Wes. This should be one of the best games of the round though.
Andy Hamilton v Gary Anderson
We all know what The Hammer does; he's solid, he doesn't mess around and he takes his chances. But we also know what Gary Anderson can do when he gets on the treble-20 and becomes hard to hold. The problem for him is that he's been missing doubles and if Hamilton can stay with him on scoring then he can punish any mistakes and put pressure on. I can make a good case for both players winning this game; Anderson has the scoring power, but Andy is a streetfighter. It will be one of the games of the round.
Raymond van Barneveld v Wesley Harms
Barney is still a long way from his best, but I think he'll have enough firepower to take out Wesley Harms. This is the first week I've seen Harms play and he's really impressed me, but I just feel the PDC Tour breeds a stronger player, especially over a longer distance. That's where Barney has the edge. He said he was under pressure in his match against Kist, which is strange for a former World Champion to say, but I think he'll win this quite comfortably.
The Grand Slam of Darts continues on Thursday night, 7pm, Sky Sports 1 HD