Grand designs
Rod Harrington says Taylor, Whitlock and Van Gerwen are the men to beat at the Grand Slam of Darts.
Last Updated: 09/11/12 5:21pm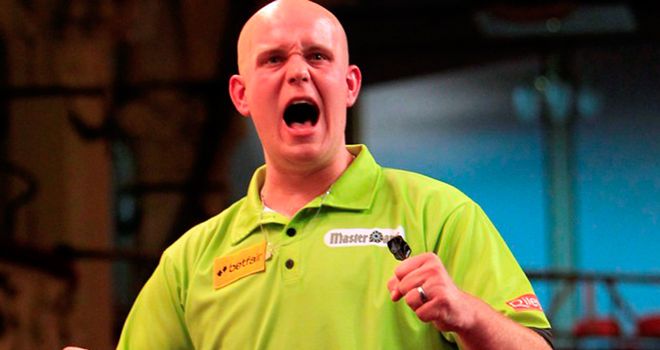 The standard is so high in the game of darts right now that it's hard to predict exactly what will happen at the William Hill Grand Slam of Darts.
There's so many people playing really well that us pundits can easily get it wrong, but I'd much rather it was this way; I don't want the sport to be predictable.
Phil Taylor looks like he's sorted himself out again, Simon Whitlock is playing brilliantly and I'm looking forward to watching Michael van Gerwen in the next three or four years. I expect those guys to feature heavily.
But there's also some really encouraging youth players with Arron Monk and James Hubbard well worth watching here. We should have a great tournament to set us up for the best World Championship ever next month.
Here's my guide to the eight groups in the round-robin phase:
GROUP A: Phil Taylor, Scott Waites, Mark Webster, Co Stompe
There are no easy groups, but this is an easier group than some for Phil Taylor. Mark Webster's not had the best of times since his one Premier League season, which is a shame because he's one of the nicest guys on the circuit. He's been demoralised, but one tournament could kick-start his year and the round-robin format may help him. If he loses the first game he isn't out of the tournament and hopefully he can build his confidence over the three games.
Co Stompe hasn't been playing well either and asked me for some advice. I told him to think about what he'd say to his son (because he always gives his son great advice) - and then look in the mirror and say it to himself! It's strange that players can't see themselves in the same way and you never know what will happen with him. Scott Waites is obviously a very good player and won here two years ago, but there's no doubt he will be a force to be reckoned with. However, every pundit in the world would back Taylor to win the group, especially now he's back in a bit of form.
ROD'S CALL: Taylor to go through, probably with Waites - but I'd like to see Webster get on a good run.
GROUP B: Michael van Gerwen, Robert Thornton, Ted Hankey, Steve Beaton
Poor old Ted Hankey has been thrown into the group of death here. BDO players often take a year to settle into the PDC when they move over and Hankey has struggled on the Tour, but there's no question he's a great player. The big stage should suit him and he'd rather face all these players on the stage than he would on the floor because he can work the crowd and get things going.
It's wonderful to see Michael van Gerwen play darts because he wears his heart on his sleeve and shows genuine passion, a bit like Andy Hamilton. He won the World Grand Prix and a couple of Tour events and we've seen some incredible darts from him. Robert Thornton is also playing some of the best darts of his life (you rarely see anyone beat Phil Taylor twice in a year on TV like he has) and Steve Beaton is throwing some fabulous darts as well. For me, this is the toughest group.
ROD'S CALL: It's tough to call, but I'll go on form and say Van Gerwen and Thornton will come out of the group.
GROUP C: Simon Whitlock, Kevin Painter, Dean Winstanley, James Hubbard
Simon Whitlock is playing brilliant darts at the moment. He lost to Taylor in the final of the Championship League, but the only thing he did wrong was hit two single ones in the very first leg of the match! That's all that cost him! I like the fact he's hungry right now; I've heard him say he's not interested in the money, he's just hungry for wins. I like to hear that from a player because that's the attitude you need. I think he'll win the group.
Kevin Painter is so hit-and-miss and beats himself up too much, but he will be dangerous here, while Dean Winstanley is a very good scorer, keeps improving and will be hard to beat as he gets more experience. As for James Hubbard, he's still learning the game and has a great career ahead of him. I would advise him to simply go and enjoy himself and if he doesn't win a game it doesn't matter because he's still on his apprenticeship. However, he could easily step up and beat anybody, as he showed when he won the World Youth Championship.
ROD'S CALL: I think Whitlock will win the group and it's the toss of a coin between Winstanley and Painter, but I'll go for Kev to just edge it.
GROUP D: James Wade, Jan Dekker, Mervyn King, Arron Monk
There's no doubt James Wade has as much bottle as Taylor when he's on top form and if he gets his game together then he'll be a force to be reckoned with. He could be pushing for the title. I must admit I don't know much about the BDO's Jan Dekker, but he must be a class player if he's made it into the Grand Slam and I'm interested to see how well he does.
Mervyn King had a good run to the final of the World Grand Prix, but let himself down by not winning from 4-1 ahead. He's a very quiet person, he doesn't express himself a lot and the crowd like to see those expressions - so they tend to get on his back a little bit, which is a shame because he's a super player. Arron Monk is another youngster with a huge future if he stays on the straight and narrow, as he showed by reaching the quarter-final of the European Masters and winning the Youth Order of Merit. He gets a bit excitable now and then, but we don't want to take the passion out of him. Plus he has one of my all-time favourite walk-on songs with 'Hey Hey We're the Monkees'! Nigel Pearson and I will be singing along if we commentate on one of his games!
ROD'S CALL: I'll go with Wade and King, but it wouldn't surprise me if one of the others slips in there
GROUP E: Adrian Lewis, Gary Anderson, John Part, Tony O'Shea
Adrian Lewis hasn't played his best darts since winning the World Championship and has looked tired at times. He needs to step up to the mark and stamp some authority on this tournament as a double world champion. His form is starting to drift and that shouldn't be the case for someone of his ability. It's the same for Gary Anderson, but I'm looking forward to the game between those two because it will be fast and furious. These two remind me of George Best because all the supporters come to see them play - and even if they have a bad game people tend to walk away happy because they like to see the big names.
John Part is up there with anybody who has ever played the game. I spoke to him a few weeks ago and he admits the standard is incredible these days, especially in the Tour events which is where you get your edge. He has been missing doubles, but he plays better on the big stage than he does on the floor. Tony O'Shea is one of the nicest fellows on the BDO side and is a good player, but this is a tough group for him.
ROD'S CALL: If Lewis and Anderson turn up on fire then this could be the toughest group. I will bail out and say those two big names will qualify - but it wouldn't surprise me if it was the other two.
GROUP F: Andy Hamilton, Paul Nicholson, Brendan Dolan, Barrie Bates
Barrie Bates has not been playing too well and may be the whipping boy of this group. He openly admits he has had problems and I admire him for sticking in there when a lot of us may have quit the game.
However, the other three are possibly playing the best darts of their lives. Andy Hamilton is a cage fighter who would punch you if it was allowed; he puts so much passion and aggression into the game. Paul Nicholson is in his best form since he beat Taylor in the Tour Championship of 2010 and Brendan Dolan has a rhythm that could upset the others. All four of the players in this group are very deliberate and will play at their own pace.
ROD'S CALL: Tough call, but I'll say Hamilton and Nicholson will come out of the group.
GROUP G: Wes Newton, Terry Jenkins, Wesley Harms, Martin Phillips
I had a pop at Terry Jenkins on TV a couple of years ago, but he admits I was right and he has started knuckling down. I even heard him say he was practicing for this event and hopefully he will take the chances that come his way in the next few years. I think he'll qualify with Wes Newton, who is pushing to get in the Premier League, but I think he needs to forget about that for now and just focus on every tournament as it comes.
I think the group system will suit Wes and Terry because they'll each play three matches and won't have too much pressure on the first game. I haven't seen Wesley Harms in depth, but I remember beating Martin Phillips in the last 16 of the World Masters when I won it back in 1991. That's how long he's been around, but he played extremely well last year - nobody expected him to do as well as he did - and he reminds me of Ronnie Baxter because you can't upset his rhythm. He could be a big spoiler if he turns up on form.
ROD'S CALL: I'm going for Newton and Jenkins because I think the format will suit them
GROUP H: Christian Kist, Raymond van Barneveld, Mark Walsh, Wayne Jones
Raymond van Barneveld is another player who needs to prove himself here. He can't keep living on his reputation as a five-time world champion; he needs to forget the Barney of old and think about the Barney he wants to be. He has missed Tour events coming into this and he really should have played them to sharpen up over a short format. That may come back to haunt him, but equally he may turn up and play brilliant because he's a class player.
Christian Kist is the BDO World Champion and has been playing well lately, but finds himself in a top group. I understand he's had some knee problems and he will be up against it here. Mark Walsh is like a solid central defender who never has a bad game and you need to be an exceptional centre-forward to get past him! He made the final group of the Championship League and did well here last year, so could be one to watch again. Wolverhampton's Wayne Jones is the home favourite and arrives on a high after beating Phil Taylor last week.
ROD'S CALL: Jones could be the spoiler in this group, but I'll go for Barney and Walsh.
The Grand Slam of Darts kicks off live from Wolverhampton at 7pm, Saturday, Sky Sports 1 HD