Dutch courage: Michael van Gerwen can win more darts majors, says Rod Harrington
Rod Harrington says new faces like Michael van Gerwen are no longer afraid of the big stars of darts.
Last Updated: 18/10/12 10:42am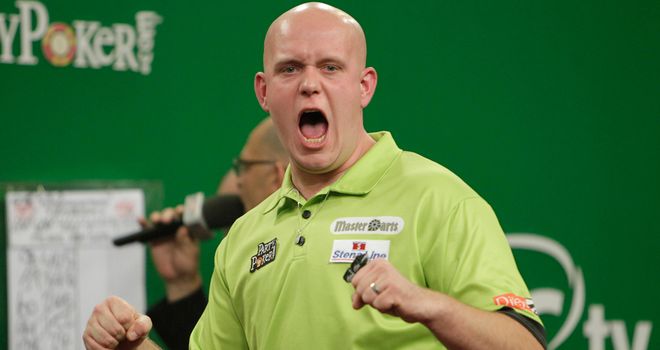 He just needed to believe in himself and hit a few doubles at the right time. I'm so pleased because he's a lovely young lad, who everybody genuinely likes. I don't think I've ever heard him swear to be honest!
He has a lovely awareness on stage and boasts great charisma. He shows genuine emotion when he's up there and he involves the crowd, which is great for the game. I honestly think we've got another great player who'll contest majors and win many more.
Even though the bookies might have him down as an outsider, I would say he's a contender for the World Championship, too. His scoring power is always very strong and the only thing that lets him down on occasions is his doubles - so it was ironic he won the tournament that was double-in and double-out. The World Grand Prix was the last tournament we expected him to win!
He's now overtaken Barney in the world rankings to become the number one Dutchman and there's no question that his name is in the frame for the 2013 Premier League. He would be brilliant in that competition if he gets in.
It's good for darts that a young player has done so well and it was great that he mentioned three times on television how important the Youth Tour has been for him. He said it had helped him build his confidence as he learned how to win. The PDC were over the moon with that.
Myself and Graham Fairhurst have been running the Youth Tour and it makes what we've been doing worthwhile. Barry Hearn and the board of directors have given us a free rein to do things like that to help the game.
It's only going to get bigger and better and I was over the moon for Van Gerwen.
Form
It was good to see Mervyn King recover some form after a difficult couple of years. I played golf with him before the tournament started and he was talking a totally different game; he was calm and happy with his darts.
He did a very professional job for most of the tournament, but let the crowd get to him in the final. I also don't think he should have said what he did on television afterwards.
He got the same stick from the crowd in earlier rounds, but he got the job done really well. He was 4-1 up in the final and there was no way he should have lost from there, especially when you have the experience that he does.
He let the crowd get to him. Yes, they were a bit hostile and I don't like to hear them booing players, but I don't know what we can do to stop it. People like certain players and love to boo others.
Sometimes that happens and you have to get on with it.
Emergence
We are seeing the emergence of several young players, as well as the re-emergence of older guys like Ian White. The key to that is that they're not scared of anybody any more.
Even with Phil Taylor, the fear factor has gone and that makes a difference. When his opponents have a double to take out a match they have started taking their chances.
Don't get me wrong. Phil is still the favourite for the Grand Slam and the World Championship and he played some absolutely brilliant darts in the Championship League on Tuesday.
But where there used to be a yard of difference between the world number one and the world number 32, now there's only a foot. The gap is getting closer and closer and closer.
The players that don't do things right are going to gradually slip out of the rankings because there's no sympathy from the newcomers. Only the ones that are hungry will succeed.
I was disappointed by Adrian Lewis and Gary Anderson in Dublin, but they are still great players. However, the sign of the times is that the other players aren't scared to take their scalps.
As a result, I think this year's World Championship will be the closest ever. Paul Nicholson and Mark Walsh have some form back, Dave Chisnall is a force to be reckoned with and Wes Newton is starting to show signs of becoming a class player.
The likes of Lewis, Anderson, Van Barneveld and Simon Whitlock are still great players and are keeping up their high standards.
However, the rest of the pack are moving closer to them - and that makes for great sport.