At the double
Big names have fallen in Dublin. Rod tells us how Taylor, Lewis and the rest will fare in round two...
Last Updated: 10/10/12 6:56pm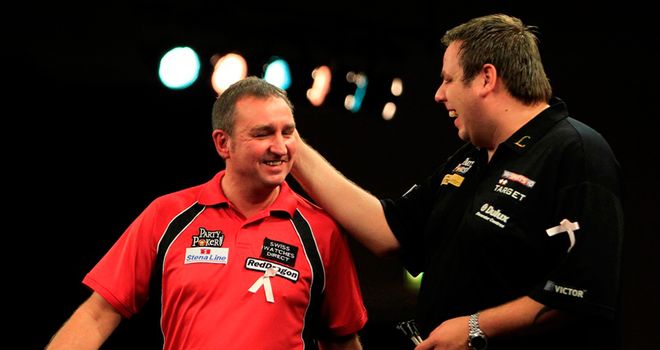 The first round of the Grand Prix was everything we thought it would be - some great darts and loads of upsets.
Raymond van Barneveld's loss to Ian White showed just how quickly games can change. He had three darts at double top to win the first set and if he'd hit one of them then he'd have probably won 2-0.
He was in control and looking calm, but then White took out 144 to put Barney in panic mode and he ended up going home. That's the nature of this competition and it's why we love this game.
We also saw an upset when James Wade lost a scrappy game to Colin Osborne and Simon Whitlock wasn't at the races against Justin Pipe. I thought he looked edgy, but if he'd got through the first round I think he would have relaxed and would have been one of the favourites.
Gary Anderson was another big-name casualty, who couldn't hit his doubles at the right time. His opponent, Brendan Dolan, had nothing to lose and with the Irish crowd on his side he was able to beat him. I've no doubt Gary will be back though; he's a great scorer but I don't think he likes the format of this tournament.
There was no upset for Phil Taylor, but his opponent Michael Smith has a huge future ahead of him - as long as he stays on the M1 rather than the A1. I shook his hand afterwards and told him that if I was allowed to manage players then I would like to work with him.
Gary Anderson looks after him currently, but because he plays as well then he can't put as much time in. Smith could do with a companion and if he stays focused he has a big future because his talent is unbelievable.
Here's what's coming up in the second round...
Second Round - Wednesday October 10
Brendan Dolan v Vincent van der Voort
Neither of these players had great averages in the opening round, but that doesn't really matter in this format. Vincent nicked a victory off William O'Connor and this match is a real opportunity for one of them to make a quarter-final. Brendan Dolan may have the edge because of the home crowd and the fact he believes this stage is lucky for him (he made the final last year). That confidence may help him hit the doubles, but I'm still going to go for Van der Voort to nick it - as long as the crowd don't get on his back too much. I wouldn't put any of my money on this match though.
Justin Pipe v Kevin Painter
Kevin Painter produced a great display against Kim Huybrechts with nine 140s, one 180 and four tons in six legs. He missed a few doubles, but his scoring was exceptional. He came in the press room afterwards saying he'd proved everybody wrong, but I told him to stop worrying about other people; he just needs to do his job. Justin Pipe is one of the most improved players around and has proved his worth over the last couple of years and it didn't surprise me to see him knock Whitlock out. I wonder if his slow play will upset Kev's rhythm and frustrate him though? I can make a case for both players and this is a tough call.
Phil Taylor v Robert Thornton
Phil Taylor was exceptional in the first round. Before the Grand Prix he was a bit tired and fed up, but he's a true professional and he made sure he was in good shape once the tournament started. He proved again why he is the best player there has ever been. There's no question that Robert Thornton is playing the best darts of his life and I think his health scare - he caught pneumonia in 2011 - has made him knuckle down. He beat Taylor the last time he played him on a big stage in the UK Open Final, but I don't think we'll see an upset. In the first round over best-of-three I could have made a case, but I can't see it here.
Mervyn King v Dave Chisnall
I played golf with Mervyn King on Tuesday and he's up for this. He's changed his darts to make them a millimetre longer and a gram heavier. People think that's nothing, but it makes a big difference to a darts player - in the head more than anything. He's really comfortable and he played well against Terry Jenkins in round one. He knows that Dave Chisnall will miss doubles at times and if he does that here then Merv will punish him because he's a class player. I wouldn't put any money on this, but it wouldn't surprise me if Mervyn nicks it, especially if Chisnall misses some doubles early on. It should go to five sets.
Second Round - Thursday October 12
Andy Hamilton v Steve Beaton
Andy Hamilton is the favourite here, but Steve Beaton played exceptionally in round one and is confident in his own game. I played golf with him the other day and his golf swing is as good as his darts swing (he took money off me too...), so I expect another good performance. However, I think the solid play, consistency and determination of Hamilton will get him over the line. However, if Beaton plays as well as he did against Andy Smith then it should go five sets and I would back him on the handicap.
Colin Osborne v Paul Nicholson
This is a great opportunity for one of these players to make a major quarter-final for the first time in a long time. Colin Osborne didn't have a very good average in his win over James Wade, but the first round is just about getting over the line. Paul Nicholson was solid in his match against Michael Mansell and didn't miss a lot, but he was never really pushed. However, I see him winning this because Osborne's confidence in his own ability has been low. He's one of the nicest guys on the circuit and I'd like to see him do well, so if he can win this then who knows? Maybe this could be the return of Osborne.
Adrian Lewis v Michael van Gerwen
This should be a cracker of a match and could be one of the games of the tournament. Colin Lloyd threw everything at Michael van Gerwen in round one, but he focused on the board and won the game. Adrian Lewis nearly came unstuck against Richie Burnett and the world champ needs to focus on every dart if he wants to win this match. It should be a very fast, very high-scoring game and the winner will be the one who makes the fewest mistakes because they're both prone to missing doubles. I think Adie may take it because of his experience, but it will be close, and he must MAKE the darts go in rather than throwing them and hoping. I'm really looking forward to this one.
Wes Newton v Ian White
You might not think that these players are big names, but this should be a cracking game. Ian White brushed Barney aside and it's incredible to do that to somebody like him. He punished Barney when he missed those shots at double top and he is very confident in his own game right now. Wes Newton looked dead and buried at one point against Ronnie Baxter and showed some character and never-say-die attitude - something we haven't always seen from him before. He refused to lose the match and that got him over the finishing line. I'm going for Wes to win it, but there's no way you'd get a penny out of me to bet on this one!