Beware of the dog
Rod Harrington previews the Grand Prix and reveals why the underdogs could bite the big names in Dublin!
Last Updated: 10/10/12 11:15am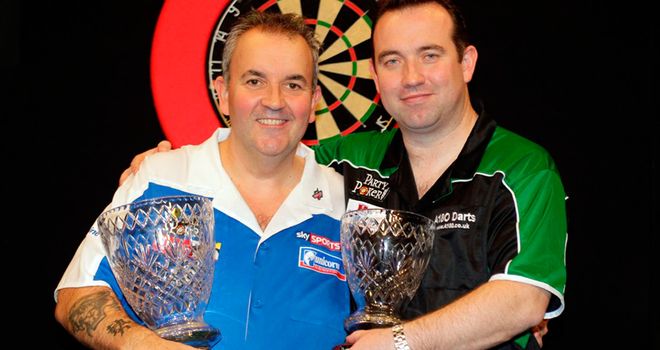 As a player I used to hate the World Grand Prix, but as a spectator and pundit I love it.
You have to throw a double to start and the first round is a very short format. Don't believe any player that tells you they don't panic under that sort of pressure! As a result, the underdogs in Dublin have a better chance than they do in any other tournament.
The first round is always brilliant because you see so many upsets. I made the final once during my playing days, but I was never comfortable, and that's true of all the senior players.
Even Phil Taylor, who is usually the worst draw you can get, has been knocked out in the first round several times - against Adrian Gray (2007), Andy Callaby (2004) and Kevin Painter (2001). If he can get knocked out in the first round more than once then it opens it up for everybody.
I also love Dublin and the CityWest is one of my favourite venues. Aside from the darts, I enjoy playing golf and having a swim while I'm there - so I'm always in a joyous mood by the time I get to the venue. That makes me more enthusiastic about watching and commentating.
The crowd can get a bit boisterous, but if you're not used to that then you shouldn't bother turning up. We're in the smaller hall this year, so there will be more impact from the crowd than there was in the vast conference centre. Some of the tough noise would get wasted before it reached the stage, but the players will hear and feel the intensity a lot more.
We've had a break of a few weeks on Sky Sports, so everybody should be ready and eager to go. The first round is best-of three and that's not even a 60-yard dash to darts players. It's a very short race.
In the first round it's all about getting in consistently with your first three darts. Even if you only hit double one with your third dart, it gives you confidence to go on, score and hit the double-out. If you miss with your first three darts you're on the back foot straight away and that gives this tournament a different mindset.
Here's what we can expect in the first round...
Monday October 8
Mark Walsh v Robert Thornton

Dean Winstanley v Dave Chisnall

Simon Whitlock v Justin Pipe

Terry Jenkins v Mervyn King

Gary Anderson v Brendan Dolan

Phil Taylor v Michael Smith

Kevin Painter v Kim Huybrechts

Vincent van der Voort v William O'Connor
You've got to put Simon Whitlock as second favourite for this event and I'd put him very close to Phil Taylor, who hasn't been playing well lately. He played some of the worst darts I've ever seen him play in the Championship League - and I've known him for 30 years. He looked tired, but he's had a week's break and you know he'll be ready when he comes into this. Maybe the Championship League was just a little hiccup, but when people see him playing like that it gives them more confidence.
He plays Michael Smith, who won two Youth Events at the weekend - and those are so tough these days that there's a lot of professionals who wouldn't win them. He's won a couple of events on the main Tour and has a great future ahead of him. The only thing is he's at a stage in his career where he still needs to learn the mind games. He needs to have the self-belief in his own ability, but the advantage against Phil is that nobody expects him to win. If he concentrates and gets into his rhythm then he has a chance, but Phil is by far the best player in the world at hitting doubles and if he gets in on his first or second dart in every leg then it's very tough to handle. I expect Phil to win, but it would be great to see Michael pull off a shock and jump up the ladder.
Look out for Dave Chisnall, who has incredible ability on the treble 180 (a great bet is to back him to hit more maximums than his opponent in any match), but he does doubt himself on doubles and he may struggle to get in at the start of legs. If he misses a few then Dean Winstanley has got to make sure he takes advantage. Chisnall will be favourite and should out-score his opponent, but Winstanley is a good, experienced player and may punish him if he doesn't get in clean.
Gary Anderson is another prolific scorer, but he admits himself that he's terrible on doubles. He's up against Brendan Dolan, the Irishman who was the runner-up last year and threw the first ever nine-darter in this event. He had a great run at the European Championships in Germany and comes in on a bit of a high. He'll have the Irish crowd behind him and whoever wins the first set will probably win the game. This is not a game I would put money on though.
Another Irishman, William O'Connor, has been around for two or three years and still has a lot to learn on the big stage. He has nothing to lose against Vincent van der Voort, who has had a hit-and-miss few years. He's had some serious back trouble, which he's got over now, and I expect him to win. But with the Irish crowd and the double-in factor, he could miss a few shots and we could see an upset.
Tuesday October 9
Steve Beaton v Andy Smith

Andy Hamilton v Mark Webster

Michael van Gerwen v Colin Lloyd

Wes Newton v Ronnie Baxter

James Wade v Colin Osborne

Adrian Lewis v Richie Burnett

Raymond van Barneveld v Ian White

Michael Mansell v Paul Nicholson
Wes Newton has been playing well for two or three years, but he lost his rag with the crowd at the World Championship and the same thing happened at the European Championship. He needs to get over that and I hope he doesn't react to this noisy crowd in Dublin. He also has to learn to focus on the game in hand. In the Championship League he twice went for bullseye on a 167 checkout when his opponent couldn't finish. I told afterwards he should never go for the bull if he doesn't have to - you would never see Taylor, Priestley or Bristow do things like that - you should just try to win your game.
He plays one of the most experienced players in the world in Ronnie Baxter. He's had a few problems with the muscles in the right-hand side of his body after playing for 30 years (I always used to do a lot of swimming to make my body more symmetrical) and he now has to do a lot of stretching exercises to combat that. This will be a real tough game and if Ronnie gets chances he normally takes them. This is one of the hardest first-round draws.
James Wade is a great player with a lot of bottle, but has been hit-or-miss over the last few years. He's won this event twice before and is one of the top three favourites again if he's on top of his game. But if he's not in the right frame of mind then Colin Osborne is the sort of player who could turn up and shock him.
We haven't seen Raymond van Barneveld play competitive darts for a couple of weeks and he has a really tough draw because Ian White has been playing very well in the last couple of months. Barney has the class and everything you need, but if he loses the first set it will be panic stations. He'll need to be on top of his game to beat a guy, who goes about his game in a very professional manner and does a great job. Ian White is a nice guy and he won't bottle this.
Richie Burnett is a former World Champion and can beat anybody on his day, but he has a lot of bad days! He struggles on his doubles, but so does Adrian Lewis, who lost 6-0 to Ian White at the European Championship. He was recently relegated in the Championship League and isn't coming to Dublin in great form. However, guys like him can play badly for six months and then go out and blitz everybody.
Taylor, Whitlock and Wade are the favourites but I could probably make a case for 16 guys to win this - and the other 16 could all do very well. A few years ago you were only looking at four players, but the gap is much narrower now. There isn't a bad game in these 16 matches and we've got a perfect package on Sky Sports next week.