Blackpool power
Rod Harrington has praise for Taylor, worries over Lewis and some big criticism for the BDO...
Last Updated: 30/07/12 1:23pm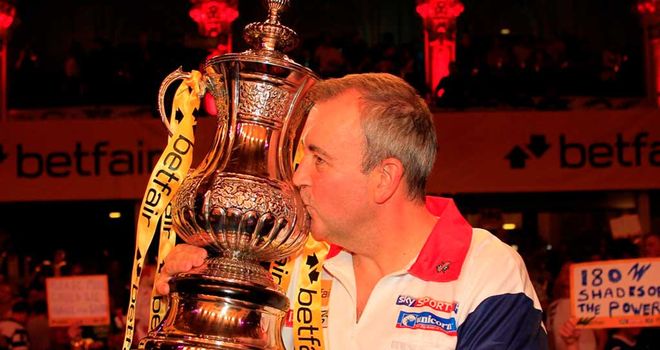 The World Matchplay showed that the standard of darts in the PDC is higher than ever.
We saw two nine-darters - I was almost surprised we didn't get a third - and I'm so excited ahead of the World Grand Prix and the World Championship because there is so much strength in depth.
The changes we've made to the PDC ranking system are working because we're getting the best 32 players in the world.
The old system protected too many old players (possibly including myself at the latter end of my career), but now we have a lot of hungry darts players coming through and the standard is improving all the time.
It's therefore amazing that, yet again, Phil Taylor came out on top. As he gets older I think he's finding it harder to keep up his standards and he's having to put more work in than he used to - but he still does it.
That's testament to his commitment and professionalism. After all these years he is still putting the graft in and he's a great ambassador for the game. You can't praise him up enough.
I stayed at the top and won tournaments on days when I wasn't necessarily the best player, but I was the fittest player. I've been emphasising that for 20 years and now players are looking at Taylor and doing things right.
James Wade, who narrowly lost in the final, is a good example. He's lost some weight and - as much as he hated to admit it - he'd been practising more and more. When he gets to the other big tournaments later in the year he intends to be even better.
He looked like a different person in Blackpool. I watch these players very closely on tour and the Matchplay was the best I've seen of James in a long time, in terms of his attitude and his conduct. I know he's had problems, but hopefully he's getting through that now.
His performance against Terry Jenkins in the semis was excellent. He fell behind, but he dug in and never gave up, which might have happened with the old James Wade.
If he could have put a little bit of a spurt together in the final and taken out some big shots - as he did in the semi-final - he could have taken Taylor. There was a vital 140 and a crucial 144 that he didn't take out and that could have made all the difference.
There's no doubt that he's the number one threat to Taylor now - and if he'd taken out those big shots I think he would have won the tournament.
Highs and lows
Michael van Gerwen was my man of the tournament. You have to give Taylor all the praise in the world, but this young man lit up Blackpool.
He really came into form in this tournament and his emotions fed the audience. The crowds and the people at home watching on television all love him.
There were other good displays, too. Jenkins, who has admitted I was right when I criticised him a few years ago, is doing things right now.
However, a few other players need to look at themselves.
It was another disappointing display from our World Champion. I think it's time for Adrian Lewis to look in the mirror and say: "What have I got to do to start making semis and finals in other championships?"
If he doesn't improve and if he doesn't perform at the next World Championship then he'll drop down the rankings like a stone. He needs to look at himself or he could get left behind.
The guy's talent is too good to waste, but sometimes you have to win ugly. No matter how good you are you need to dig out results if you want to get through tournaments.
He's not doing that - and neither is Gary Anderson. We need them to raise their game because they're box-office Premier League players. Like everybody else I love to see them play and I want to see them on top of their game.
Elsewhere there are a lot of the older players who lost in the early rounds, who need to take a serious look at their game, or perhaps aren't good enough any more.
People like myself, Eric Bristow, John Lowe, Bob Anderson and Alan Warriner all packed the game in when we started to get left behind and perhaps the guys who were on top a decade ago need to look at whether they are still good enough.
Some of them are still talented, but there's no sympathy in this game and with a lot of talent coming through you can get knocked off your pedestal very quickly.
We're moving into a new era and the emerging talent won't look back.
A few words for the BDO...
The BDO held a youth tournament in Blackpool on Sunday. Maybe they were trying to steal some of our thunder?
I'm disgusted to report that three guys who play on the PDC Youth Tour reached the quarter-finals - and were then slung out by the tournament organisers.
These young players had paid their entry fees, played in the early rounds and were then kicked out and told they're not getting a refund or any prize money, all because they're PDC players.
How disgusting is that? Grown men were taking things out on young players, who were probably not born when the split happened in the 1990s. It's one of the most pathetic things I've heard in my life.
Why don't they take it out on the grown-ups, who are ugly enough to stand up to them? Instead these ignorant BDO guys are taking things out on youth players.
I've seen some disgusting things happen in the game of darts, but this is the most disgusting thing I've heard about in all my years.