Men of the Matchplay
Rod Harrington previews the World Matchplay and says a buoyant Barney could do well.
Last Updated: 21/07/12 11:17pm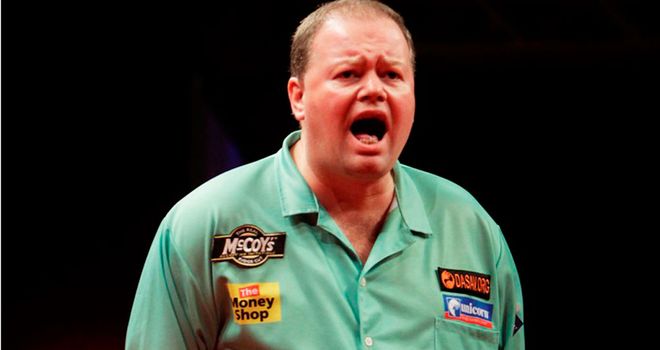 We get all sorts of different crowds at PDC darts tournaments these days.
At the World Championship we get people who may not be darts fans coming for a Christmas party and the Premier League is like a young person's night out at a nightclub.
Well, the World Matchplay is the darts fans' tournament.
This crowd is very knowledgeable about the game, they go to Blackpool on holiday and they all love it. For that reason it's right up behind the World Championship as one of the great events every year.
This could be one of the best ever because of the qualification process. We take the top 16 from the world rankings, which protects the big names and the people that are playing the best, and we then take another 16 names from the Tour Players Championship list, which guarantees you the next 16 best players in the world.
In the past, someone could play brilliant for a month and rubbish for two years, but still make it to the Matchplay. That doesn't happen any more. It's a real tough circuit now and it is breeding a far better quality of player.
In the top 16 we're seeing some players coming back into some serious form, in particular Raymond van Barneveld. His game has always been there, but that's not the case with his attitude. He often doubts himself and that has stopped him playing at the best of his ability.
He has never needed to prove his ability to us - we all know he is a great talent - but he is now believing in himself. He won the European Championship and last weekend he won a tournament in the Shetland Islands after beating Phil Taylor in the semi-finals. He's won the last two tournaments and that will give him real confidence in the Matchplay. He's one to look out for.
So I really fancy him to do well. I always have to back Phil Taylor and I think Adrian Lewis will turn up, too. I'd say Simon Whtlock and Dave Chisnall also have great chances.
Here's my look at the round one matches...
Saturday July 21
Paul Nicholson (15) v Andy Smith
The first night could throw up a couple of upsets. Paul Nicholson hasn't really done it for a couple of years and he faces a guy in Andy Smith who doesn't care who he's up against and will play his own game. I can make a case for both players and it really is a flick of a coin. For people who like a bet, maybe you should back the outsider in Andy Smith?
Terry Jenkins (10) v Kim Huybrechts
Terry Jenkins is playing some of the best darts of his life in my opinion, but he's up against one of the most improved players of the last two years in Kim Huybrechts. The bookmakers make this a tight one, which is right, but I'll go for Jenkins because he has the experience. However, if he misses his doubles he'll be made to pay.
Adrian Lewis (2) v Robert Thornton
Adrian Lewis hasn't been playing at the top of his game, whereas Robert Thornton has come into a rich vein of form - as we saw at the UK Open when he beat Phil Taylor in the final. This could be the biggest upset of the tournament if Adie isn't totally focussed and ready. We all know what Lewis can do - I love watching him when he's on form because he makes the game look so easy - but sometimes you have to win ugly. He may have to get into the trenches and show character, but if he comes out of this then he may push on and do really well.
Raymond van Barneveld (7) v Michael Smith
I fancy Barney to do really well in the tournament. Michael Smith is a bit like an Adrian Lewis, he's one of the brightest young talents in the game, but I just think Barney will be too powerful. The Dutchman's dart-on-dart consistency should get him through this.
Sunday July 22
Mark Walsh (14) v Colin Osborne
This is going to be a slow game and the endurance of the crowd will need to be high, never mind the players! This is a flick of a coin and the bookies can't split them either. Neither of them has been at the top of their game and it could go either way.
Kevin Painter (11) v Steve Beaton
Kevin Painter was brilliant when he won the Tour Players Championship but has been a bit dull since then. He can't afford to do that against Steve Beaton, who has the pedigree and can cause an upset if Painter isn't careful. They're both mates of mine and I'm going to sit on the fence.
James Wade (3) v Richie Burnett
If James Wade turns up full of enthusiasm then he really does take some beating, but if he turns up a bit dull then he could run into trouble. If he turns up with his A-Game then we all know what he can do, but if not then Richie Burnett will be ready to pounce on him. This could be an upset.
Simon Whitlock (6) v Michael van Gerwen
This could be one of the best games of the first round. Michael van Gerwen has been playing brilliantly this year, but he misses doubles at crucial times. That's not true of Simon Whitlock, who is probably the most consistent darts player of the last two or three years and always puts the hard work in. I'll go for the Aussie, but Van Gerwen can be dangerous on the big stage.
Monday July 23
Andy Hamilton (8) v Brendan Dolan
Andy Hamilton should be too consistent and too solid for his opponent here. Brendan Dolan has played well since his run to last year's Grand Prix Final, but I've got to go for the Hammer after his confident and impressive debut in the Premier League.
Vincent van der Voort (16) v Ian White
I hope Vincent van der Voort has got over his backache and can start playing well again. Ian White has good pedigree and knows what the big stage is all about, but I'll go for the Dutchman to win this one. However, he'll need to win the first few legs and not allow the underdog to get in front.
Phil Taylor (1) v Mervyn King
Poor old Mervyn King! Nobody wants to play Phil Taylor in Round One, but if you're going to beat him this is the time to do it. There's no question Mervyn has the firepower, bottle and finishing to stay with Phil and if he puts all three of those components together he could have a good run. Taylor hasn't been at his best in the last two or three tournaments, but he'll come to Blackpool as if he was looking for his first ever win. I'll go for Taylor, but if he has a hiccup - like he did against Thornton at the UK Open - then King can pounce.
Mark Webster (9) v Colin Lloyd
Colin Lloyd scraped in to the tournament late in the day, but has been playing fairly well. If he can get past the first game he tends to do well, but this is a tough match because Mark Webster has a point to prove. Colin needs a good performance in Blackpool this year and if he gets a good start - as he did against James Wade at the UK Open - then he can win it. But this is another one where I'm going to sit on the fence.
Tuesday July 24
Justin Pipe (12) v Joe Cullen
Joe Cullen's been playing well, but Justin Pipe is starting to take his floor form onto the stage and I think he'll come out on top against the youngster. I'm sure Joe will have a good go at him, but Justin has the experience to nick it.
Wes Newton (5) v James Hubbard
James Hubbard is one of the bright stars of the Youth Tour and I had a great text from him saying "thank-you for changing my life and my career." You don't get many thanks in this game, so it's gratifying to see the Youth Tour players appreciating what the PDC is doing for them. I would like to see him go close in this game, but I think Wes Newton (who has one eye on a Premier League spot) may have too much firepower for him.
Gary Anderson (4) v Dean Winstanley
Gary Anderson has had problems with his eye and shoulder, and that seems to have affected his concentration. This could be a stumbling block because Dean Winstanley has real pedigree on the big stage. If Anderson still has all those injury issues then this could be another upset.
Dave Chisnall (13) v Ronnie Baxter
Out of the blue, Ronnie Baxter has been winning games and playing exceptionally well, but is up against Dave Chisnall, a guy who makes this game look simple. He puts his foot to a lump of wood, picks up a lump of metal and throws it at the wall; he doesn't complicate things. There's extra pressure on him because everybody's expecting him to do well and this will be a real tough game, but I'll just go with Chisnall.
Rod's best bets
I'd go for an outside treble of Walsh, Jenkins and Webster - which pays nearly 6/1 - or Taylor, Barneveld, Newton and Hamilton at around 6/4. I also think we'll definitely see a nine-darter in the tournament and I fancy this to be a great event because so many of the players are playing well.